Television footage on Wednesday showed two supersonic B-1B Lancers flying low over the US Osan Air Base at Pyeongtaek, 64 kilometers (40 miles) south of Seoul.
One of the bombers returned to a US base in Guam while the other touched down at Osan, which US military officials said was designed to send a message.
"The bond between the United States and the Republic of Korea [South Korea] is ironclad and the strength of that commitment will not be shaken by North Korea's aggressive behavior," said Lieutenant General Thomas W. Bergeson of the US Air Force.
"What we are showing today is just one tool we have to choose from a wide array of options. The alliance grows stronger every day and we remain prepared to defend and to preserve the security of the Korean Peninsula and the region."
North Korea has to date ignored global criticism since conducting its fifth nuclear test on September 9, and this week said it had successfully tested a new rocket engine that can be used to launch satellites, again in violation of UN sanctions.
Nuclear weapons and ballistic missile tests by the communist North are continuing at an unprecedented rate this year, including the launch of a satellite in February that was widely seen as a test of long-range ballistic missile technology.
Critics of this week's US bomber maneuvers dismissed the display as a cursory air show in the light of an apparent quickening in the pace of North Korea's nuclear and missile testing program.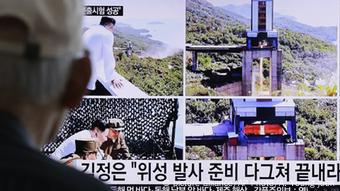 North Korea has been testing nuclear weapons and ballistic missiles at an unprecedented rate this year.
North Korea condemned a similar flyover on September 13 as an armed provocation that mobilized "ill-famed nuclear killing tools," but did not immediately respond to Wednesday's flight.
South Korea is already home to around 28,500 US troops and numerous bases on its side of the so-called Demilitarized Zone (DMZ), the most heavily fortified political boundary in the world.
jar/msh (AFP, Reuters)