The Cyberspace Administration of China late Saturday ordered Sina Weibo, one of the country's largest social media platforms, to temporarily shut down several portals for spreading content that allegedly contradicts Chinese values.
Since last year, China has increased pressure on native social media platforms to censor "content of wrong public opinion orientation," including "obscenity, low taste, and ethnic discrimination."
Read more: Hello, Big Brother: How China controls its citizens through social media
Targeting celebrity gossip, rap music
The content targeted in the internet watchdog's order included rap music, celebrity gossip, dirty jokes and crude cartoons.
The social media platform said it complied with the order and accepted criticism about "harmful content" circulating on its service.
The targeted portals included a trending topics search site and a page that allowed users to ask celebrities questions about their personal lives.
Weibo, a Chinese microblogging platform akin to Twitter, is expected to leave the portals offline for a week as part of the government order.
Censorship?
China's internet regulator said Weibo had "violated the country's laws and regulations, led online public opinions to (the) wrong direction and left a very bad influence."
The Chinese government said the measures were aimed at maintaining "social stability." Beijing has continued to argue that online news and social media services need to "serve the direction of socialism and correctly guide public opinion."
Digital rights groups have warned of growing censorship in China, with the Washington-based Freedom House dubbing China the "worst abuser of internet freedom" last year.
Read more: China's internet crackdown reaches new level of restriction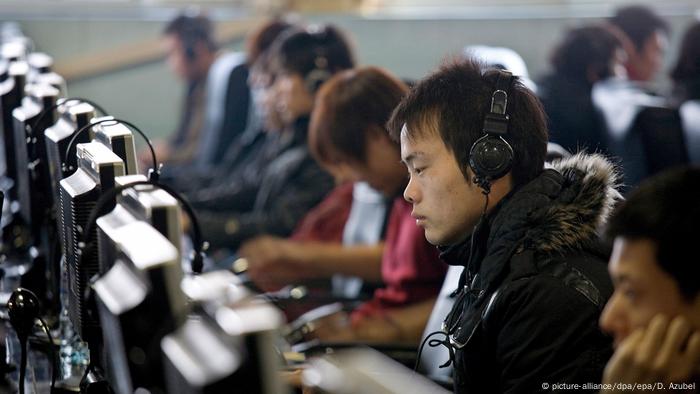 Since 2015, China has shut down more than 15,000 websites for allegedly breaking the law, but rights groups warn it's part of a wider crackdown on free expression and dissent
How many internet users does China have: China is considered to have the largest population of internet users in the world, clocking in at more than 735 million, according to figures from the UN International Telecommunication Union.
What happens next: The government order said Weibo must suspend the portals in question for a week. They will likely be brought online after that period, but be subjected to further "regulatory oversight."
ls/rc (Reuters, AFP)