Match report to follow shortly.
South Korea 1 - 2 Mexico
(Son 90+3' - Vela pen 25', Chicharito 66')
Mexico had the better of South Korea for most of the game but still faced a nervy finish when Son Heung-min scored the pick of the evening's goals to hand his side a lifeline. The left-footed curler was too little, too late as it transpired, leaving South Korea very poorly positioned after two defeats in two. Mexico are all-but guaranteed a spot in the last 16, but it's still not quite set in stone.
If Sweden score any points in their late game against Germany, by drawing or winning, then Mexico's ticket to the knockout stages would be booked.
Mexico had gone ahead from the penalty spot, doubling their lead mid-way through the first half. National record goal scorer Javier "Chicharito" Hernandez notched his 50th international goal, ultimately deciding the outcome. As so often for Chicharito, a clever first touch in traffic made him the space for the finish.
FULL TIME! Mexico will probably progress from Group F, South Korea most likely will not.
90+5' Mexico playing keep-ball now, stunned into caution by Son's exquisite strike.
90+3' GOAL! Son Heung-min pulls one back. Wonderful strike from the Tottenham and ex-Leverkusen lad. A curler with his left peg, perfectly placed in the top corner. But it's looking like a scant consolation at this stage.
90+1' Five additional minutes to play.
88' Mexico are wiling away the minutes quite effectively here. Defeat doesn't mathematically eliminate South Korea (it only practically eliminates them, at least for now).
80' Jung Wooyong is the fourth South Korean to pick up a booking, for using his arm to check a defender trying to tackle him.
76' Huge let off for Ochoa in Mexico's goal after South Korea intercept a back pass and then somehow fail to get a shot away in the ensuing chaos.
73' That goal from former Leverkusen forward Chicharito was his 50th for Mexico, a milestone none of his compatriots have ever reached.
68' Rafa Marquez comes on for Mexico, replacing Guardado. A defensive switch, quite understandably.
66' Lovely first touch from the front man put the last defender out of contention. His scuffed finish wasn't ideal at all, but the bobble actually helped the shot to bounce past the keeper.
66' GOAL! Chicharito doubles Mexico's lead, in a body blow for South Korea.
64' Sub South Korea: Yu Sejong makes way for Lee Seungwo.
63' South Korea's Lee Yong goes in the book for a clumsy challenge.
61' Crucial block in the box from Mexico to prevent a dangerous close-range shot from Lee Jaesung from finding the target.
58' Great save from Yo in South Korea's goal, denying Andres Guardado.
56' Ki Sungyueng shoots from just outside the area forcing a save from Guillermo Ochoa.
52' Chicharito left all alone around 30 yards out, and he decides to have a go. The shot whistles over the bar, but South Korea can't keep leaving Mexico so much space.
50' Lozano tries his luck from outside the box, getting well underneath the ball and missing by some margin in the end.
48' Neither side made any changes at the break. The stakes are particularly high for South Korea, trailing as they seek their first points of the tournament.
46' Second half's off and running.
+++ HALF-TIME: South Korea 0-1 Mexico (Vela pen 25') +++
43' But they still fashion a chance! Lozano dribbles past Lee, Ki and Moon before firing over.
42' Mexico are doing their best to take some of the tempo out of the game, which is very sensibble given that it's still over 30°C.
39' At the other end, it's Son who breaks through for South Korea. The Tottenham Hotspur man beats Moreno but the ball gets ahead of him and Ochoa is there.
37' Layun is played in down the right wing but his cross evades both Lozano and Chicharito.
34' A break in play as Yong Lee is treated for injury. And the Mexican fans finally have some competition in the stands - but not from South Koreans! "Ro-si-ya! Ro-si-ya!" echoes around from the locals. The other players have a quick drink of water.
31' Son fires a free-kick over the bar from a central position for South Korea.
28' Almost a second goal! Vela is allowed to stroll through the South Korean defense and square the ball to Layun whose side-footed effort is just tipped over the bar by Cho - who then also claims the resulting corner.
25' GOAL! South Korea 0-1 Mexico (Vela pen)
No chance for Cho as Vela places the ball into the bottom corner, left-footed, and Mexico lead! That's the second goal South Korea have conceded in Russia and both have been penalties.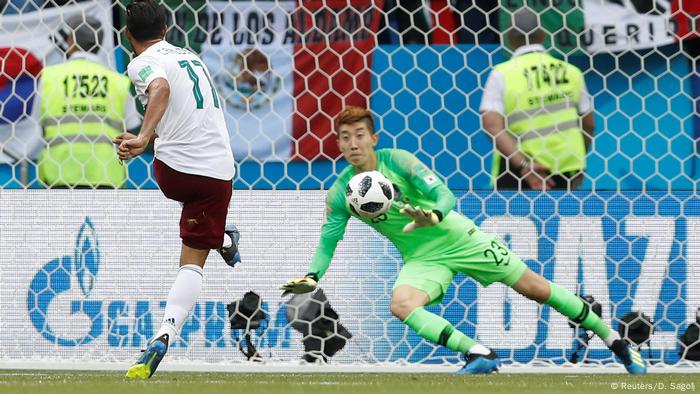 24' PENALTY TO MEXICO
Herrera's cross is blocked by the hand of captain Jang and the referee has no alternative but to point to the spot.
23' Ki gets his head to the corner and Ochoa tips the header over the bar!
22' More patient build-up play from Mexico but they give it away and South Korea break, sending a long ball forward to Son. He cuts inside but his shot is blocked, as is his second effort. His third attempt is deflected wide for a corner..
19' South Korea win a free-kick after Salcedo clatters into the back of Son. They work the ball down the right wing but the cross is too deep and Mexico regain possession.
17' Salcedo gets his head to Guardado's corner but his header loops into the air and is easily claimed by Cho in the South Korean goal.
16' Patient build-up play from Mexico as they try to find a way through a solid Korean 4-4-2 formation - a corner is the result.
13' Big chance for South Korea! Hwang leaves Alvarez for dead with a brilliant step-over and crosses towards Lee at the back post but Lozano gets back to block.
12' Chicharito gets his head to Layun's delivery but glances his header wide.
12' Free-kick for Mexico in the center of the park following the seventh Korean foul of the game so far.
10' Mexico have their first corner of the game, which is headed clear.
4' A harmless Mexico free-kick is the only source of goalmouth action so far, but the early stages are generally taking place in midfield. 17,000 Mexican fans are inside the stadium. Great support.
+++ KICK OFF! +++
South Korea get us underway in Rostov-on-Don, kicking from left to right in red tops and black shorts. Mexico in their changed strip white shirts and maroon shorts.
Welcome to DW's live coverage of the Group F game between South Korea and Mexico