German police said on Sunday that 18 people were injured during opposing rallies the previous day in the eastern city of Chemnitz, as anti-immigration demonstrators scuffled with counterprotesters.
They said those injured included three security personnel who were hurt while holding back demonstrators at Saturday's protests.
The city has been the scene of sometimes violent protests that erupted since a German man was stabbed to death last Sunday, allegedly by a Syrian and an Iraqi.
According to police estimates, some 8,000 attended the far-right rally on Saturday, which was called by the anti-immigration party Alternative for Germany (AfD) and the "anti-Islamization" movement PEGIDA.
A counterdemonstration, including parliamentarians from the Green party and the Social Democratic Party (SPD), drew some 3,000 people, they said.
Read more: Chemnitz, Saxony and Germany grapple with far right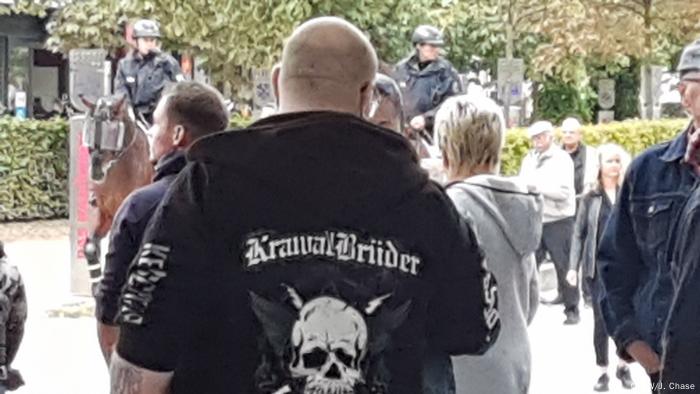 Far-right demonstrators were in the majority on Saturday
Alleged attack on politician
Police deployed some 2,000 officers, both from Chemnitz and across Germany. At least 37 criminal offenses are being investigated, including bodily harm, damage to property and infringements of public assembly laws.
Among other things, police said they were looking into an alleged attack on a group of demonstrators led by SPD politician Sören Bartol.
Bartol said on Twitter that the group from Marburg had been "ambushed by Nazis" while heading for their bus after the rallies had cleared.
Read more:Germans must fight racism says Foreign Minister Heiko Maas
Smaller protests planned
Two smaller demonstrations were planned for Sunday: one by Chemnitz residents to signal their opposition to "violence and xenophobia," and another organized by the Protestant Evangelical Church in Germany (EKD).
An anti-racism concert is also to be held on Monday featuring German punk band Die Toten Hosen, among other artists.
Anti-immigration sentiment is particularly widespread in the eastern state of Saxony, where Chemnitz is situated, despite the relatively small number of immigrants who live there.
The AfD, which has vehemently opposed migrant arrivals and Chancellor Angela Merkel's liberal stance on accepting refugees, has strong support in the state, with surveys suggesting it could become the second biggest party there in next year's regional elections.
Read more:In Chemnitz, minister promotes education as answer to extremism
tj/rc (AFP, dpa)
Each evening at 1830 UTC, DW's editors send out a selection of the day's hard news and quality feature journalism. You can sign up to receive it directly here.