I believe two things — that there is no such thing as waste and that no one should be treated like waste. My journey to realizing this has been very personal. I grew up in Ilorin, in north-central Nigeria. I lost my father when I was 12 and entered a very dark phase in my life. People told me I was useless, that I couldn't do anything with my life. I fell into poverty and then went through very severe depression for a long time.
Read more: How the UK slowly turned against single-use plastics
At 16, I left home and had persistent low self-esteem. A voice in my head told me that I was worthless. Then somehow, slowly, I started to engage with my environment again. I moved to Ille-Ife in southwest Nigeria and started noticing that there were a lot of people out there like me: people that are marginalized and feel like no one cares about them. I started working with an NGO and it was then I started to understand what happens in rural communities in Nigeria. I met people that felt like they were on the edge of the world, they didn't have access to education, health care or livelihoods.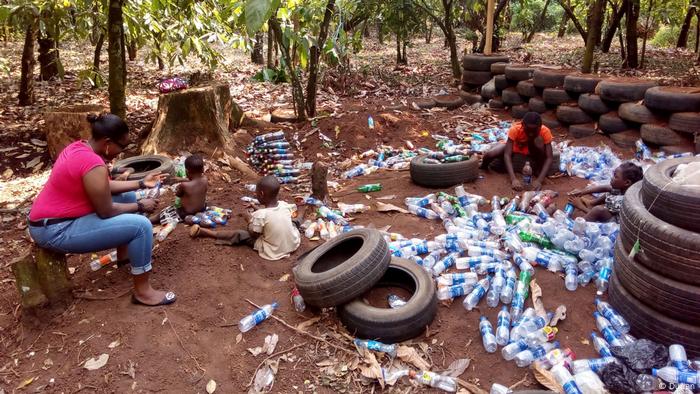 The Durian community centers are made from plastic bottles and tires
They also had big problems with waste management and often they would burn their waste. I thought, what if we could use a problem to solve a problem? That's why I decided to start up my organization Durian. We work to empower local communities to be self-sufficient by transforming their local waste into a means of a livelihood. We ask what types of waste people are dealing with and develop projects from there. We are currently focusing on a particular community called Imafon in Ondo state, Nigeria. In Imafon we have community training centers built out of plastic bottles and tires. We have workshops where people use old tires to make sandals for school children and one that turns bamboo into products that can be sold. We want to replicate this model around the country.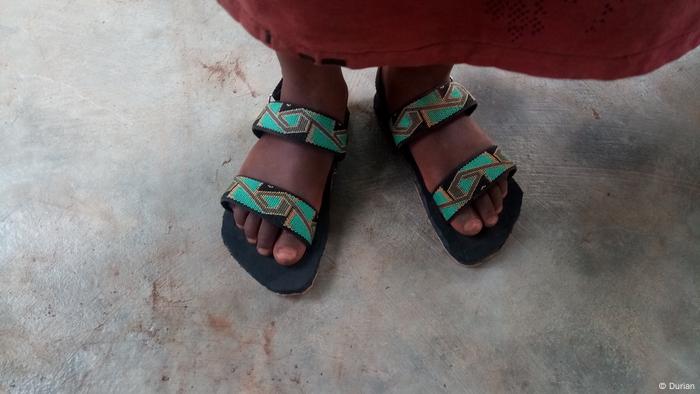 Local communities learn how to make school shoes from tires and old fabric
I believe that taking care of your waste and environment in this way can change how people feel about themselves and their communities — just like it did for me. Changing your attitude toward waste can not only help provide jobs but give a facelift to a whole town or village. When you start to see your waste as a thing of value, you can slowly start to see yourself as something of value.
Attitudes toward waste have changed in Nigeria over the decades. I remember as a child taking wheelbarrows full of trash to the local dumpsite. Things are changing. I have heard people say that because of me they keep waste in their pocket until they see a bin. On the other hand lots of people still tell me: "I'm not changing how I behave — I've been doing this since before you were born."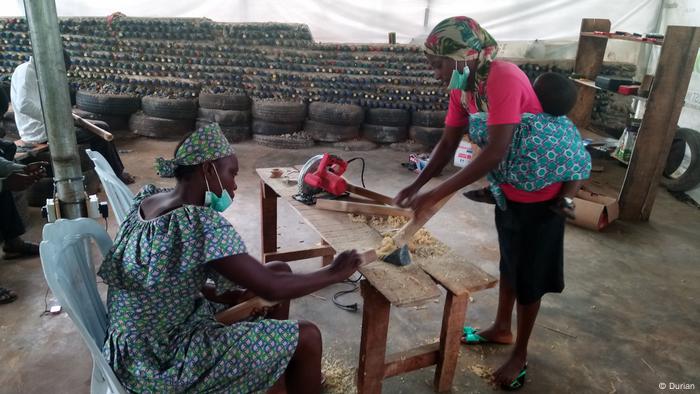 Plastic bottles and tyres also provide the walls of the rural training centres
There is a big connection between social inequality and waste management. In my block of apartments in Akure I am the only person who has phoned the private waste management team to get them to collect rubbish. Often the wealthy have an established collection process in their residential areas. However, when it comes to other areas often waste is just burned or dumped. Sometimes people come and dump their waste in poorer neighborhoods. I've also seen huge trucks full of building debris being dumped in slum areas. People assume that these people don't know anything and can't fight back.
Read more: A Caribbean island tackles its growing trash problem
It is a slow and a long road to changing how we deal with waste in Nigeria but it is one worth every step. During our trainings with local communities we not only focus on using waste to create products. We also engage people in conversations that will make them take an active part in community development. Just recently I had a woman come to my office to show me a voting registration card she picked up. I had been encouraging her to do it while we were working on a recycling project. First she changed how she dealt with waste, now she is asking questions of her politicians. Never underestimate the power of believing that there is no such thing as waste.
As told to Holly Young. This text has been edited and condensed for clarity.