Chancellor Angela Merkel told her home northeastern constituents on Saturday that Germany was obligated to lift its defense spending from its current 1.2 percent of gross domestic product (GDP) to the 2 percent agreed by NATO members at its summit in 2014.
Electioneering in Stralsund, ahead of Germany's federal election in September, Merkel said: "Obligations have to be fulfilled. And, others in the world will demand that of us. And, I think they're right that Germany must uphold its obligations."
Merkel's remarks endorse the stance of Defense Minister Ursula von der Leyen, also of Merkel's Christian Democrat (CDU) party, but contradict Sigmar Gabriel, Germany's new foreign minister and vice-chancellor in Merkel's coalition cabinet.
At last weekend's Munich security conference, Gabriel of the Social Democratic Party (SPD) had questioned a rapid defense boost. He argued that German spending on the integration of a million refugees since 2015 was also contributing in preventative terms.
Von der Leyen subsequently announced that her ministry was planning staff increases and accused Gabriel of failing to stick to Germany's word given at the NATO summit in 2014.
NATO partners saw that Germany was "doing so well economically," she added.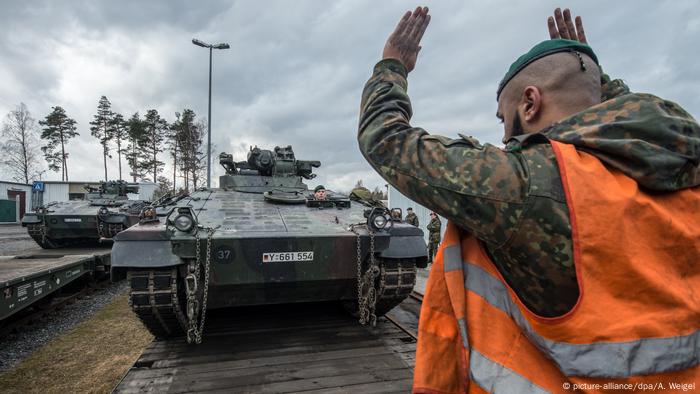 Tanks being loaded for transport to Lithuania
Neigbors alarmed?
"One has to ask whether it would really calm Germany's neighbors if we turned into a big military power in Europe and … spent over 60 billion euros ($63 billion) a year (on defense)," Gabriel reiterated on Wednesday. "I have my doubts," he said.
"Our biggest problem at the moment is that the equipment doesn't fly, sail or drive," he added.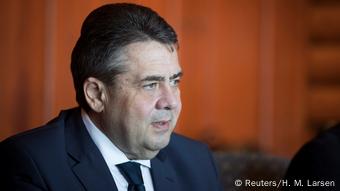 Gabriel wants outlay for refugees included in NATO equation
"We should not make the mistake and trigger off a new arms race," Thomas Oppermann, the SPD Bundestag parliamentary whip said in remarks endorsing Gabriel on Saturday.
"Tanks instead of social security is a completely false debate," one of the SPD's vice chairmen, Ralf Stegner, added. The Bundeswehr must be well equipped, but the 2 percent goal would not be met quickly, Stegner commented. He is a long-time advocate for social welfare.
CSU backing for von der Leyen
Von der Leyen's critique of Gabriel was backed Saturday by Volker Kauder, the whip or group leader for Merkel's CDU and allied Bavarian Christian Social Union (CSU) parliamentarians in the Bundestag.
Kauder told the Essen, Ruhr District-based "Funke" newspaper group that von der Leyen's remarks had nothing to do with demands from the administration of the new US President Donald Trump.
Her stance was not one of blind obedience to the US "as Foreign Minister Gabriel completely falsely claimed," said Kauder.
Kauder pledged that an increase in defense spending would "not result in spending cuts in the social welfare area.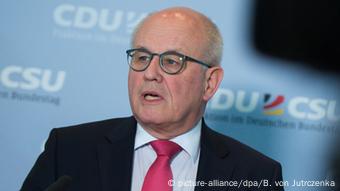 Gabriel's obedience claim 'false,' says Kauder
Currently, only four of NATO's 28 member nations - the US, Britain, Poland, Greece and Estonia - meet the 2 percent of GDP target.
Media coverage of Germany's Bundeswehr armed forces in recent years has focused on technical hitches and equipment delays.
A brand-new German A400M transport plane was grounded in Lithuania earlier this month during a visit by von der Leyen.
ipj/jm (dpa, AFP, Reuters)