The "ultimatum" from the conservative wing of the ruling coalition came and went at the weekend, but the "crisis summit" on Germany's refugee influx did not yield any new decisions.
Instead, Angela Merkel's Christian Democratic Union (CDU) and her Bavarian allies, the Christian Social Union (CSU), made a priority of repairing the ugly political rift that had opened up between them at the end of last week, when the CSU mischievously tried to pressure the chancellor by raising the prospect of breaking the 75-year marriage between the two parties.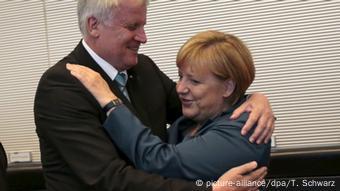 Merkel and Seehofer were best friends again on Sunday
To head off such talk, the two "Union" parties released a "position paper" on Sunday to show how united they were on the vexing question that has preoccupied Germany since the summer: what to do about the refugees? "The CDU and the CSU are together determined to meet this responsibility," the paper said, with a silent emphasis on "together."
There followed a list of proposed measures whose purpose, the plan said, was to "organize and steer immigration." But seeing that they will have to be discussed at the next round of talks on Thursday - and some will face opposition from the Social Democratic Party (SPD), the center-left element of Germany's government - the plan was notably short on details. Nevertheless, there were some key new ideas - almost all of which were aimed at maintaining the walls in Fortress Germany.
Transit zones
The first on the list was also the most contentious, but the name "transit zones" is slightly misleading. The new centers are mainly meant as dead-ends for migrants with little chance of being granted asylum. The centers will be one-stop border installations where asylum seekers from "safe countries of origin," or those who aren't cooperating to determine where they're from, will be subject to an "accelerated asylum procedure" under which legal proceedings and deportation will be carried out on the spot.
Similar procedures are already in place in Germany's airports, although there are fundamental differences that lead some critics to think that transit zones are unworkable. For one thing, far fewer people arrive at airports, compared to the thousands arriving at Germany's borders every day. Secondly, asylum seekers cannot escape an airport and are not legally on German soil until they have passed border control, so they are not subject to the same legal protections.
"Transit zones can only mean that they have to install detention camps along the entire border with Germany, and possibly a fence," Max Pichl, spokesman for Pro Asyl, told DW. "And in these transit zones, this legal no-man's land, refugees have to make their asylum applications right there. If you think that through, it means all the refugees who come to Germany have to be properly registered and screened in those transit zones - and that means you have to build fences."
Two-year ban on family reunification
Since August 1, migrants with subsidiary protection - those who do not have refugee status but who face serious dangers at home and who have enough income - are allowed to apply to have their close relatives join them. The CDU/CSU is now planning to put this measure on hold for two years "to better cope with the current situation."
"The new change in the law just came into effect," said Pichl. "Now all of a sudden they want to roll it back. It makes no sense. And it forces all the families who are outside Germany onto the dangerous asylum routes, because they have no legal way to travel to Germany."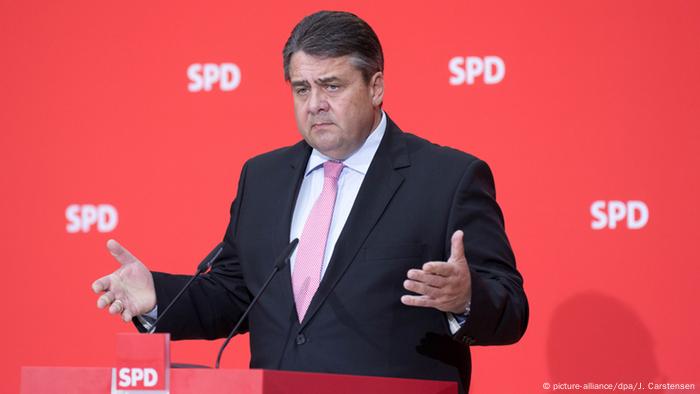 The SPD's Sigmar Gabriel says its proposals for decentralized registration centers run by local authorities are a "more intelligent alternative"
Language courses to come under 'existential minimum'
The new asylum law, which came into force on November 1, included provisions specifically meant to eliminate "false attractions" to Germany. In other words, state benefits for asylum seekers were cut or converted into tokens. This proposal continues that trend, and particularly irritates Pichl, since its only consequence can be that fewer refugees will take on language courses that help them integrate into society. "Up to now, refugees have been using cash to buy telephone cards so that they can call their families," he said. "Now they're being made to ask themselves: 'Do I want to buy a telephone card or do I spend it on the language course?' That is definitely a step backwards when it comes to integration."
Joint German-Austrian border management
The refugee influx has created escalating tension in the normally close ties between the governments of Austria and Bavaria - much of it centering on Austria's decision to allow refugees to travel to Bavaria. "Austria's behavior is a burden on our neighborly relations," CSU leader and Bavarian State Premier Horst Seehofer told the "Passauer Neue Presse" last week. "We can't and mustn't treat each other this way." The CDU/CSU proposal is a police cooperation center at the border, as well as joint border patrols along the open border region.
"This paper offers no ideas for a humanitarian way to take in refugees - there are only ideas looking for a better way to shut off Germany," Pichl said. "There are a lot of people coming to Germany in need of protection. You hear very little from the government about how these people are going to be taken in safely and humanely."
Refugee ID card
With a view to simplifying the various registration procedures that refugees must go through, the CDU/CSU also wants to introduce a "refugee ID card," which will, among other things, be a necessary precondition to getting any state help. But there no other details on what the ID card would be for. "Refugees get papers one way or another from the authority - residency papers, and after the asylum decision," said Pichl. "I don't know what the point of the pass is - it's very vague."