Police in Catalonia on Tuesday concentrated efforts on sealing off buildings expected to house polling stations for this week's planned independence referendum.
Catalonia's chief prosecutor ordered security forces to close up buildings and guard them until Sunday's vote to avoid any ballots from being cast.
"The order has been conveyed and it will be executed with all normality," said a spokesman for Catalonia's regional police force, the Mossos d'Esquadra.
Read more: Catalonia independence bid - what you need to know
Last weekend, Spain's Interior Ministry put Catalonia's regional police under its supervision while, according to Spanish daily El Pais, Madrid has also deployed two-thirds of its riot police, some 2,000 officers, to the northeastern region in the run-up to the vote.
Questioned about the referendum during a state visit to Washington on Tuesday, Spanish Prime Minister Mariano Rajoy urged Catalan officials to return to "common sense."
Targeting logistics
Tuesday's move was the latest in a spate of security measures ordered by Madrid to stop Sunday's scheduled referendum, which it sees as illegal. Around a dozen regional leaders and referendum organizers have been detained, millions of ballot papers have been seized and almost 150 websites providing information on the referendum have or are in the process of being closed down.
The leader of Catalonia's separatist government, Carles Puigdemont, has also been threatened with arrest.
Spanish government officials claimed Tuesday that enough had been done to prevent a meaningful plebiscite from taking place. With just days to go ahead of the vote, regional officials are without an election commission, ballot boxes, ballot papers, a transparent census or election material.
"Today we can affirm that there will be no effective referendum in Catalonia", said Enric Millo, the Spanish government's representative in Catalonia. "All the referendum's logistics have been dismantled."
Read more: Catalan leaders seek dialogue with Madrid as separatist referendum looms
Catalan separatist leaders have accused Madrid of "repression," while the central government has argued that it is simply applying the laws of its democratic constitution. Established in 1978 following the fall of former dictator Francisco Franco, Spain's constitution gives wide autonomy to the country's regions but upholds "the indissoluble unity of the Spanish nation."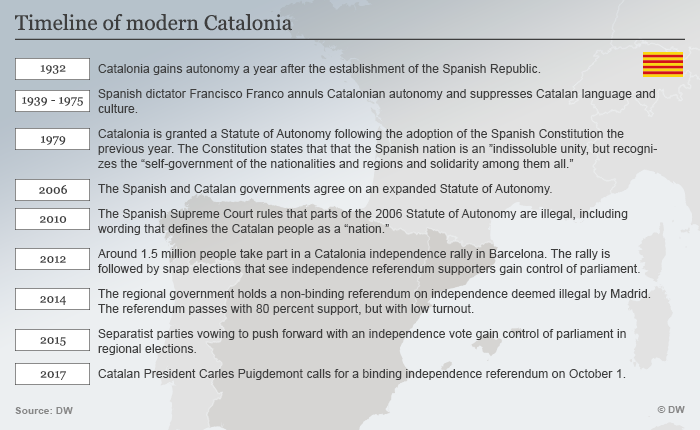 Separatists determined to go ahead
Despite the setbacks, Catalan Foreign Minister Raul Romeva remained determined that the vote would go ahead, one way or another.
"People will go out and vote en masse, peacefully on Sunday — I don't have any doubt," he said Tuesday. "Every time they have tried to prevent something from taking place, we have found a solution. We can guarantee that everything needed to vote is there."
While Catalonia's push for independence has received virtually no backing from European allies, Romeva claimed Madrid's crackdown had "European institutions and capitals of EU states very concerned," without providing further details.
One of the only lawmakers to express any solidarity with separatist officials is Scotland's influential First Minister Nicola Sturgeon. The leader of the Scottish National Party, is herself looking to win her country's independence from the United Kingdom in a second referendum, after Scots voted against breaking up with the rest of the union in 2014.
Romeva was tasked by Puigdemont in 2016 with preparing the diplomatic groundwork for an independent Catalonia.
dm/cmk (AFP, Reuters)