The Madrid-based court preventatively suspended a second law relating to Catalonian independence on Tuesday, news agencies quoting unnamed Spanish court sources reported, adding another legal hurdle for separatists.
Prosecutors in Catalonia also on Tuesday ordered police to seize ballot boxes, election fliers or other items that could be used in the banned referendum, news agency AFP reported.
The court, Spain's highest authority on such matters, had already suspended the law and decree calling for a referendum on Catalonia's independence to be held on October 1.
Election materials ordered seized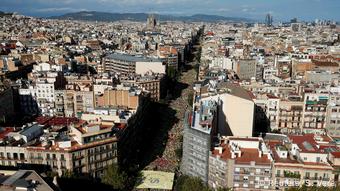 Thousands rallied in Barcelona to call for independence on September 11
The chiefs of the Guardia Civil and National Police forces, as well as the Mossos, a regional policing squad controlled by the Catalan government, were called to the Barcelona prosecutor's office. After the meeting, prosecutors said in a statement quoted by AFP that the police chiefs were ordered to take action against authorities, civil servants or individuals "to avoid offences being committed."
"Police officers... will directly adopt the measures necessary to seize resources destined at preparing or holding an illegal referendum," the prosecutors said.
Read more: Spain's top court overrules Catalan referendum law
The judges are considering whether the planned vote is unconstitutional. Prime Minister Mariano Rajoy's government has declared the vote illegal and challenged it in the courts. Spain's constitution bars regions from unilaterally calling an independence referendum.
Separatist leaders in the autonomous northeastern Spanish region, including premier Carles Puigdemont, say they'll press forward with a secession vote anyway.
On Monday, hundreds of thousands of Catalans took to the streets in a pro-independence march marking the Catalan national day, known as "Diada."
Read more: Pro-independence Catalans celebrate Diada national day ahead of vote
That could put the Mossos in a tough position – by law they have to follow prosecutors' orders but they also depend directly on the regional government they have been ordered to act against.
se/rc (AFP, Reuters, dpa, AP)