Old fishing nets, plastic bottles and threadbare tires are generally consigned to the landfill, or end up in our oceans. But one eco-minded fashion firm is turning that waste into jackets, sneakers and flip-flops in a rainbow of hues.
"Plastic pollution is a huge topic right now — also within the industry," Carolina Álvarez-Ossorio, spokeswoman for Ecoalf, said speaking in the Spanish company's new Berlin store.
There, participants in a green tour of Berlin sit on a massive semi-circular sofa made from old plastic bottles, as they listen to a talk about the firm's history and environmental philosophy. Around them, minimalist t-shirts and padded coats — also made from plastic bottles — hang on racks.
The plastic comes from 3,000 fishermen who work along Spain's Mediterranean coast. They catch litter in their nets alongside fish. Instead of jettisoning the waste back into the sea, they now pass it along to Ecoalf. The company then processes it into "sea thread."
"The challenge is not finding garbage — that is everywhere — but having the technology to transform it," Álvarez-Ossorio told DW, adding that the fishermen take part in the scheme voluntarily because they are "concerned and worried" about the worsening pollution they see.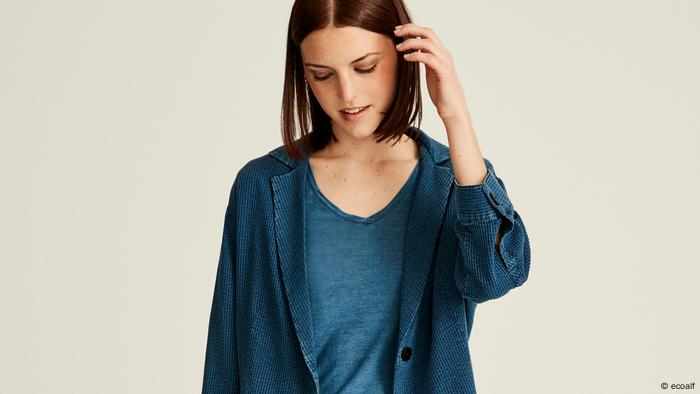 Wearing fashion made from waste doesn't mean that you have to look rubbish
While Ecoalf's business model offers one way to deal with that pollution, founder Javier Goyeneche originally established the company in 2009 because he was surprised by the lack of recycled clothes on the market.
Less than 1 percent of clothing is currently turned into new garments, and the "recycled" fabric Goyeneche did find for sale often contained as little as 5 percent reused materials.
Read more: Opinion: Still a long way till 'peak plastic'
Read more: Giving up my filthy fashion habit
Read more: Fast fashion: What's your waste size?
Recycling waste plastic into clothing
Still, with news of our seas being filled with more plastic than fish by 2050 and of whales dying from eating plastic bags, a growing number of firms like Ecoalf are incorporating waste into their collections.
For instance, elusive designer duo Vin and Omi make quirky futuristic creations from the material.
More established players like outdoor company The North Face recently transformed plastic bottles retrieved from three American national parks into a line of bags and t-shirts. Patagonia, also an outdoor-wear specialist, has been turning discarded plastic into fleece jackets since 1993.
Recycling plastic bottles into clothes has the obvious boon of delittering parts of our planet — but it still leaves an ecological footprint, even if it's smaller than that of the conventional fashion trade.
But Vin and Omi, for example, say that producing recycled fabrics made from old plastic uses 50 percent less energy and produces a third less CO2 compared to making plastic-based textiles from non-recycled materials.
Read more: Our addiction to growth is harming the climate
Trend or paradigm shift?
Big fashion firms including Target, Zara and Primark, as well as footwear makers like Nike and Adidas, are jumping on the green fashion trend too by hiring sustainability experts and touting their recycling credentials.
H&M plans to make its whole business "circular," meaning that it would recycle all of its garments. But in an interview on the company's website, Anna Gedda — head of sustainability at the Swedish fashion giant — said its success would depend on the development of new technologies.
"Finding innovations to fill the technological gaps we have throughout our supply chain and bringing these new innovations to market fast enough are two of our biggest challenges," said Gedda.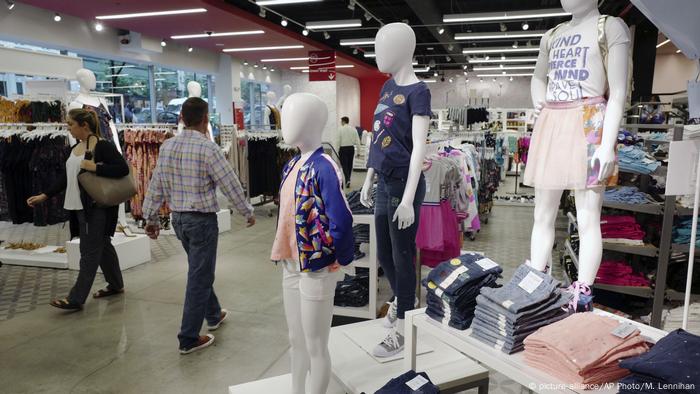 Even major stores such as US-based Target (pictured here) are marketing clothes made of recycled plastic bottles
Lucy Norris, a Berlin-based professor of design research and material culture, said recycling consortia are working on an infrared sorting system for secondhand clothes, which would separate different materials for recycling. They are also developing chemical reprocessing technologies that will be able to dissolve mixed fibers to extract polyester or cotton.
"But these emerging technologies are still at the prototyping stage," Norris told DW. She estimates that it could be another 20 years before recycling technology will be able to keep pace with the ambition to keep textiles out of landfill and in circulation.
Read more: Germany's waste problem: Recycling isn't enough
Fast fashion's footprint
Greenpeace's 2017 Fashion at the Crossroads report questioned the industry's priorities, suggesting that environmental problems will persist as long as demand for cheap, disposable clothing continues.
The global clothing industry is now worth US$1.3 trillion (€1.1 trillion) and the number of garments produced annually has doubled from 2000 to 2015. That appetite for fast fashion is taking a massive toll on the planet, including pollution of oceans and rivers with fertilizers and chemicals.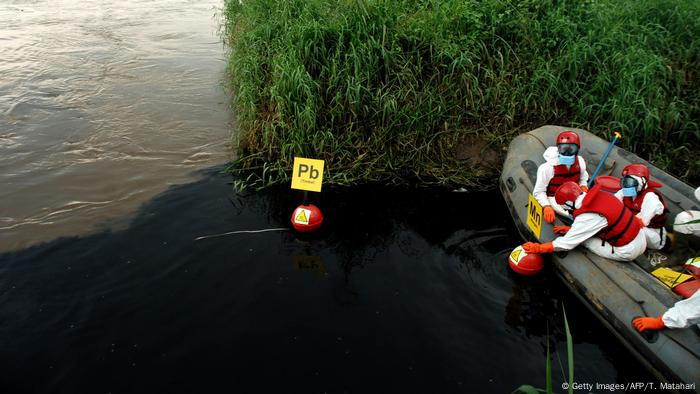 Greenpeace activists sample a textile factory's toxic waste discharge in the Citarum river in Indonesia. The river has been dubbed the 'most polluted in the world'
Read more: Arctic sea ice holds record levels of microplastics
In 2015, the industry used 98 million tons of oil and other nonrenewable resources to produce synthetic fibers, according to a recent report by the Ellen MacArthur Foundation.
The industry's greenhouse emissions of 1.2 billion tons of CO2 equivalent a year exceed those of international flights and shipping combined.
In its report, Greenpeace described how the industry pushes "short-term waste management approaches, such as the recycling of problematic plastic waste from other industries as the main solution."
What is needed more, it said, was to slow down our use of materials and to make waste a thing of the past. This would reduce the amount of nonrenewable resources used annually to create new textiles.
Norris agrees.
"The crunch point is that they are not tackling the problems of overproduction and overconsumption," said the textile expert. "The whole model of fast fashion and the quick turnover of cheap clothes needs to change. It is inherently unsustainable."