In an interview with Sky News on Thursday evening, British Prime Minister David Cameron said there was "no prospect of Turkey joining the EU in decades."
"They applied in 1987, they have to complete 35 chapters, one has been completed so far," he added.
"Turkey's not going to join the EU anytime soon - every country, every parliament has a veto."
Cameron's comments on Thursday came as he attempted to reduce concerns among some of the studio audience that Turkey joining the EU would result in more migrants entering the UK.
As part of the recently implemented refugee deal with Ankara, the EU initially agreed to speed up talks concerning Turkey's possible EU membership, as well as to introduce visa-free travel for Turkish citizens.
Concerns over human rights in Turkey and over President Recep Tayyip Erdogan's consolidation of power have resulted in growing tensions between the EU and Ankara. But EU officials have signaled delays and reservations on plans to introduce visa-free travel for Turks.
The Union said Ankara had failed to make the necessary reforms on freedom of the press and the judiciary in time. Erdogan responded by suggesting that Ankara would put an end to the migrant deal altogether.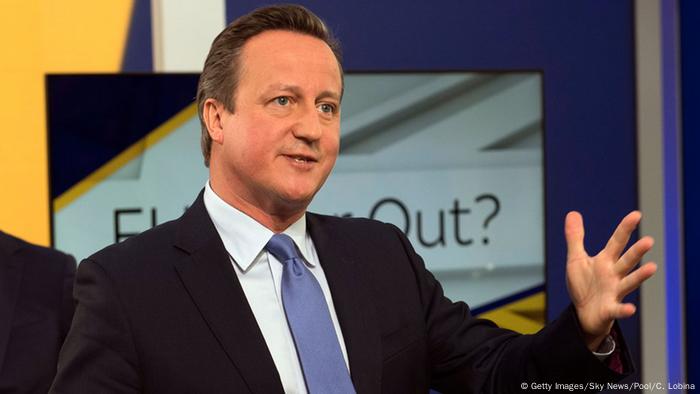 UK Prime Minister David Cameron was grilled by a live studio audience during an interview with Sky News
Migration concerns for Brexiteers
Cameron's interview on Thursday came exactly three weeks before the UK heads to the polls to vote on the future of their membership in the EU.
Migration remains a key topic for voters, particularly among the Brexit camp, who are in favor of the UK leaving the 28-member bloc. Cameron's Conservative government has previously said that it aims to reduce the UK's net annual migration to less than 100,000. Last year, however, it was more than 330,000 - around 50 percent of which was from other EU nations.
Cameron insisted on Thursday, however, that curbs to welfare benefits and other measures can control migrant numbers even if the UK remains an EU member. That's despite EU citizens having the right to live and work in other member states.
"There are good ways of controlling migration, and there are bad ways," Cameron said, warning, however, that it "would be madness to try to do that by trashing our economy and pulling out of the single market."
Leaving the European Union would be an act of "economic self-harm," he said.
Too close to call
Earlier on Thursday, German Chancellor Angela Merkel weighed in on the debate, saying that the UK would get better results from the EU "when you sit at the bargaining table," rather than lobbying from outside. A recent poll meanwhile indicated that 67 percent of Germans would prefer Britain to remain a member of the EU.
With just 20 days to go until the referendum, opinion polls continue to be tight. An online and telephone poll published earlier this week by the "Guardian," however, found that the "out" campaign was three points ahead of the "in" supporters.
British bookmakers still think, however, that a "remain" vote will be the more likely outcome on June 23.