The Cambodia Daily, one of the country's most stridently independent newspapers, published its final edition on Monday with the headline "Descent into outright dictatorship" amid a widening crackdown on press freedom and the opposition movement.
Tax authorities in the Southeast Asian nation had given the English-language newspaper one month to pay $6.3 million (5.3 million euros) for years of back taxes. However, The Cambodia Daily disputed the figure, describing it as astronomical.
Read more: Who are Cambodia's Adhoc 5 activists?
"The power to tax is the power to destroy. And after 24 years and 15 days, the Cambodian government has destroyed The Cambodia Daily, a special and singular part of Cambodia's free press," the newspaper said in a statement.
'Pride in writing'
Cambodian Prime Minister Hun Sen - a former Khmer Rouge soldier - has personally attacked the publication in his speeches, calling it the country's "chief thief" and its journalists "servants of foreigners."
"We have been a burr in Hun Sen's side for the entire time that we have been operating," said Jodie DeJonge, the newspaper's editor-in-chief. "This paper takes special pride in writing about some of the toughest issues."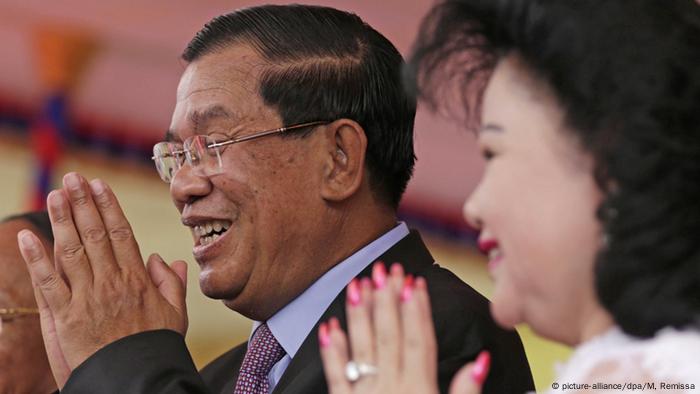 Hun Sen has led Cambodia over two decades, guiding its transformation from a failed state to a budding democracy. However, the government's latest campaign has activists worried about the country's future
The newspaper announced its last issue hours after police arrested Cambodia's main opposition leader, Kem Sokha, on treason charges.
Rights groups have warned that the government's widening crackdown on press freedom and opposition leaders marks a dangerous shift in the budding democracy.
'Gravest threats to press freedom'
Human Rights Watch on Saturday called on Cambodian authorities to end their campaign against news outlets in the country, saying the latest maneuvers amount to "one of the gravest threats to freedom of the press" in the country since 1991.
Read more: Media literacy enters Cambodian classrooms
"Unless there is a global outcry, there is every reason to believe that Hun Sen's government will kill off the Cambodia Daily and end its 25 years of independent news and objective criticism," said Phil Robertson, HRW's deputy Asia director.
"Countries that for nearly three decades have invested their energies and resources in a free and open Cambodia should realize that all is about to be lost. They need to denounce the government's action or accept a share of the blame."
ls/rc (Reuters, dpa)