Hertha Berlin 2-0 Bayern Munich
(Ibisevic pen. 23', Duda 44')
Niko Kovac's trip to Berlin looked very different to his last, as Bayern Munich lost their first game of the season, quietly sparking hope amongst Bundesliga fans for the season ahead.
Pal Dardai's side dealt with Bayern comfortably at the start, with many expecting Bayern to eventually go up a gear - but they didn't and Hertha took their chances. After Manuel Neuer made a strong save to deny Vedad Ibisevic, the loose ball fell to Salomon Kalou in the box. Jerome Boateng tried to clear it but went to ground far too early, which sent Kalou tumbling and left the referee with no choice. Ibisevic sent Neuer the wrong way and the Olympiastadion was bouncing.
Bayern should have drawn level soon after, but Arjen Robben blazed over from yards out with the goal gaping. Niko Kovac's side were made to pay for that miss too when great combination play from the home side resulted in a second goal. Kalou sent through Lazaro on the right and his cut-back was drilled, first time, into the roof of the net by Ondrej Duda. It was the Slovakian's fifth goal of the season.
History was against Bayern. The club hadn't won a Bundesliga game when they had been two goals down at the break since May 1988. Niko Kovac went for it, bringing off Arjen Robben for Thomas Müller and moving James wide right. Bayern huffed and puffed, but Berlin stood firm.
Thomas Kraft, in for the injured Rune Jarstein, awkardly saved a header from Lewandowski as Bayern pushed harder. Shots were blocked or dragged wide, or Kraft's knee was in the right place as Hertha weathered the inevitable Bayern onslaught.
"Just because we didn't play well in Bremen doesn't mean we haven't had a strong season so far," Kraft told Eurosport afterwards, with a grin. Head coach Pal Dardai complimented Kraft and co, noting "the players who came in gave a really good performance."
The result gives first Werder Bremen and then Borussia Dortmund the chance to top the table by Saturday night.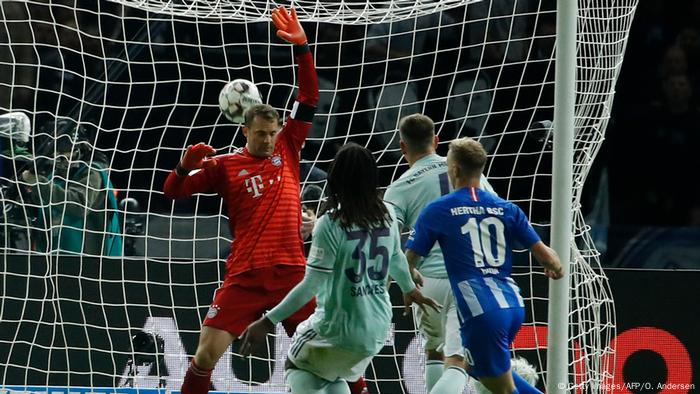 Manuel Neuer was left helpless as Hertha Berlin stunned the record champions
As it happened:
FULL TIME: That's it! Hertha have inflicted Bayern's first loss of the season.
90+4 - Neuer goes up for the corner and flings himself at a header but misses by a foot. Duda breaks away and then loses the ball to Kimmich, who he brutally hacks down. Yellow. He won't care about that.
90+2'- Kimmich comes down the right once more and Ribery gets a shot off but it's blocked. Again.
90' - Kimmich lifts a ball in to the area but Wagner is offside. There will be four minutes of injury time. Hertha try to kill a bit of that by removing Dilrosun for Jastrzembski.
88' - Gnabry shoves Dilrosun in the box as another Bayern attack breaks down. Lewandowski gives his teammate a bit of a verbal volley for that one.
85' - Süle tries one from at least 30 yards but it's nowhere near troubling the keeper. A center back taking a pop from that range is a sure sign of Bayern's desperation.
83' - Boateng pumps another straight ball right in to Kraft's arms before Gnabry pulls a shot wide. Not Boateng's night tonight and it doesn't look like being Bayern's.
79' - The ball is in the Hertha box for an eternity before Ribery eventually gets off a shot that deflects wide. From the corner Wagner heads straight in to Kraft's knee. The keeper didn't know a great deal about that one but Hertha survive.
77' - Boateng pumps one in to the box but it eludes Müller and flies out for a goal kick.
75' - Ribery swings in a high ball to Gnabry at the back post but the young winger can't quite wrap his foot round it and hooks it wide.
72' - Wagner replaces James. Kovac's last throw of the dice.
70' - Alaba hits a free kick from a good 35 yards but it's terrible. Hertha bring on Leckie for Kalou.
68' - How did that stay out? Boateng powers in a header from a corner, Kraft pushes it out and Gnabry seems to be in for a tap in, but Stark just gets a toe to it. Moments later, the tension is replaced by comedy as a huge pile up leaves Kimmich, Kalou, Lazaro and the referee on the deck.
66' - Thiago hits one from a fair distance out but it's weak and deflects off an offside teammate for a goal kick.
63' - Kovac chucks on Gnabry on for Sanches.
61' - Sanches wins a tackle high up the pitch, whips out a lovely drag back but his cross floats away from the two Bayern bodies in the box.
58' - Brilliant tackle from Skjelbred in the middle of the park as Bayern were building up a head of steam. Hertha have been excellent defensively so far, disciplined, hard-working and strong. But there's still a fair way to go.
54' - Almost an instant impact from Müller, who flicks a cross on to Lewandowski. But it's just too far behind the Polish striker.
54' - The ball drops to Alaba at the edge of the box and he whistles one just past the far post. The replays show Robben did not look happy when he was withdrawn. Hertha also make a change, with Ibisevic off and Selke on.
52' - Early second half substitution for Kovac, with Müller on to replace Robben.
51' - I know they aren't two goals down at the break often but this is still a pretty stunning statistic.
50' - Bayern stil with all the possession but still yet to really trouble Kraft. Süle comes close from a corner but his header is hacked away before it reaches the Hertha keeper.
47' - James hooks a speculative volley towards goal. It takes a nick and goes out for a corner, who is eventually cleared to Kalou, who is rugby tackled to the gorund by Kimmich. A yellow card for the Germany right back.
46' - The players are all emerging for the start of the second half, except for Thomas Kraft - the Hertha keeper has been out for the entire 15 minute interval. Obviously expecting a busy half...
HALF TIME: Well, it's all going wrong for Bayern. A brainless tackle for Boateng gave Hertha the lead and the same man lost his runner for a well-worked Hertha second. Bayern have had a lot of the ball but are yet to register a shot. Big half time team talk for Niko Kovac coming up.
44' - Wow. The upset could actually happen. Kalou flicks a ball to Lazaro who burns past a stationary Boateng and cuts back for Duda, who lashes his fifth of the season in to the roof of the net. Lovely goal but question marks over Boateng for both.
44' GOAL! Hertha Berlin 2 - 0 (Duda)
44' - Lewandowski looks to have a chance but takes far too long on the ball and is robbed.
42' - Bayern turning up the heat now. A free kick is cleared to Thiago, who hammers it back towards goal, but it's blocked. For all their dominance of possession, Bayern haven't yet tested Kraft.
39' - Big miss from Robbem For about the 30th time tonight Ribery slips it to Alaba on the overlap. The cross is whipped between the defense and Kraft, Robben arrives, the ball is on his left foot.... and he blazes it miles over. It came to him quickly but that was only about six yards out. Must score. Moments later, Ibisevic is the first name in the book, presumably for a bit of lip.
36' - Another Bayern corner, this time taken by James. Hertha clear but theColombian wins it back and finds Ribery, he's tackled by Rekik and it bounces back off the Bayern man for a goal kick.
32' - Stark gets a free header from a Hertha corner but loops it over. He was a way out but should've hit the target, much like Boateng earlier in the half.
29' - Bayern have another corner. It's half-cleared to Lewandowski who tries to play it back across the box but it's hacked clear.
26' - Robben scoops a lovely little ball to Kimmich who cuts inside and lashes it with his left. The strike looks good but it hits Ribery on the back and ripples the outside of the side netting. The right back is not happy about that at all.
23' - The burly Bosnian goes to the left, Neuer goes the other way and Hertha have the lead.
23' - GOAL! Hertha Berlin 1 - 0 Bayern Munich (Ibisevic)
22' - Duda picked out Ibisevic with a great long ball, Neuer made a great save and then Boateng stupidly went to ground took out Kalou, who was going away from goal. The Ivorian knew the tackle was coming but it was a clear penalty.
22' - PENALTY TO HERTHA BERLIN!
19' - Ribery glides past Lazaro - who is not a natural full back - and stands one up. Lewandowski is coming in at the back post but guides his header wide. A half chance but much better from the champions.
17' - Thiago snaps in to a tackle in the middle of the park to set Bayern off, but it's not quite clicking in the final third at the moment.
14' - Ribery and Alaba both try to whip balls in from the right and the French winger wins the game's first corner. Boateng finds some space near the penalty spot, rises well but sends it just past the angle of post and bar.
12' - Kalou and Maier combine beautifully down the right and the latter whips it in low towards Ibisevic. But it's just ahead of the Bosnian striker, who is adjudged to have fouled his man.
10' - Bayern starting to hit their straps now, as both Robben and Ribery have opportunities to make something. But Hertha snuff out the danger.
7' - Kimmich whips one in and Kraft flaps at it under no real pressure but it land safely. Soon after Ribery gives the ball away twice in quick succession.
4' - Lazaro does well to get the better of Alaba down Bayern's left but his cross is weak.
3' - Some tough pressing early on, with Sanches and Lazaro both giving away fouls already.
1' - Here we go! Hertha's Ibisevic gets us underway.
20:29 - The players are out now, lining up for the pre-match ritual. The stadium looks and sounds great on one of the rare occurences that it's full for a club match. Can the players live up to it?
20:25 - The Olympic Stadium is plunged in to almost total darkness and we see the players heading down towards the pitch on the stadium escalators. Always looks a little strange to me that one.
20:20 - James Rodriguez given another chance today. The Colombian hasn't quite hit the heights of last season yet but he's shown signs that form is returning.
20:15 - After a whole day without any Bundesliga, we return with a top four clash. Unlikely as it sounds, Hertha Berlin currently sit fourth in the Bundesliga table thanks largely to a return of 10 points from their first three games. But, like their opponents tonight, they suffered a blow midweek, losing 3-1 to Werder Bremen.
Despite the late concession to Augsburg, Bayern are in their usual position at the top of the pile and will expect to put the pressure back on Borussia Dortmund and the rest of the 'chasing' pack with a win that'd take them five points clear, with 2nd-placed Dortmund travelling to Leverkusen and Werder Bremen, in third, away to Stuttgart on Saturday.
Niko Kovac recalls Robert Lewandowski, David Alaba and Jerome Boateng while Renato Sanches starts again after his recent resurgence. For the home side, Pal Dardai opts to bring Saloman Kalou back in to the starting XI in place of his son, Palko Dardai. The most surprising omission for the hosts is Marvin Plattenhardt, with 21-year-old Maximillian Mittelstädt preferred to the German international left back.