Last time Renato Sanches took to the field at the Stadium of Light, he was a teenager on the verge of signing with Bayern Munich and about to announce himself on the global stage as Portugal won Euro 2016.
Just over two years later, a Champions League group stage match that had a touch of the mundane for most of Bayern's squad looked critically important to Sanches. The 21-year-old was named European Golden Boy in 2016, an award previously won by Lionel Messi, Sergio Agüero, Isco and Paul Pogba and won last year by Kylian Mbappe.
Read more:The lost boys: Why Renato Sanches and Mario Götze didn't make the World Cup
But elsewhere on the list of the winners of the 15-year-old award are some cautionary tales. Anderson, then of Manchester United, Pato, then of AC Milan, and Mario Götze have all thus far failed, to varying degrees, to live up to their youthful promise.
After a poor start to life at Bayern under Carlo Ancelotti and a disastrous loan move to Swansea where he became a social media star for passing the ball to an advertising hoarding, Sanches' confidence looked utterly shot. A player who once had power, poise and presence far beyond his years looked lethargic, indecisive and, at times, utterly clueless.
Injuries offer opportunity
New Bayern coach Niko Kovac said early in his reign that the midfielder had a fresh slate in Bavaria but Sanches hadn't made a matchday squad until injuries to Corentin Tolisso, Thiago and Leon Goretzka forced the Croatian's hand.
"After Thiago's injury, Renato's time had come today," Kovac told Sky after Bayern's 2-0 win. "I told him: 'Just play your style, this is your home.' We knew this boy could play football. But you always have to keep in mind that a young player has to settle in."
Sanches did do it his way. He played a part in Robert Lewandowski's early opener with the kind of surging run through the middle of the park that made him such an exciting prospect. A positive start seem to aid his fragile confidence, which grew with each completed pass - he ended up with a pass success rate of 94 per cent.
Then came the moment that Bayern fans, Kovac and any observer with a shred of sympathy for a player who seemed like a classic case of 'too much, too young' were waiting for. Sanches picked up a ball from deep and drove once again through the center of the park before laying off to Lewandowski. As the Polish striker ferried it out to James Rodriguez, Sanches' took up Lewandowski's usual berth in the box, lurking with intent before sidefooting home the cross.
As the ball hit the net, Sanches put his hands above his head, seemingly in a gesture of prayer while fans from both sides applauded. That mutual admiration, particularly for a player who played just one season in the Portuguese capital, was a mark both of how special a player Sanches can be and what a difficult time he's endured.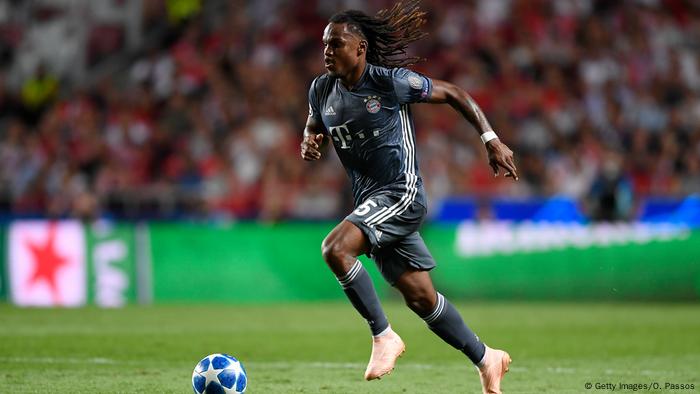 Renato Sanches was in commanding form on his return to Benfica
Goodwill from all sides
"The reaction of the fans to Renato Sanches was really incredible," said Lewandowski after the game. "Great respect for the fans here. Renato played well. I think it was a very important game for him personally. It was important for his confidence to show today that he is one of us and that he can help the team."
One goal, and one strong performance, won't erase two years' worth of stagnation but it was undoubtedly, finally, a step in the right direction. Kovac will be aware that with Tolisso out long term and Arturo Vidal in Barcelona, his options in midfied are not as abundant as they seemed when he took charge, while few players in his squad can match Sanches' drive at his best.
"I'm so happy to experience a night like this in Lisbon and would like to thank the Benfica fans," Sanches said. "It was a very special moment for me and I really enjoyed it."
His task now is to make sure that this latest step forward isn't followed by any more in the wrong direction.