Say Ludwig van Beethoven, and the first image that comes to mind might be the scowling composer with a clenched fist, defying his tragic fate and transcending boundaries through his stormy creations, conquering concert halls and mobilizing the masses in the process. The fact that Beethoven also occupied himself with relatively harmless folk songs is more of a footnote in music history.
Unjustifiably so? Beethoven arranged and adapted songs from all over Europe — from Ireland, Wales, Scotland and England, from Sicily, Venice, Denmark, the German-speaking lands, Tirol, Poland, Portugal, Russia, Switzerland, Spain and Hungary — pointing to more than a passing interest in the genre.
But with Beethoven, it's not so much about the material he had but what he did with it, blurring the distinction between adaptation and composition, said Malte Boecker, director of the Beethoven House in Bonn. "In his Diabelli Variations, a simple melody is the point of departure for motivic work leading to highly complex compositions — and that also happens here with these folk songs."
Read more: Forces of nature in Beethoven's Pastoral Symphony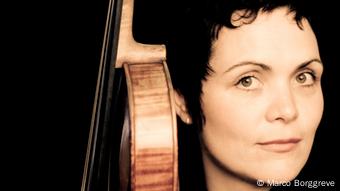 Beethoven was interested in folk songs for more than their publication value: Zimmernann
A lucrative business
In Beethoven's time, printed scores were the medium for the mass dissemination of music. In between symphonies, piano concertos and string quartets, he supplemented his income through the publication of folk songs.
Yet it was out of more than financial interest, according to German violist Tabea Zimmermann, the artistic director of the BTHVN Week in Bonn. "Otherwise he wouldn't have finished 140 folk song adaptations and occupied himself with them for months or years," she said.
"As a musician, I also sense that a composer like Beethoven had a strong affinity to folk songs so that he could analyze and use what he'd learned when inventing his own melodies, asking: what makes a melody a hit?"
Read more: How Beethoven incites climate activism
Mobilizing the crowd with a 'work festival'
Separately from Bonn's renowned Beethovenfest in September, the BTHVN Week fills the Beethoven House's chamber music hall evening after evening in January with curious visitors. On offer are artists of international stature — such as the German Lieder singer Christoph Pregardien, the American violinist Noah Bendix-Balgley and Zimmermann herself — and an unusual concept, a "work festival."
It sounds academic. An individual work created by Beethoven 200 years ago — this season, it's Beethoven's Scottish Songs Opus 180 — is taken as the point of departure for an exhaustive exploration of a theme, explained between performances by the artists themselves. One evening was devoted this year to Hungarian folk music, another to flamenco — so not just Beethoven.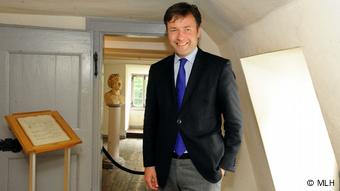 Boecker runs the Beethoven House, where the legendary composer was born in 1770
Academic perhaps, but the performance on Wednesday evening was anything but dry, with Bendix-Balgley performing and explaining works whose roots lie in Jewish folk music, then switching with his fellow musicians over to a joyfully melancholic and crazily ecstatic presentation of klezmer.
"The exciting thing is that folk songs have been used by composers in every era," said Boecker. "It always was and still is fascinating for composers to pick up this material, transform it into something of their own and integrate it into larger compositions."
To savor the charm of folk music tucked away in classical compositions, it's not necessary to have studied music or be a classical music aficionado.
"We've tried to put a colorful week together, and the various forms of folk music are quite similar," said Zimmermann. "It's usually about love, different kinds of work or themes of nature that move people. Whether you understand the text or not, the mood is there."
BTHVN Week runs from January 19-28 at the Beethoven House in Bonn.