Ludwig van Beethoven lived in the early industrial era, and exhaust fumes from steam engines and soiled drinking water were already issues back then. So was noise pollution, such as that created by horse-drawn carriages on cobblestone streets, which is why Viennese citizens were willing to pay for a couple of hours at a quiet spa.
Beethoven was a nature-lover himself, going on long hikes through the countryside around Vienna and even contemplating a move to a rural location.
His love of nature is eloquently expressed in his Sixth Symphony. Subtitled the "Pastoral," it's filled with music that imitates natural sounds — from a babbling brook and birdsong to a hefty thunderstorm — and as though to make it doubly clear, the composer offered movement headings like "Scene at the Brook" and "Storm."
"Nothing seemed more natural than developing a project based on this piece," said musicologist Luis Gago at the introduction of the "Beethoven Pastoral Project" during the COP 23 World Climate Summit in Bonn. "It's a portrait of nature with its unbelievable riches and variety."
Beginning November 15, the project is inviting musicians and artists worldwide to give thought to climate policy and take part in artistic actions.
More: Listen to music inspired by Beethoven
A call to artists of every kind
The action "invites musicians and artists of every genre to create and perform music with a connection to Beethoven's Pastoral Symphony," said Christian Lorenz, artistic director of the Beethoven Anniversary Society. "At the same time, they are asked to take a stand on behalf of environmental protection and sustainable development."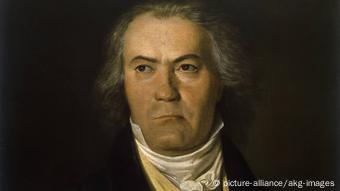 Having had his fill of city life, Beethoven contemplated moving to the countryside, but never did
The artists are invited to network on the project's website and share their experiences there. Several have already signed on, including the Chinese composer and conductor Tan Dun, the American composer Uri Caine, the German jazz musician Gregor Hübner, the Deutsche Kammerphilharmonie Bremen and its principal conductor, Paavo Järvi, as well as the Beethoven Orchestra Bonn and its principal conductor Dirk Kaftan.
The project has two phases. From June 5, 2018 until June 5, 2020, musicians of every genre, artists, filmmakers and environmental activists are to devise their own creative interpretations of the Pastoral Symphony and share their observations on environmental protection on the project's website.
Then, on "Pastoral Day," June 5, 2020, — the United Nations' World Environment Day in the 250th anniversary year of the birth of Ludwig van Beethoven — as many performances of the Pastoral Symphony are to be given worldwide as possible.
The project is documented by Deutsche Welle, which will compile particularly creative contributions in a film.
The other partners include the United Nations Climate Protection Secretariat UNFCCC and the Beethoven House, Beethovenfest and Beethoven Orchestra Bonn.