"Prince, what you are, you are through chance and birth; what I am, I am through my own labor. There are many princes and there will continue to be thousands more, but there is only one Beethoven."
Those are the words of a man truly not lacking in self-confidence. With them, Ludwig van Beethoven once put Prince Karl von Lichnowsky in his place. In the year 1800, the composer's noble patron had guaranteed him a yearly stipend of 600 guilders. Beethoven had just arrived in Vienna, and the funds were to bridge the gap until the composer earned a regular income.
That was never to happen. During his entire time in Vienna from 1792 until his death in 1827, Beethoven remained a freelance musician. Unlike most of his predecessors, he never had an official position at a court or in the service of the church.
Lichnowsky, Waldstein, Razumovsky and Archduke Rudolph are all names that Beethoven fans recognize: the personages behind them are the dedicatees of the composer's most famous works. It was a time in which music was increasingly being created for a middle-class clientele - and Beethoven was at the forefront of this development. Yet most of his compositions were commissioned by the rich, the famous and the noble - contacts that it was essential for him to maintain.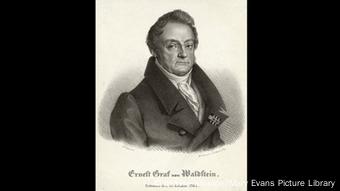 Ferdinand Waldstein went down in history as the name behind the 'Waldstein' Sonata
Self-confidently paying respects
In his 2012 biography "Beethoven. Der einsame Revolutionär" (Beethoven. The Lonely Revolutionary), Jan Caeyers showed how even a Ludwig van Beethoven was forced to bow to reality - and to the influential people of his time. Sometimes the confident and even arrogant musician had to make "obsequious compliments" to get into their good graces.
Like many in his generation, Beethoven had been inflamed by the ideals of the French Revolution. But liberty, equality and fraternity didn't prevent him from pretending that the "van" in the name "Ludwig van Beethoven" pointed to noble heritage, like the German "von." Such was not the case, however; the name was simply an indication of his Flemish forefathers.
Beethoven moved in noble circles purely due to the strength of his art - and many were willing to excuse his lack of courtly manners.

The German man of letters Johann Wolfgang von Goethe wrote, "His talent astonished me, but unfortunately his personality is completely unrestrained." The basic attitude of that "unrestrained personality" was constant however, as expressed in a letter Beethoven wrote to his former teacher Christian Gottlob Neefe: "If I am a great man one day, you will have made a contribution to that."
Multiple sources of support
In his first years in Vienna, a number of noblemen contributed to the young musician's success. Some remained loyal benefactors for decades, including Prince Franz Joseph Maximilian von Lobkowitz (1772-1816), the Russian ambassador Count André Razumovsky (1752-1836) and Count Moritz Fries (1777-1826).
His most important early patron, however, was Prince Karl Lichnowsky (1761-1814), who would become a source of income for a dozen years. Lichnowsky's residence was the meeting place of musicians and composers and saw the premieres of a number of Beethoven's early works.

The composer was even invited to live with the Lichnowskys as a "member of the family," and it was on his recommendation that several other noblemen offered commissions and various forms of financial support to Beethoven.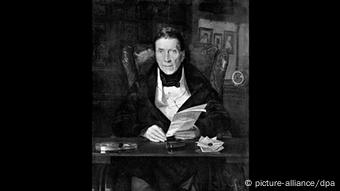 The Razumovsky Quartets are famous. This is a picture of the Russian ambassador
In gratitude, Beethoven dedicated several works to Lichnowsky, including his Second Symphony and the "Pathétique" Sonata. That gratitude was not endless, however. Around the year 1806, Beethoven was to perform for the prince's guests: French officers. His refusal to do so resulted in a scandal, and the princely payments were discontinued. Returning to Vienna, the furious composer smashed a bust of the prince.
Business savvy and a royal friendship
Beethoven was also something of an entrepreneur. He had most of his works printed and constantly negotiated with publishing houses, so that he would no longer be financially dependent on Lichnowsky.

For the remainder of his life, he did have another royal patron: Archduke Rudolph of Austria-Hungary (1788-1831), the youngest son of Emperor Franz. Himself a proficient pianist and composer, Rudolph was Beethoven's sole student of composition.
It was to him that Beethoven dedicated the greatest number of works, including the Fourth and Fifth Piano Concertos, the piano sonatas subtitled "Hammerklavier" and "Les Adieux," the "Great Fugue" and the Missa solemnis. The latter was to have been performed in 1820 on the occasion of Rudolph's coronation as Archbishop of Olmütz. But the mass, which Beethoven once described as his greatest work, wasn't finished until three years later - just one more indication that for Beethoven, everything - and everyone - took second place to his art.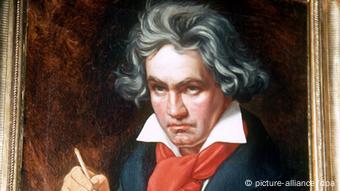 In this portrait by Josef Stieker, Ludwig van Beethoven is composing his Missa solemnis, which long outlived the occasion for which it was supposed to be written
A close relationship to Archduke Rudolph
In 2003, the American musicologist Lewis Lockwood wrote, "As much as Beethoven scorned other aristocrats, he was deferential to the Archduke, and he took pride in this high social connection." Rudolf treated him "like a friend, not a servant," the composer wrote in 1819.
Predictably, however, Beethoven grumbled intermittently about his teaching obligations, frequently cancelling the lessons that were supposed to take place twice or three times a week, feigning illness. When his royal patron objected, Beethoven set the record straight: He was not the Archduke's "servant."
Letters from Beethoven to Rudolph nonetheless contain generous praise of his student's talent and inspiration - but still, he wasn't afraid to point out mistakes or to admonish him to strive for improvement. Here, too Beethoven managed to have the last word - thoroughly unusual for a musician of that time.