Contrary to popular discourse within German Chancellor Angela Merkel's Christian Democratic Union (CDU) party, Brussels said the European Union's migrant deal with Turkey should not serve as a blueprint for potential future agreements with North African migrant transit countries.
Johannes Hahn, the EU's commissioner for neighborhood policy and enlargement negotiations, said it was counterproductive for the German government to habitually compare the migrant crises in Turkey to those in Africa.
Brussels holds that the situations in Turkey and North Africa are not comparable, since Turkey has become home to almost 3 million Syrian refugees, while North African countries, such as Egypt, are considered transit countries for migrants entering Europe.
His comments come ahead of Merkel's three-day state visit to Africa, where she will travel to Mali, Niger and Ethiopia. The continent's migrant flow towards Europe is likely to be the main point of discussion.
Ahead of her visit, the chief of the German Chancellery and one of Merkel's most trusted advisors, Peter Altmaier (CDU), reiterated the importance of a North African migrant deal in the German magazine "Der Spiegel."
In September, Merkel told a European delegation in Vienna that: "Agreements similar to the one with Turkey must by all means be agreed with other countries, such as Egypt and other African countries."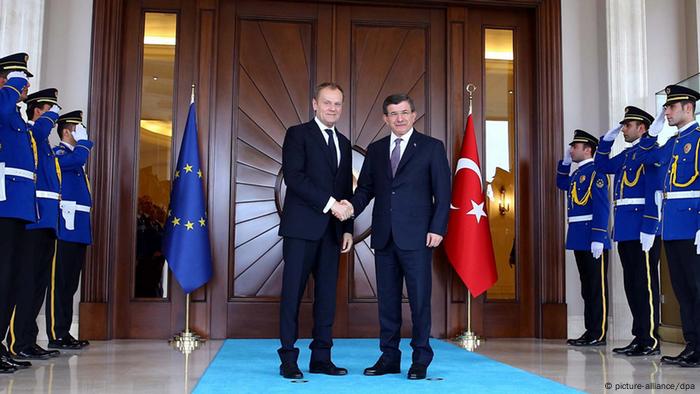 The EU-Turkey deal, agreed in March, stipulates that Turkey will receive 3 billion euros in EU aid for the 3 million migrants currently grounded in the country. The money is designated for housing and schooling for refugees. In exchange, Turkey has agreed to take back migrants from the Greek Aegean Islands, just off its coast.
Almost no other official advocated the deal more than Merkel.
However, Brussels now reportedly fears that Merkel's announcement and the CDU's discourse will lead other transit countries, such as Egypt, to expect the same level of aid.
Hahn will travel to Egypt on Wednesday to discuss partnership opportunities with President Abdel Fattah al-Sisi.
dm/jlw (AFP, KNA)