British Prime Minister Theresa May said Monday that she had secured legal guarantees from the European Union that should convince British lawmakers to back her Brexit deal.
The guarantees would ensure that the deal's most controversial provision, the so-called Irish backstop, would only apply temporarily after the UK leaves the EU on March 29.
"MPs were clear that legal changes were needed to the [Irish] backstop. Today we have secured legal changes," May told reporters at a joint press conference with EU Commission President Jean-Claude Juncker.
Read more: Brexit: Why is the Irish backstop so controversial?
What both sides agreed on:
May said both sides agreed on three documents — a "joint instrument," a joint statement and a unilateral declaration — that would accompany the main Brexit deal:
The legally binding "joint instrument" would allow the UK to challenge the EU in court if it tried to apply the backstop indefinitely and, if successful, suspend it.
The joint statement calls for an agreement on a post-Brexit trade deal before a transition period ends in December 2020. That would avoid the need to apply the backstop at all.
The UK would also make a unilateral declaration that the backstop would no longer apply if talks on a future trade deal collapse.
Read more: The draft Brexit deal — what you need to know
What is the Irish backstop?
The backstop aims to keep an open border between Northern Ireland, a British territory, and the Republic of Ireland, an EU member, if both sides fail to agree on a post-Brexit trade deal.
But many pro-Brexit British lawmakers have rejected the entire Brexit deal because they fear that the backstop could force the UK to follow EU rules indefinitely if trade talks break down.
Why is this important?
The apparent breakthrough in talks between May and Juncker in Strasbourg came as British lawmakers prepared to vote for a second time on May's Brexit deal on Tuesday.
A large majority of lawmakers, which included many in May's Conservative Party, rejected the original Brexit deal in January. Key Remainers in May's Conservative Party have hinged their support to the attorney general's legal opinion on the latest backstop provisions.
Read more: Brexit: What Europe wants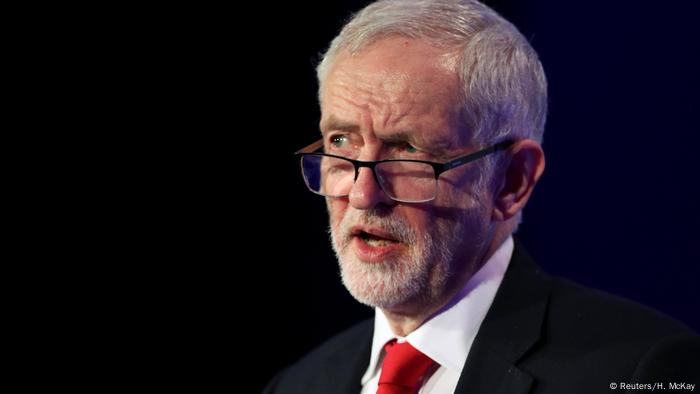 Labour leader Jeremy Corbyn quickly rejected the new agreements as insufficient
Labour party rejects changes
The head of Labour, the UK's main opposition party, said the documents were insufficient and called on his colleagues to vote against the deal.
"The Prime Minister's negotiations have failed. Last night's agreement with the European Commission does not contain anything approaching the changes Theresa May promised parliament," Corbyn said on Twitter. "That's why lawmakers must reject this deal today."
Read more:EU Customs Union, Single Market, Brexit — What you need to know
What happens if Parliament rejects the deal?
If the deal fails to secure a majority, lawmakers will vote on Wednesday on whether to rule out a no-deal Brexit. If that passes, they will then vote on extending the Brexit deadline during a parliamentary session on Thursday.
EU: This is your last chance
Sitting alongside May in Strasbourg, Juncker warned British lawmakers that the bloc would not reopen talks if they voted against May's deal.
"In politics, sometimes you get a second chance. It is what you do with this second chance that counts. Because there will be no third chance," Juncker said.
"Let's be crystal clear about the choice: it is this deal or Brexit might not happen at all," he said.
amp/aw (Reuters, AFP, dpa, AP)
Each evening at 1830 UTC, DW's editors send out a selection of the day's hard news and quality feature journalism. You can sign up to receive it directly here.