A leading member of Britain's Conservative Party has acknowledged that there are difficulties ahead as a result of the recent free trade deal between the United Kingdom and the European Union, but defended the agreement as one that is beneficial for both parties.
"Yes, there are going to be teething problems. And yes, there is red tape at the minute," said Andrew Bowie, a Conservative Party vice-chairman.
But, he explained, "this was a good deal for Britain, a good deal for the EU."
Talking from Aberdeen, Scotland, to DW's Conflict Zone host Tim Sebastian, Bowie added that the "scaremongering and the stories about the queues at Dover and the queues at Calais and holdups have come as naught."
The EU and the UK clinched a free trade deal for the post-Brexit era on Christmas Eve after what EU Commission President Ursula von der Leyen described as a "long and winding road."
The deal sealed the UK's exit from the bloc and avoided resorting to potentially damaging World Trade Organization trading terms.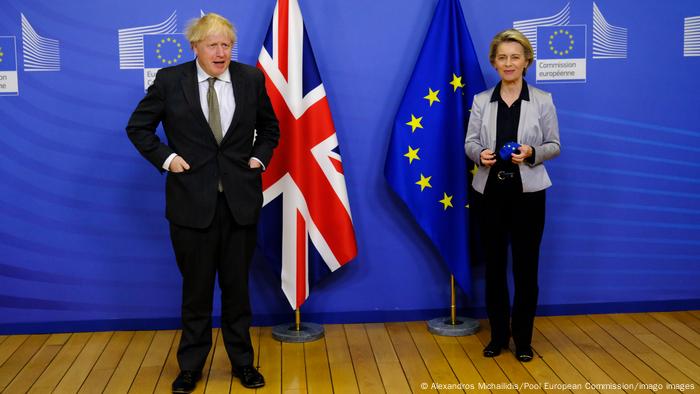 In doubt right up to the last minute, on Christmas Eve the EU and UK clinched a free trade deal for the post-Brexit era
'Manifest error'
UK Prime Minister Boris Johnson has praised the deal, explaining it allowed Britain to take back control of its laws and its destiny.
But Johnson has also been under fire, for example after having said that there would be "no non-tariff barriers" for trade with the EU, which was described at the time as a "manifest error."
But Bowie defended the prime minister and stressed that Johnson "has been absolutely clear all the way along."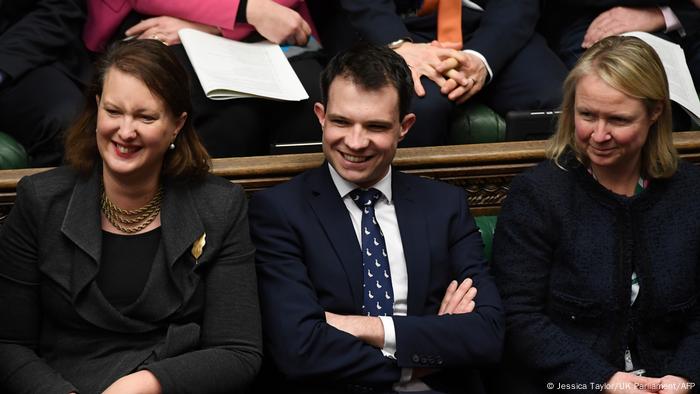 Andrew Bowie (center) represents his Scottish constituency in Parliament and serves as Conservative Party vice-chairman
"The tariff barriers that are in place are not insurmountable," he added.
The Conservative Party politician went on to say that the deal is "good for business, good for trade," even after Sebastian pointed out that retailers are talking about the biggest imposition of red tape in 50 years.
And he emphasized that the agreement "guarantees certainty for where we are heading as a United Kingdom, where our relationship will be with the European Union, so that business can go on and plan for the next few years and indeed decades as we move forward."
'Contempt for the British public'
Bowie hit back at charges that the PM had repeatedly misled his citizens regarding what the deal meant for them. "The prime minister and the British government absolutely show nothing at all like contempt for the British public, we treat them with a great deal of respect.
"Of course, it sat uncomfortably with me, the talk of breaking international law, but we very much hoped it wouldn't come to that, and it hasn't."
Sebastian also pressed Bowie on Johnson's statement that the UK had been able to take back control of "every jot and tittle" of its regulations "in a way that is complete and unfettered," pointing to the fact that Northern Ireland is, in reality, fettered by its obligation to abide by EU single market rules.
Under the Northern Ireland Protocol, Northern Ireland is kept in the EU's single market for goods and applies EU customs rules at its ports.
Bowie responded by saying that the prime minister "achieved the United Kingdom leaving the EU as one United Kingdom with the best of both worlds for Northern Ireland."
"Businesses in Northern Ireland who actually, I think, would have the best of both worlds, is something we should be cheered, and not something that we should be critical, about," he added.
"What we have achieved is something that most people thought was unachievable," he concluded.
"We've managed to do it with very little obstruction on trade. We've managed to do it as one."