The #MeToo movement has had repercussions in numerous industries, and journalism is no exception. This week a group of female reporters in Brazil launched the hashtag #DeixaElaTrabalhar ("Let her work") on social networks to denounce cases of harassment, disrespect and violence that they have suffered while simply carrying out their job: sports journalism. The English hashtag #LetHerWork has now also been launched in solidarity.
The campaign began with a video in which presenters, advisors and journalists spoke out about the violence and harassment they had suffered at work, and demanded respect from both the public and colleagues. The video was first shown on Sunday at a football match at Rio de Janeiro's Maracana Stadium — to an audience of 79,000 spectators. It has meanwhile gone viral on social media.
Read more: The news media has a woman problem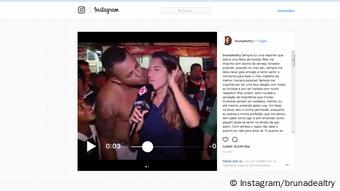 Journalist Bruna Dealtry was harassed by a fan on camera
'It happened to me'
Journalist Bruna Dealtry of the Esporte Interativo channel was the first to appear in the video. "It happened to me," says the reporter, referring to the sexual harassment that occurred on March 13 when a Vasco do Gama fan tried to forcibly kiss her during a live broadcast in Rio de Janeiro.
One day before that incident, radio reporter Renata de Medeiros was physically and verbally assaulted by an Internacional supporter while she covered a match. The cases sparked discussions about machismo faced by female professionals in the sports industry.
Read also: France drafts sexual violence, abuse and harassment prevention bill
Read more: 'An avalanche of changes' will follow #MeToo, says Berlinale director
#LetHerWork
The result was the #LetHerWork campaign, signed by 52 journalists. Several other well-known Brazilian journalists including Fernanda Gentil and Carol Barcellos appear in the video.
On the day of the campaign's launch Kelly Costa, a reporter for the Brazilian media giant RBS, was verbally assaulted by a supporter while covering the semifinals of the Campeonato Gaucho series. That same day, Kelly appeared on the channel SporTV to call for respect and reinforce the #LetHerWork campaign.
Double standards in newsrooms
In addition to living with machismo and aggression on the part of the fans, the Brazilian journalists report that they are also often discriminated against in sports newsrooms.
They say they are challenged all the time at work, are "professionally" evaluated on the way they dress, publicly cursed and harassed on social networks.
In recent years, several young professionals have teamed up to work in an environment removed from gender bias in sports journalism, on and off the court.
The website Dibradoras, formed by four women journalists, is one of them. The professionals not only address the topic of women journalists in the sports world, but also offer more space and publicity to women athletes and teams. Dibradoras declares that its mission is "to seek out women's points of view and roles in contemporary sport."
Read also:
–Women still face legal discrimination in 155 countries
–Millions in Spain stage International Women's Day strike

Breaking the silence
Even before the current denunciations, other campaigns had already appeared on the internet to break the silence on machismo in Brazilian journalism in general.
In 2016, the campaign Journalists Against Harassment was launched to denounce machismo in newsrooms; the campaign became a collective of women journalists. Currently the initiative's Facebook counts more than 22,000 supporters and has gathered several complaints.
In a survey run by Abraji and released at the beginning of the year, 64 percent of the journalists who answered the questionnaire said they had suffered abuse of power or authority from bosses or sources, 83.6 percent had suffered some type of psychological violence in newsrooms and 46 percent pointed out that the companies where they work do not have internal channels to receive harassment and gender discrimination complaints.