Bicycles rattle by everywhere on the flat cobblestone streets of Cárdenas, an industrial city on the north coast where a giant iron bicycle monument greets visitors. Bikes have long been the favored mode of transport here, but in Havana and other cities, the bike is coming back into vogue.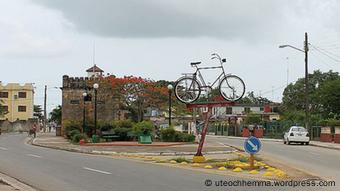 A bicycle monument in Cárdenas
Modern bike shops with their smell of rubber and gear-oil are springing up to meet demand from tourists as well as Cubans simply looking for a reliable way to get around. Osvaldo, a computer technician, sweats over an old Soviet-made MB3 with back-pedal brakes, handlebars shorn of handgrips – the bike itself a collection of spare parts. "Everybody gets around by bicycle in Cárdenas, and I use it also to carry all sorts of things, anything I can manage," he says.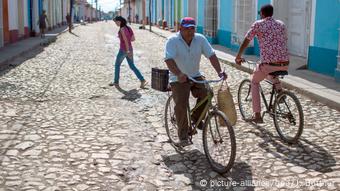 The odd slick mountain bike with swishing derailleurs is a rarity among the traditional rusty boneshakers used by ordinary Cubans heading to work, or to the bakery. Hairdresser Kenia Lis Pulido said she uses her bike from morning to night, from the moment she takes her children to school. "At night, if we are going anywhere, we'll pick up our bike and we'll have spent the whole day on the bike."
In some ways Cárdenas is a constantly moving, living museum of mostly-communist bike transport over the last 50 years, with examples galore of the Chinese-built "Forever" model and the "Flying Pigeon" that flooded the island during the shortages in the 1990s. One can still find a few folding MB3s from the 1980s, and rarer still, the American "Schwinn" of the 1950s.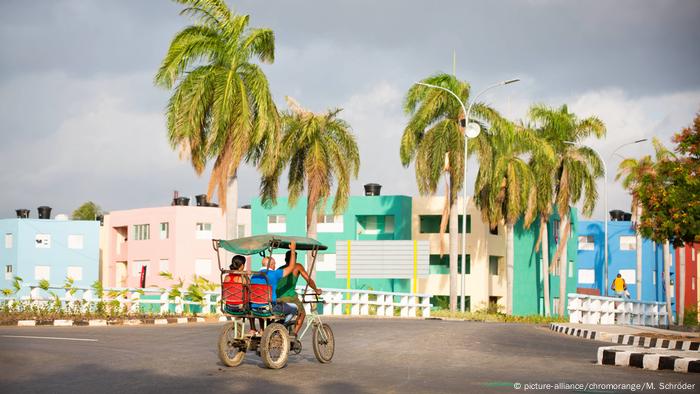 Santiago de Cuba
In the early 1990s bikes were the preferred way to get around in Cuba. The Soviet Union had just collapsed, removing the island's source of cheap oil imports, and cutbacks in public transportation led nearly everyone to seek a reliable alternative during the so-called "Special Period."
To cope with demand, Cuba began producing its own model, the Minerva. They were "poor quality," remembers Lazaro Pereira, a bike-repair specialist in Cardenas. "The forks split and when this happened, passers-by would mock people falling off their bikes."
Customization is common in Cuba's make-do culture, and bikes are often equipped with baskets, as well as wooden seats for extra passengers. Some even have lawnmower engines fitted. Ordinary mattress foam or plastic is used to renovate tired saddles. Often a piece of sponge wrapped in vinyl does the trick.
"During the Special Period in the 90s, many bicycles were made. Many were of good quality, because they didn't put a lot of weight on them, because a bicycle is made for only one person, but we want to put four people on it," the 43-year-old mechanic said.
Fidel Castro encouraged Cubans to get on their bikes when the Soviet cash-cow ran dry, but greater prosperity as the 21st century loomed brought a new reliance on motorized transport. Still today, a bicycle may have "a negative connotation because... it can remain associated with poverty that characterized this period," said Maria Paula Otero Herrera, a 21-year-old music student and bike-lover. "It was the ideal means of transport because it was the only thing that was allowed and so it has dragged with it those feeling of poverty from that time," said geography student Denis Alvarez.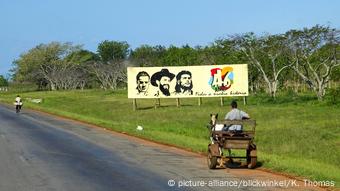 Naybis Diaz Labaut is the owner of VeloCuba, one of the numerous repair and bike-hire shops which have flourished around Havana in the last few years. "For the last five years, there has been significant movement in the world of bicycles in Cuba. We see it in the streets," she said, adding that they are proving a viable alternative to the geriatric public transport system. In general, "people aged 50+ reject bikes... but the new generation appreciates its attractions," she says. VeloCuba has been around since 2014, and employs almost exclusively women. The agency has just opened a second Havana outlet and also offers guided tours to tourists on its 40 recent models.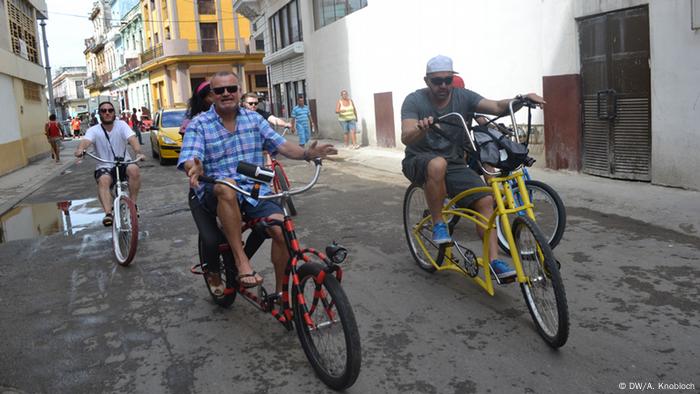 The German businessman Martin Staub aims to launch an e-bike renting company in Cuba
All were bought from foreign tourists because "the bikes sold in Cuba are Chinese models made of iron," and of poor quality, says Diaz-Labaut. Two-wheeled transport has a big future in Havana even though it has not yet reached anywhere near the popularity of bicycles in the provinces, she says.
Cycling in Cuba has its dangers however, "from antique vehicles unable to properly slow down, to the absence of proper bike paths, and the lack of motorist education."
"It's hard and challenging to ride in Havana," laughs Jake Lester, a cyclist from Massachusetts in the US, on a three-month study trip. "You have to be very careful about what happens round you."
is/ch (afp)