Eva, a blond woman in her 50s, insists that her last name not be used - for her personal safety. She is the director of the Berlin chapter of Papatya, an international organization which offers shelter for young women and girls from migrant backgrounds.
In Germany, Papatya predominantly caters to women from Turkish, Kurdish and Arab backgrounds who face honor-related violence from their families. In France, Papatya helps mainly girls with North African roots, while in Great Britain they help women from predominantly Pakistani backgrounds.
Eva says her organization has been very busy. Last week, a girl from western Germany arrived at the shelter. She was engaged to be married and was being abused at home. "Her parents literally locked her up," explains Eva. "Frankly, the way she was treated was torture. Her family told her they'd kill her if she didn't marry the guy her parents wanted. That's when she said, 'Enough!'"
The girl learned about Papatya through a social worker at her school. But this girl - and the 65 others the Berlin shelter takes in annually - is in the minority. Eva emphasizes that most Turkish and Arab girls will never need to contact her organization, but for a small number of battered women, Papatya is a last lifeline.
Berlin serves as an example
Eva remembers one Iraqi girl in particular who contacted her via email. She had been living in Germany with her family, but they sent her back to Iraq when she refused to marry the man who had been chosen for her. She desperately wanted to come back to Germany.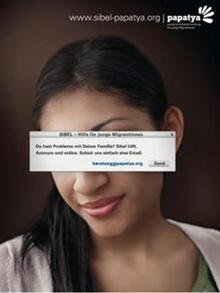 This poster lets girls in Berlin know about Papatya's services
The girl had a German passport, but Eva says her family had taken it away from her after they smuggled her out of Europe. "In this case, we asked the German embassy in Iraq to get involved. They gave her a new passport and even paid for her flight back to Germany," recalls Eva. The girl was brought to one of Papatya's group houses in Berlin.
Papatya works closely with Berlin's child protection agencies and the German capital has said it's leading the way in services for immigrant girls and youths: At a recent press conference, Berlin announced new 24-hour help hotlines in Arabic and Turkish. Assemblywoman Sandra Scheeres said the city was trying to establish a better network of services to help battered and abused women. "Berlin is doing is good job of this and other states are looking at us to see how it's done," she added.
Lapsing into old patterns
But Eva says help lines and crisis shelters can only go so far. The process of helping battered young women achieve a sense of strength and self-worth is a lengthy one - and the girls ultimately need to decide for themselves whether they are willing to make a change.
Once a girl has lived on her own for a number of years and gotten an education, she can stand on her own two feet, says Eva. If she then decides to go home, the family dynamic could have changed. The Papatya director says, in that situation, the family is often able to see that the daughter is stronger and more confident and won't put up with suppression.
But, according to Eva, the only truly successful outcome is when a girl chooses not to go back to her abusive family. That's what about half of the girls at Papatya decide. The other half convince themselves that, after a few weeks away, their families might have changed their behavior. Eva says that such a drastic change is not possible in a short period of time. According to her experience, the family usually resumes its abuse once the girl has returned home.
The worst possible scenario
In the worst cases, even the girl's life may be in danger. Eva and the Berlin office have come across so-called honor killings.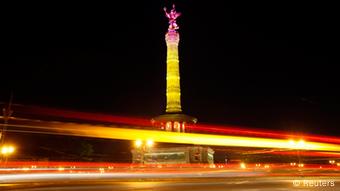 For others in Berlin, it's difficult to image that some girls are being forced into marriage
Eva recalls a 15-year-old she worked with. "The parents promised us they wouldn't force her to marry her cousin. They even signed a contract with the Child Protection Agency." After staying at the refuge for four weeks, the girl went back home to her family and Eva lost contact with her.
Four weeks after leaving the shelter, her family sent her to Turkey, where she was forced to marry her cousin, who abused her. The girl fled to Germany where her parents told her to go back to her husband. She decided to stay, but she met another man and divorced her abuser. Eva recounts that "the ex-husband later murdered her on the street, in broad daylight."
While this case is an extreme example, it is not necessarily the norm, emphasizes Eva. She does say that there is a link between poverty, lack of education and the abuse of women. Her organization has had some success in having marriages annulled, but changing people's attitudes entirely is a insurmountable task.
Papatya offers anonymous counseling to women and girls in German, English, Turkish, Arabic, and various other languages. They can be reached at beratung@papatya.org.