Germany's constitutional court in Karlsruhe has ruled that the Berlin state government had no right to impose a rent cap in the German capital.
The court ruling found that since the federal government had already made a law regulating rents, a state government could not impose its own law that infringed upon that, and said the Berlin rent cap law was therefore null and void.
Several thousand people quickly turned out in Germany's capital to demonstrate against the lifting of the rent cap.
Today was a "heavy day for renters in Berlin," said Sebastian Scheel, Berlin's minister for urban development and housing, of the socialist Left party. "We took this path for good reasons," he told the taz newspaper. "We knew that we were treading new ground, and wanted to sound out this issue of jurisdiction."
He also promised that the government would step in to help tenants who would now potentially be hit by sudden rent hikes. A demonstration calling for major property-owning companies to be expropriated was called on Thursday evening.
The Berlin Tenants' Association called Thursday's ruling a "slap in the face" for all tenants. "To declare the law unconstitutional from the beginning is irresponsible social policy," the association's director Reiner Wild said in a statement, before noting that it contradicted several other court rulings.
The constitutional complaint had been brought in May 2020 by Bundestag parliamentarians from the conservative Christian Democratic Union (CDU) and the pro-business Free Democratic Party (FDP), who both welcomed the decision on Thursday.
Kai Wegner, a spokesman for the CDU federal parliamentary group, called the decision a "sensitive defeat" for the Berlin government, who he blamed for making "a false rent cap promise" to the city's renters.
"The damage is great," he said in a statement. "Ideology solves no problems, not in the housing market either. In the long-term, only a sufficient supply of housing can secure affordable rents."
But the Berlin government had called the rent cap a "breathing space" for tenants while new housing could be built.
Soaring rents
Berlin's rent cap meant that rents for 90% of Berlin's apartments were frozen for five years at their June 2019 level. New rents could not go above that level, and as of November 2020, any existing rents that were still above that level had to be reduced.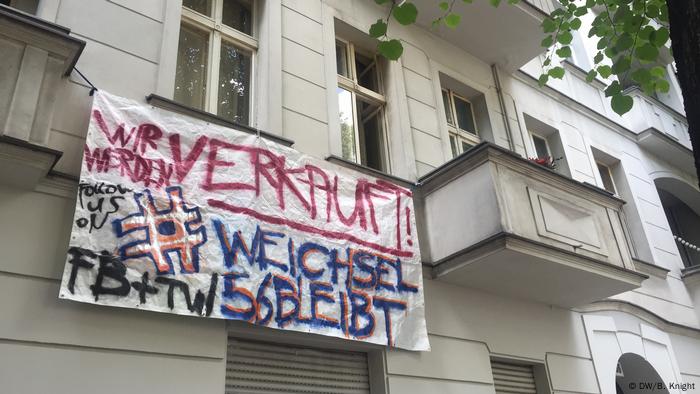 In Berlin tenants had long been protesting gentrification and rent hikes
The Berlin rent cap has been one of the most debated laws in Germany over the past few years.
Campaigners argued it was a vital way to preserve affordable housing in the German capital, where rents have been soaring for years. The German Property Foundation (ZIA) calculated last year that rents in new contracts in the city had risen 27% from 2013 to 2019 alone.
The federal government imposed a "rent brake" in 2015, which allowed landlords to raise rents by 10% above the local market level. According to the constitutional court, the existence of this law among others meant that Berlin could not impose its own regulation.
Since the rent cap came into effect on February 23, 2020, it has caused uncertainty in the German capital's housing market, largely because landlords took to putting a "shadow rent" — higher rents that tenants would have to pay in case the court found the rent cap unconstitutional — in their rental contracts.
Renters associations have called these shadow rents unlawful.
Thursday's decision could mean a windfall for landlords as rents are instantly raised by hundreds of euros a month, on top of which landlords could now demand their tenants back-pay higher rents for the past year.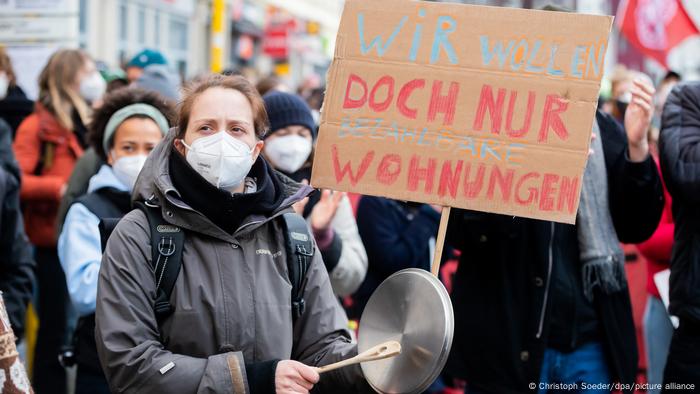 Thousands of Berliners took to the streets in protest against the Constitutional Court ruling
International implications
International campaigners saw the Berlin rent cap as one of the most radical rent control measures worldwide, because though other European countries and cities have introduced rent freezes, the Berlin law allowed tenants to actually sue their landlords to reduce their rents.
Barbara Steenbergen, EU liaison head of the International Union of Tenants (IUT), said she was shocked by the German court decision, not least because other state-level in Berlin laws did in fact regulate private property rights: There is a law that bans landlords from keeping property empty as a speculation, for instance.
Steenbergen said that the Berlin state government had been forced to act because the federal government's rent control measures, the rent brake, had not slowed the capital's spiraling rents.
She also expressed some hope for other tenants' campaigns in other countries. "This decision is not about whether the rent cap is good or bad, it is purely about jurisdiction," she told DW. "So now what legislators in the rest of Europe have to check is: What is actually the jurisdiction that you have – in order to avoid possible mistakes like in Berlin."
Balakrishnan Rajagopal, UN's special rapporteur on the right to housing, told DW he was concerned that that the ruling could have a negative impact for Berlin and other cities struggling with an affordability crisis: "The impact of the ruling could be quite severe on renters in Berlin and elsewhere."
"My main concern is that this particular ruling could affect the ability of the Berlin government, as well as the federal government, to ensure that housing remains affordable."
There is interest in "the influence that Germany's record will have on other countries that are also facing similar crises of affordability in other large global cities like Berlin around the world — how will it [the ruling] affect their ability to control the problem of affordability."
He warned that the position of the court "shut down" and "discouraged" the efforts by the Berlin government to implement affordable housing. He added: "that sends a negative message around the world, unfortunately, and that is why I'm quite concerned."
While you're here: Every Tuesday, DW editors round up what is happening in German politics and society, with an eye toward understanding this year's elections and beyond. You can sign up here for the weekly email newsletter Berlin Briefing, to stay on top of developments as Germany enters the post-Merkel era.