In 2016, Trinh Xuan Thanh, the former head of PetroVietnam Construction (PVC), fled to Germany from Vietnam. Thanh was trying to avoid prosecution in Vietnam on charges of embezzlement and mismanagement, along with taking 500,000 euros ($600,000) in bribes. The Vietnamese judiciary could impose the death penalty for both offenses.
After arriving in Germany, Thanh applied for asylum, however, in July 2017, he disappeared from Berlin. The German Foreign Ministry is convinced that Thanh was kidnapped by Vietnamese security forces. Vietnamese officials said he returned voluntarily.
On Monday, Thanh's trial began in Hanoi and, along with it, a spate of new diplomatic tensions between Vietnam and Germany.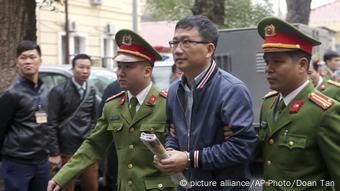 Trinh Xuan Thanh arrives at a Hanoi courtroom on January 8
Last Thursday, Thanh's German lawyer, Petra Schlagenhauf, was prevented from entering Vietnam to support her client. According to German weekly Der Spiegel, her passport was temporarily confiscated at Hanoi airport, and despite an intervention by the German embassy, she was forced to return to Bangkok.
Schlagenhauf told Der Spiegel that her refusal of entry contradicts Vietnam's claims that Thanh would receive a fair trial. The German Foreign Office told DW that the German embassy would be allowed to observe the trial.
Running away from Vietnam
Additionally, in the days preceding Thanh's trial, Phan Van Anh Vu, a former Vietnamese secret service officer who claimed to have information about Thanh's disappearance, was deported from Singapore back to Vietnam.
Vu was arrested in Singapore on January 2 for having invalid travel documents. With the help of a German lawyer, he asked the German embassy in Singapore for help. He reportedly told German authorities that he could give them "valuable information about the abduction of Thanh."
Vu is wanted in Vietnam for "betrayal of state secrets" – a charge that could carry a death sentence. Nevertheless, Singaporean authorities sent him back to Hanoi on Thursday. Incidentally, shortly before this, Vietnamese Prime Minister Nguyen Xuan Phuc gave the green light for a 2-billion-dollar real estate project in central Vietnam operated by Singapore-based Banyan Tree Holding.
Vietnam's anti-corruption campaign
Vu's case is the third incident in which a Vietnamese functionary escaping Vietnam has been arrested in Singapore and sent back. And Vu and Thanh are only two cases from a growing number of functionaries trying to flee Vietnam.
At the root of these cases is an anti-corruption campaign being run by Nguyen Phu Trong, General Secretary of the Communist Party of Vietnam (CPV).
In 2016, Secretary Trong helped force former Prime Minister Nguyen Tan Dung to step down. Although Vietnam experienced impressive economic growth during Dung's 10 years in power, there was also an increase in corruption.
Carl Thayer, a Vietnam expert at the University of New South Wales in Australia, told DW that Dung "tolerated or ignored the fact that networks of corrupt functionaries were growing during his time in office."
Since Dung's fall in 2016, Trong has focused on streamlining the CPV. According to political scientist Gerhard Will, many party functionaries who grew to prominence during Dung's tenure have fallen from grace in the past two years.
Will said the anti-corruption campaign aims to "improve the image of the party in the public eye by claiming to fight corruption." He added that rampant corruption in Vietnam is the biggest threat to the CPV's legitimacy.
Not a political fight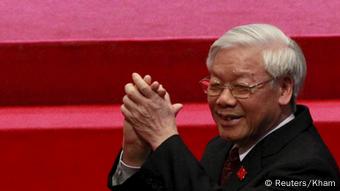 CPV chief Nguyen Phu Trong at the Party Congress in 2016
Since the campaign started in 2016, at least 200 party functionaries have been arrested, including recently a member of the Politburo. Despite its effectiveness, the campaign does carry certain risks.
"By self-cleansing, the party will have to wash so much dirty laundry, that some of the dirt will rub off on them." In other words, the more corrupt officials are exposed, the more obvious the extent of corruption in the party becomes.
Unlike what is often portrayed in Western media, Vietnam's corruption purge is not about a struggle between two competing political camps, but is rather about power and money in the country.
"In my view, there isn't a 'power struggle' in which one faction seeks to topple the existing leadership," said Thayer.
Read more: Germany expels second Vietnamese diplomat for involvement in alleged kidnapping
International reputation in danger
Even though Vietnam's one-party system is not affected by the anti-corruption campaign, it has caused some problems for Vietnam internationally.
"The abduction of Trinh Xuan Thanh has caused considerable damage to Vietnam's image internationally," said Thayer. The failed escape of Vu in Singapore also drew negative headlines.
"It undermines Vietnam's self-image that it is a stable country without political risks," added Thayer.
According to Gerhard Will, the negative effects of a more authoritarian Vietnamese government could go beyond Vietnamese-German relations. Ongoing negotiations for a free trade agreement between Vietnam and the EU could also be affected.
Read more: China's Xi Jinping seeks to win support in Vietnam amid ongoing maritime dispute
"If relations between Vietnam and Western countries deteriorate, it means that relations with China will again play a big role," said Will.
For many Vietnamese, China represents the largest threat to Vietnam's autonomy and independence. And for the CPV, this is only another way in which they could lose legitimacy.