Israeli Prime Minister Benjamin Netanyahu said on Tuesday that his government would only accept a reconciliation agreement between Hamas and Fatah if the former agreed to recognize Israel, give up its armed force, and cut ties with Iran.
"We are not prepared to accept bogus reconciliations in which the Palestinian side apparently reconciles at the expense of our existence," Netanyahu said during a meeting with his Likud party.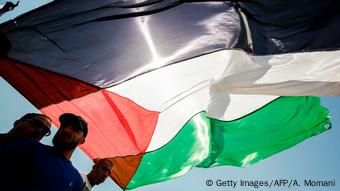 Fatah and Hamas are trying to reach a final deal on reconciliation in Gaza.
Israel and Hamas have fought three wars since Hamas ousted Fatah, the ruling party in the West Bank territories, from Gaza in 2007. Israel has blockaded Gaza since then and continues to view Hamas as a terrorist organization with close ties to Israel's rival, Iran.
"Whoever wants to make such a reconciliation, our understanding is very clear: recognize the State of Israel, disband the Hamas military arm, sever the connection with Iran — which calls for our destruction," Netanyahu said.
Hamas not willing to give up weapons
The Israeli prime minister made the statements as Palestinian prime minister Rami Hamdallah was visiting Gaza from the West Bank on a three-day mission to seek a reconciliation deal with Hamas officials.
"The only way to statehood is through unity," Hamdallah said on Monday before a meeting with Hamas leaders Ismail Haniyeh and Yehiyeh Sinwar. "We are coming to Gaza again to deepen the reconciliation and end the split."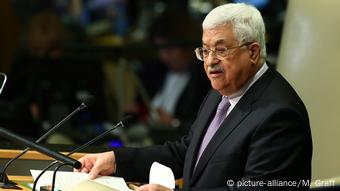 Fatah president Mahmoud Abbas wants Hamas to give up their weapons as part of a Fatah-Hamas unity government.
Fatah, led by Palestinian president Mahmoud Abbas, wants to create a unity government with Hamas that would allow it to complete decade-old peace talks with Israel.
Hamas had announced in mid-September that it would relinquish civilian authority in Gaza to a unity government with Fatah as part of an Egyptian-brokered deal. New elections are expected to take place in Gaza and the West Bank in the next few months.
But Hamas leader Haniyeh cast doubt on whether his group would give up military control in Gaza and dissolve its armed wing.
Haniyeh said Tuesday that his group would not give up its weaponry that includes rockets, mortar shells and automatic firearms that it has regularly used against Israeli targets. In turn, Israeli strikes on Hamas target in Gaza are commonplace. Haniyeh told an Egyptian TV channel that Hamas has "the right to possess weapons and resist the occupation with all forms of resistance."
That statement contradicted President Abbas who on Monday said that Hamas would have to hand over its weapons to the unity government. There would be "one state, one system, one law and one weapon," he said.
Netanyahu plans to expand West Bank settlement
Netanyahu also announced Tuesday that his government would build thousands of new settler homes on Palestinian land in the West Bank and absorb the territory into Israel.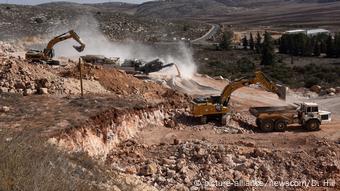 Israeli settlements in the West Bank have angered Palestinian leaders and are a sticking point in the peace talks.
During a visit to Maaleh Adumim, one of the largest Jewish settlements in the West Bank, he said, "we will build thousands of housing units here," which "will be part of the state of Israel." He did not say when building work would begin.
Nabil Shaath, a senior adviser to President Abbas, said Netanyahu's promise was "totally unacceptable" and "a clear refusal of any attempt to revive the peace process."
About 430,000 Israeli settlers live in the predominantly Palestinian West Bank that Israel has occupied since the 1967 Six Day War. Continued settlement building is one of the Palestinian side's main objections to restarting the peace process.
amp/msh (AP, Reuters, AFP)