Chancellor Angela Merkel may have presided over tough times for Germany, especially economically, but her own tenure has been relatively smooth. Even governing in a 'Grand Coalition' with her main rivals, the Social Democrats, she maintained positive approval ratings, leading her Christian Democrats (CDU) to a stronger position in last year's general elections.
But ever since her election victory in 2009, and the subsequent foundation of a more ideologically like-minded coalition between her conservative CDU and the pro-business Free Democrats (FDP), Merkel appears to be struggling more and more, despite her apparently strengthened position.
The chancellor will leave Berlin for the German government's traditional summer holiday contemplating record-low approval ratings, a string of high-profile resignations within her party's inner circle, and growing public discord over a eurozone debt crisis and the perceived prospect of Germany 'bailing out' other countries in the monetary union.
Absent friends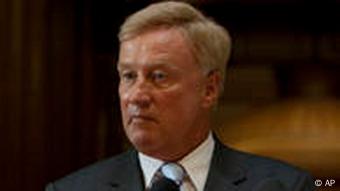 Hamburg's mayor was the latest CDU leader to resign
Arguably the biggest problem facing Merkel right now is one of personnel. Six of the ten Christian Democrat state premiers or city-state mayors have resigned from office in the space of ten months, with Hamburg's mayor Ole von Beust the most recent to step down.
As well as Hamburg, Merkel has lost CDU leaders in Thuringia, Baden-Wuerttemberg, Lower Saxony, Hesse and North-Rhine Westphalia.
While Lower Saxony's Christian Wulff only left his post to rise through the ranks and become the new German president, he was replacing perhaps the highest profile departure of all in 2010, former president Horst Koehler.
Koehler left office after widespread criticism of a comment he made suggesting some German military missions abroad served the country's economic interests, saying that people were not showing the required respect for his service to the country. Some accused Merkel's government of not rallying around the president, whose roots were with the CDU despite his non-partisan position of power.
Wulff's election as Koehler's successor, which should have been a formality given the government's superiority in the Federal Assembly that elects Germany's head of state, surprisingly went to three rounds of voting due to dissention within party ranks - again embarrassing Merkel and her coalition.
Plummeting popularity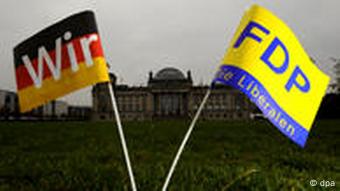 62 per cent of Germans currently think the coalition won't last long
For years, Merkel was Germany's most popular politician, but those days are over.
Now, the chancellor's approval rating has hit 43 percent in monthly polls by Germany's main public broadcaster, ARD. She has slipped behind top Social Democrat politicians Frank-Walter Steinmeier and Sigmar Gabriel, as well as the Greens' Renate Kuenast.
In the same poll, 77 percent say Merkel no longer has control over the coalition, while 62 percent of respondents believe the current coalition will not hold for long.
Perhaps the biggest concern is for Merkel's coalition allies, the FDP, whose poll numbers have been in freefall since securing almost 15 per cent of the vote in September's general elections. Currently, polls suggest the party - which has been squabbling with the CDU over key campaign pledges like tax cuts - has less than five percent support amongst the electorate, a figure below the threshold required in German law to guarantee a party representation in parliament.
The ruling parties combined are currently nine percentage points behind a theoretical alliance of their main opposition duo, the Social Democrats and the Greens. However, neither side would have the absolute majority required to rule in a two-party coalition according to the latest survey.
Facing the press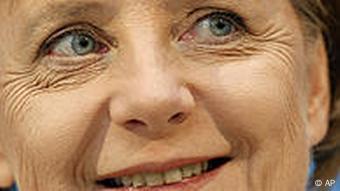 A charismatic display would be a needed boon for Merkel
But perhaps Merkel could go out on a high after a surprisingly difficult year in office. Wednesday's question and answer session with journalists in Berlin - the chancellor's last official action before her summer break - is an annual tradition in Germany. It's renowned for its relatively light-hearted, jovial nature, and has often been a chance for chancellors to leave a good impression with the electorate before taking some time off.
Former chancellors like Willy Brandt, Helmut Kohl and Gerhard Schroeder would use the occasion to charm reporters, crack some jokes, and generally try to put on one last show before leaving Berlin behind.
Last year, at the height of electioneering, Merkel used the opportunity to gain leverage over her potential Free Democrat allies, who had been reticent in committing to a partnership with the Christian Democrats, calling for a string of policy promises from the larger party. Merkel demanded a "definitive decision" on a coalition, with fewer caveats; and soon she got her wish.
She may not be renowned as a charismatic politician, but a strong showing on Wednesday could be the ideal panacea after a trying year for the chancellor.
Author: Mark Hallam (dpa/epd/Reuters)
Editor: Rob Turner