Masked riot police in uniform and plainclothes violently arrested more than 400 people as tens of thousands of anti-government demonstrators took to the streets of Minsk during the "March of Heroes" protest on Sunday.
Reports of the arrests emerged as protesters kicked off the fifth week of demonstrations against the August 9 election which they say were rigged in favor of the country's strongman Alexander Lukashenko.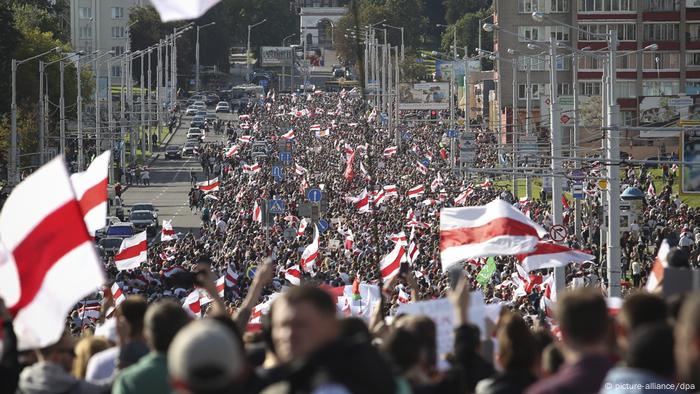 Many protesters came out with the non-official red and white Belarusian flag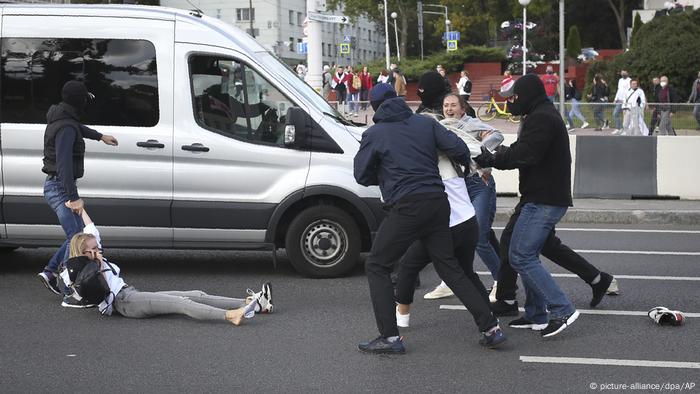 Around 100,000 protesters turned out in Minsk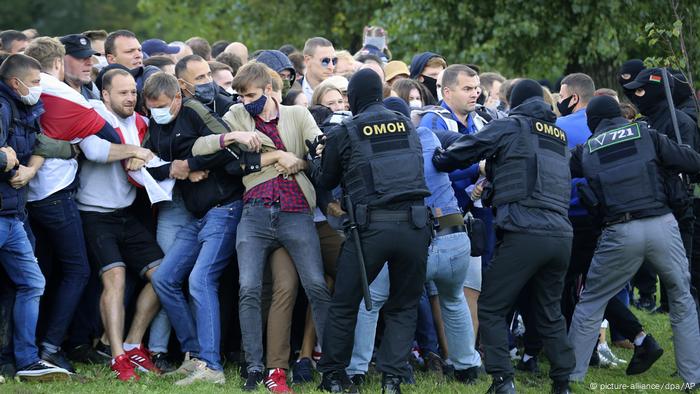 Police were reportedly heavy-handed with protesters
The rally was dedicated to Maria Kalesnikava, a jailed opposition leader, and other members of the
democracy movement.
Read more: Belarus opposition leader threatened with deportation 'alive or in bits'
Detainees roughed up
Officers were seen pushing or punching detainees, in a video posted on the independent news site Tut.by.
DW correspondent Nick Connolly said the police stepped in towards the end of the protest, which was reported to have been 100,000 people strong.
"As soon as the numbers thin out and the police can get at people — stragglers — on their way home, they come in for the arrests."
Connolly said Sunday's demonstrations were different as they took place in residential areas because police prevented downtown areas from being used.
"That gave it a new flavor. You had people out and about cheering, clapping, seeing this protest come to them rather than them having to come to the protests."
Read more: Maria Kolesnikova: Belarusian musician, Lukashenko opponent
Dozens jailed immediately
Of those arrested on Sunday, 87 were quickly taken to prison, officials added.
Human rights group Viasna has said that several of those arrested were women and that violence was reported during the detentions.
Protesters have touted women as the public face of the demonstrations, in the hopes that authorities would be less brutal towards them.
Read more: Belarus: Women attacked and detained as protests persist
Crackdown continues
On Saturday, masked riot police violently detained dozens of women and threw them into vans during a smaller protest in the capital.
More than 600 people were detained last Sunday in one of the largest arrests since the early days of the demonstrations.
Sunday's rally took place ahead of Lukashenko's first in-person meeting with Russian President Vladimir Putin since the disputed election, which is set to take place in Russia on Monday.
Read more: Belarus: Masked men drag student protesters off street, report says
Protests have shaken Belarus since the results of the August 9 election suggested that President Lukashenko won by a landslide vote.
He has ruled the country since 1994, and is often unofficially referred to as Europe's last dictator.
lc/mm (AFP, dpa)