Bayern Munich chief executive officer Karl-Heinz Rummenigge has hit out at the German Football League (DFL) following Thursday's vote to retain the Bundesliga's so-called 50+1 rule.
"Mentally, I've already distanced myself from the DFL," Rummenigge told football magazine Kicker in its Monday edition. "I find the developments at the DFL quite dubious at the moment."
Rummenigge's frustration stems from last week's DFL members' meeting at which 18 out of 34 clubs present from Germany's top two divisions voted in favor of a motion tabled by second division club FC St Pauli to retain the 50+1 rule.
"The league, especially the DFL and its members, is clearly torn," Rummenigge said. "I find it disconcerting that a second division club which, to my knowledge, has never even played in an international competition, can suddenly take up such a prominent and dominating role."
Following a decision by Hannover 96 president Martin Kind to temporarily withdraw his application for an exemption from the 50+1 rule, the DFL had called for a "fundamental debate" on the future of the unique ruling, which critics claim holds German football back internationally by discouraging outside investment.
Read more: Opinion: 50+1 is the root of all that is good about German football
'A populist spectacle'
Thursday's meeting was originally intended to determine how that debate should progress, but the motion tabled by former DFL chief executive and current St Pauli CEO Andreas Rettig proposed that any future debate only take place within the parameters of 50+1.
"It was supposed to be a fundamental discussion but Rettig turned it into an emotional, populist spectacle," complained Rummenigge. "That's the most unbelievable thing about this result."
Ahead of the meeting, the campaign group "50+1 stays!" had presented DFL President Reinhard Rauball with a petition signed by over 3,000 fan groups from clubs across Germany in favor of the retention of the 50+1 rule.
Rummenigge, on the other hand, had stated his belief that "each club should be able to decide for itself whether it wants to adhere to the 50+1 rule or not."
"But this vote has whittled away at the competitiveness [of the league] thanks to a mere second division club."
In July 2003, Bayern Munich played a friendly against St Pauli as part of a fundraising effort to save the financially stricken Hamburg side. St Pauli are currently eighth in the second division.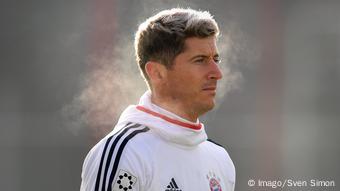 Lewandowski is staying put
Lewandowski 'not for sale'
Speaking in the same interview, Rummenigge insisted that Bayern striker Robert Lewandowski is "not for sale."
The Pole has a contract until June 2021 but has reportedly been the subject of interest from Real Madrid and Manchester United.
"[Lewandowski] is an extremely important component of our team and perhaps the best number nine in Europe," said Rummenigge, adding that he would happily bet that "Robert will be playing for Bayern Munich next season, 100 percent."
mf/pfd (dpa/sid/kicker)