The 26-year-old Ghanaian entrepreneur, Raindolf Owusu, recently received a prize - endowed with 50,000 euros ($56,300) - from the German pharmaceutical giant Bayer, to develop his innovative app even further.
Wearing a traditional Woodin shirt, Owusu listened to the words of praise from Bayer's management board member and chief of innovation, Kemal Malik. "At Bayer everything we do is about innovation but we realize that there is lot of innovation outside of Bayer," Malik said as he looked at the prize winners, including the radiant Owusu.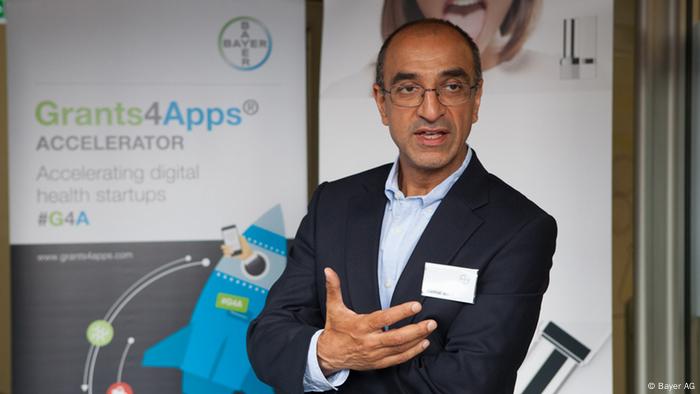 Kemal Malik, Bayer's management board member and chief of innovation
Digital Health
Four innovative "Digital Health startups" were selected from across the world to work on Bayer's digital health applications at the company's site in Berlin. The startups have 100 days to work on the apps, and Bayer has not only allocated special office space for them, but also assigned a mentor to advise the startups.
The program is currently entering its third year and is called "Grants4Apps Accelerator," and English is the language of communication in the campus. Startups from 66 countries applied for the program, but only four were selected – one each from Hungary, South Korea, Germany and Ghana.
The Ghanian startup was founded by Owusu and his colleague Thomas Darku. The 22-year-old entrepreneur is clearly excited.
Medical advice for all
"In Ghana, there is one doctor for every 5,000 patients. It's therefore very difficult to get medical advice or help. There are huge queues at the hospitals and patients have to wait for many hours and sometimes even days to get a doctor's appointment," explained Owusu, proudly presenting the app he and Barku developed together. The app is already actively used by 6,000 people and 40 doctors. "With our app you have access to information even if you live in the countryside. You just need a simple smartphone."
The app they developed is called Bisa, meaning "ask" in Ghana. But the company founders need more medical content to fill the app. At the same time, a sustainable business model has to be developed. With the help of Bayer, the entrepreneurs want to finish all of that in the next 100 days. They do not have any reservations as of now. "We are expecting all the good stuff in Berlin," noted Owusu. "With Bayer's help, our technology will be more reliable and we will have more features."
Berlin attracts enterpreneurs
But how does the German pharmaceutical company benefit from it? Does it perhaps want to acquire a startup cheaply? Bayer's board member Malik, however, denies these suspicions, saying: "This is a gesture from Bayer and not a business model. We want to help. The startups can leave after the 100 days and take all their knowledge with them. They are totally free to do whatever they want."
Nevertheless, he then pointed out that this may also have a positive effect on Bayer, noting that it's beneficial for the company when young people who are not part of the firm's hierarchy suddenly show up at the laboratories, ask questions and work together with established researchers.
Bayer expects it to promote innovation, Malik said, adding that the keyword is "open innovation." It is, however, surprising that so many companies had applied for the program, and Malik noted that Berlin surely must have been key to the heightened interest.
"Berlin is the city of startups as well as the city of incubators and accelerators. Talent from all over the world is coming to Berlin," Cornelia Yzer, Senator for Economics, Technology and Research in the city's government, said at the inaugural event and tested some of the digital healthcare applications, including a digital ovulation calculator and a virtual cancer cell model that uses artificial intelligence to determine the best possible treatment.
Ebola provided the impetus
Raindolf Owusu first got the idea to develop the Bisa app after Ebola hit West Africa.. Many people at the time were really confused and the young IT expert realized the urgent need for reliable medical information.
The 26-year-old hails from a large family, has three sisters and two brothers, and is the only male in the family to have graduated from university.
"I have always asked many questions and wanted to know everything in detail," he says. Owusu sees his firm as a social enterprise. He wants the company to be financially viable, although he is not solely after profit.
As a result of his curiosity, the Ghanaian already knows a lot about Berlin, including where to find the best currywurst. He wants to visit the Brandenburg Gate in his spare time and learn more about the German capital's public transportation system. "We can learn a lot," he said, adding that "your transportation system works so well." But not everyone in Berlin would agree with this statement.