Seehofer received 87.2 percent of the vote on Saturday at the CSU party conference in the southern German city of Munich, some 8 percent down on the result he achieved two years ago.
Of the some 800 delegates at the conference, amost 100 voted against him.
It is the fifth time he has been chosen as leader of the CSU, which is the Bavarian sister party and coalition partner of Chancellor Angela Merkel's Christian Democrats (CDU).
Intracoalition split
The vote comes as Seehofer has clashed with the chancellor over refugee policy, with some top officials in the CSU citing this as one reason for his loss in popularity within the party.
On Friday, Seehofer reiterated his call for a cap on the number of asylum applicants allowed to enter Germany, contradicting Merkel, who, also speaking at the CSU conference, again rejected the idea of imposing a limit.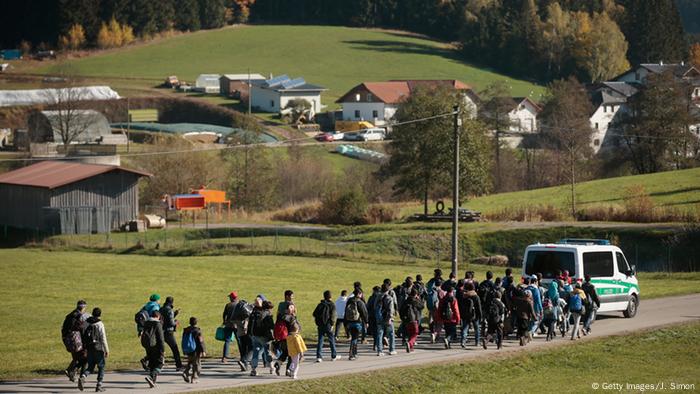 At times this year, Bavaria has seen thousands of refugees enter on a daily basis
Seehofer, who has in the past described Merkel's decision to allow Germany to take in hundreds of thousands of refugees this year as a "mistake," continued to insist on Saturday on putting a ceiling on asylum seeker numbers.
However, he denied that he wanted to part company with the CDU, calling Merkel "a first-class chancellor who does outstanding work" and saying that the CSU must instead "work inward on the CDU with our conviction" to get it to change its mind on the matter.
Keeping border controls
Sticking to his hard line on refugees, he ruled out abolishing border controls into Germany any time soon, saying that they had to stay in place as long as the European Union's external borders lacked effective monitoring.
Seehofer said the controls were urgently needed to protect Germany and its citizens, with Bavaria bearing the brunt of the refugee influx into the country.
"The state has to give its citizens what the terrorists want to take from them: their security," he said, referring to the Paris attacks. He also announced that Bavaria would expand its police force and domestic intelligence agency.
In recent weeks, some 10,000 refugees, many of them fleeing conflict in the Middle East, have entered Germany. Merkel has repeatedly rejected calls from CSU leaders to place an upper limit on their number, citing the right to asylum enshrined in Germany's constitution.
tj/gsw (Reuters, AFP, dpa)