Lüderitzstraße, Nachtigalplatz or Petersallee may seem like perfectly ordinary Berlin addresses. At first sight, they don't look like places that could generate much controversy. Take Petersallee, for example - white apartment blocks line the street in Berlin's Wedding area. Paint peels off the outside of a kiosk that doesn't look like it's going to open any time soon. Residents are out walking their dogs in the early afternoon rain.
Mnyaka Sururu Mboro isn't bothered by the look of Petersallee - but the street name makes him angry. "Carl Peters was so brutal," Mboro told DW. "I cannot understand that some people are proud to have a street named after him in this quarter."
For Tanzanian-born Mboro, Carl Peters (1856-1918) is a household name. He was the driving force behind the foundation of the German colony "German East Africa," which included today's Tanzania. Peters earned a reputation for brutality and torturing civilians.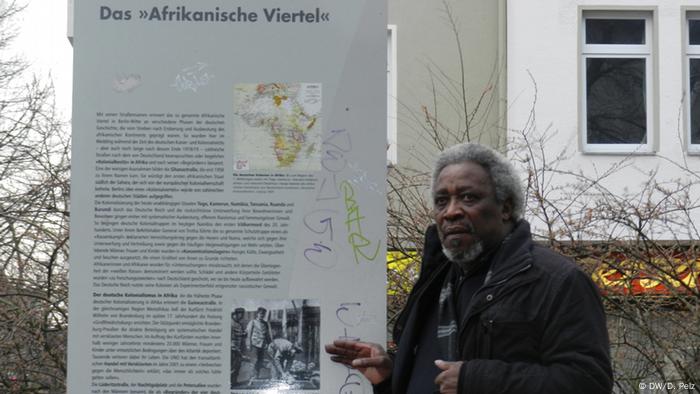 Tanzanian-born Mnyaka Mboro wants more awareness about German colonial rule
Little known about Germany's colonial past
Since 1986, Petersallee is officially no longer named after colonialist Carl Peters, but after Hans Peters, a resistance fighter against Germany's Nazi government in the 1940s. But Mboro and other activists want to give Petersallee a completely different name. Their association, "Berlin Postkolonial" (Post-Colonial Berlin) has been fighting for years to rename three streets in the capital's so-called "African quarter."
In addition to Petersallee, they are Lüderitzstraße, named after Adolf Lüderitz, the founder of German Southwest-Africa, today's Namibia, and Nachtigalplatz, named after explorer and diplomat Gustav Nachtigal who traveled to Chad, Darfur and many other parts of Africa.
"Even many people living here often do not know what the names are all about," Christian Kopp, a historian with "Berlin Postkolonial," told DW. Besides renaming the three streets, Kopp also wants to raise awareness about the historical connotation of other streets with names like Togostrasse and Kamerunstrasse.
Berlin's "African quarter" bears the names of several former German colonial rulers and colonies. Before the outbreak of World War I in 1914, it was there that German zoo director Carl Hagenbeck had planned to set up a zoo that was intended to showcase African animals - and residents of the then German colonies. The plan failed, but some roads had already gotten African names. Even after Germany had lost its colonies in 1918, other streets in the area were named after the former German territories and colonies.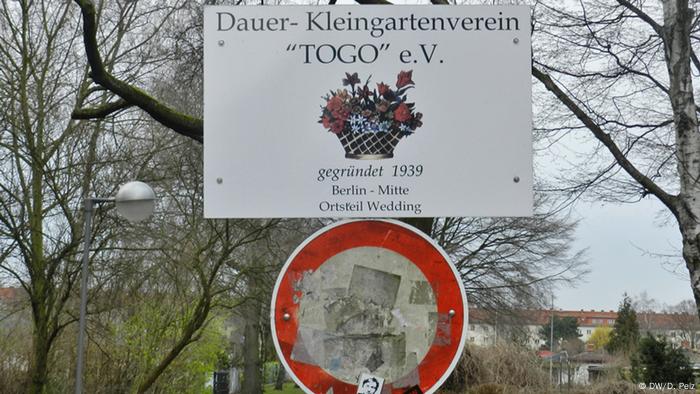 A group of allotments in Berlin was founded in 1939 under the name "Togo"
Berlin 'has more important problems'
Many residents don't understand what all the fuss is about. "I wasn't even born when Peters was in Africa. Don't we have bigger problems than street names?" one angry resident said as he got into his car on Petersallee. "Can't we leave the past behind? We do not have anything to do with those colonialists," said a lady waiting for a bus.
Like-minded people have formed an association that opposes the plans to rename the streets in question. In 2011 members collected more than 1,500 signatures from people who opposed the idea to rename the streets.
"These names belong to our community, to our neighborhood, to our culture," association chairman Johann Ganz told DW. He has been living in the "African quarter" since 1972.
Some time back, the association came up with the proposal that street names would not change but the names would refer to different, less controversial people. For example, Nachtigalplatz would no longer be named after the German explorer Gustav Nachtigal but after theologian Johann Nachtigal.

Street names 'should also honor Africans'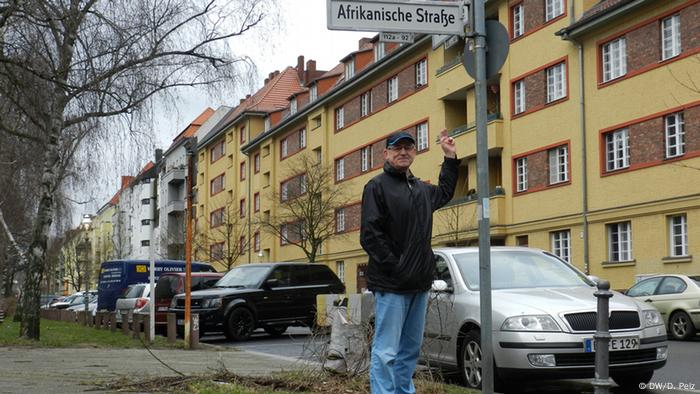 Johann Ganz does not want street names to change, just the people to whom the names relate
The association hopes that their compromise can break the deadlock. "We want peace and quiet to return to our neighborhood," Ganz said.
But the activists of "Berlin Postkolonial" remain adamant. "We have thousands of streets in Berlin, but we do not know any street in Berlin honoring a person from Africa. That needs to change," Berlin Postkolonial's Christian Kopp said.
The ball is now in the court of the local district assembly which needs to decide what happens to Petersallee, Lüderitzstraße and Nachtigalplatz. But nobody expects the assembly to rule any time soon. Elections are slated for September. So the street name controversy will likely remain for many months to come.