German President Frank-Walter Steinmeier on Monday urged Europe to stand up against nationalism at an event commemorating the 75th anniversary of the Battle of the Bulge.
"A united and peaceful Europe — that is the lesson we Europeans have learned from unbridled nationalism and racism, from the war of annihilation," said Steinmeier.
"Please don't let us forget that, especially at a moment when nationalism and ethnocentric thinking are again regaining their allure."
Read more: A German Battle of the Bulge survivor's last offensive in the Ardennes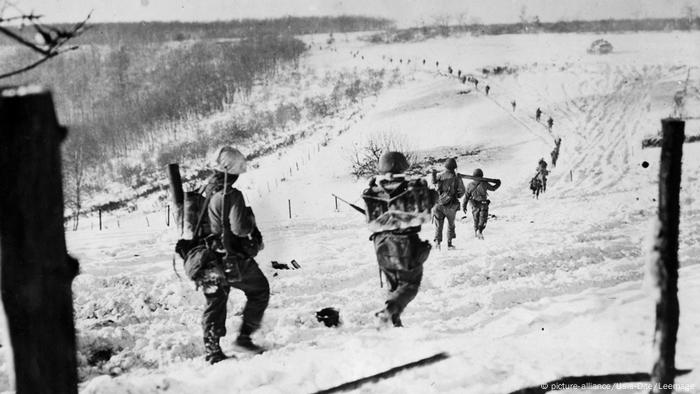 In Belgium, Allied troops staved off what would become the final major assault by Nazi Germany
'We stand by this responsibility'
The commemoration event took place in the small Belgian town of Bastogne, where Allied soldiers managed to repel the last major German offensive of World War II. More than 19,000 US troops were killed in what is considered one of the bloodiest battles in US history.
"Those who died were victims of hatred, delusion and a destructive fury that originated from my country," Steinmeier said. Germany recognizes its responsibility for the war and "[stands by the] responsibility."
Read more: Opinion: 80 years after World War II, we must fight for an open Europe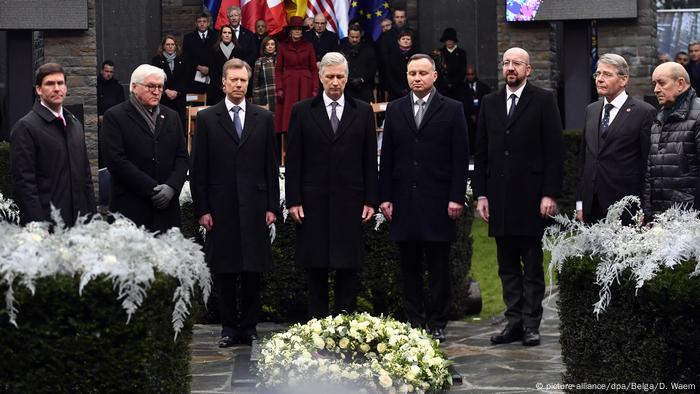 Steinmeier (second from left) said the war dead were victims of 'a destructive fury that originated from [his] country'
Pivotal battle
US Defense Secretary Mark Esper, who attended the commemoration, paid tribute to the American war dead.
"Their efforts not only defended America but also ensured that the peoples of Europe would be free again," Esper said. He described the Battle of the Bulge as "one of the greatest (battles) in American history."
The Battle of the Bulge is considered a turning point in the war, effectively paving the way for Allied forces to break through German defenses in western Europe. Less than six months after the battle, Nazi Germany surrendered.
Grand Duke Henri of Luxembourg, King Philippe of Belgium, Polish President Andrzej Duda, Belgian Prime Minister Charles Michel, Dutch Minister of State Jan Pieter Hendrik Donner and French Foreign Minister Jean-Yves Le Drian also participated in the commemoration.
Read more: How volunteers near Berlin help excavate World War II mass graves
Every evening, DW's editors send out a selection of the day's hard news and quality feature journalism. You can sign up to receive it directly here.
ls/aw (dpa, AP)