The Bangtan Boys, or "BTS" for short, feature on the cover of the October 22, 2018 Asia Edition of TIME magazine, which officially went on sale on Monday. The South Korean K-pop boy band was among the magazine's annual "Next Generation Leaders" selection.
"Like The Beatles and One Direction before them, [they serve] up a mania-inducing mix of heartthrob good looks and ear-worm choruses, alongside dance moves in the vein of New Kids on the Block and NSYNC," wrote TIME, describing them as "the most popular boy band in the world."
The hype has also reached Berlin as Jin, Suga, J-Hope, RM, Jimin, V and Jungkook perform two concerts, on Tuesday and Wednesday, at the Mercedes-Benz arena in the German capital, a hall with a capacity of 17,000 people. Fans camped in front of the concert hall days ahead of their first show.
Perhaps those Banstan Boys devotees would have had more chances of spotting them by waiting alongside the remains of the Berlin Wall: the BTS appear to have done some sightseeing while in Berlin, posting different pictures of their visit in a tweet that was liked 1 million times.
The BTS army
Beyond the music, the K-pop band is an astonishing social media phenomenon, with their over 16 million Twitter followers — actually known as the "ARMY" — who obsessively focus on the minutiae of the BTS phenomenon by sharing concert videos, snapshots from a rehearsal or recording, or a celebrated band selfie.
In January, social media monitor Google Facts noted that that the boy band's Twitter account drives more traffic on the social network than all of Donald Trump's tweets via his various handles. According to Bloomberg, the K-pop sensation has been tweeted more than Justin Bieber or Ellen DeGeneres, who are also social media powerhouses.
In February 2017, the lead single "Spring Day" from their album You Never Walk Alone received such a massive response that the Korean online music streaming service Melon crashed due to high user traffic.
And just a year later, the singles "Mic Drop Remix" and "DNA" were certified gold in the US, the first Koreans to achieve the sales landmark. This signaled the growing global power of K-pop.
Read more: Spotify makes NYSE market debut with a bang
From schoolboys to the international stage
The band was formed in 2013 by Big Hit Entertainment, a little-known South Korea label. BTS initially catered to hip-hop fans and their rise to mega-success was not immediate.
Without mass marketing, the band's first three school-themed albums, 2 Cool 4 Skool, O!RUL8,2? and Skool Love Affair, did not garner the kind of obsessive response that has marked their later releases.
But after polishing their sound, BTS were ready for international fame with Wings (2016), which was the highest-ranking K-pop album in US chart history. Love Yourself: Her, which came out the following year, peaked at number 7 on the Billboard 200.
Gangnam effect
Although contemporary Korean pop culture dates back to the early 1990s, it first had mass appeal in the West in 2012 when rapper Psy released the global hit "Gangnam Style." The stunning video with unmistakably Korean aesthetics has since become a global YouTube hit with more than 3 billion views on the official channel.
In April, North Korean dictator Kim Jong Un and his wife made a surprise appearance in the audience at a recent K-Pop concert in Pyongyang, part of a thawing in relations between the two Koreas over the North's nuclear program.
South Korea, already a global player in the electronics and cosmetics industries, is using its homegrown pop music to help define itself as a leading cultural power. K-Pop is a major part of what's globally known as the "Korean Wave," or "Hallyu," an international cultural phenomenon that's become so influential that South Korean President Moon Jae-in has used K-pop celebrities at official events, including a state dinner in China last year.
Read more: 'Gangnam Style' no longer most-viewed on YouTube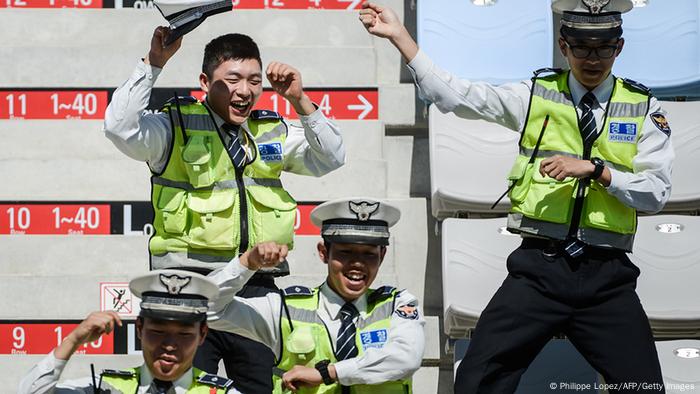 South Korean police doing the "Gangnam Style" dance in 2012
Break the internet
Not even the 2016 US presidential election between Donald Trump and Hillary Clinton escaped the influence of K-pop fans.
Just a few days before the election campaign wrapped up, a screenshot of Donald Trump's Twitter account from 2016 surfaced online that read: "Just listened to Fire by Bangtan Boys. Amazing! Love the Chinese." Even though the tweet followed Trump's string of politically incorrect statements in 140 characters, it was fake, a viral joke conceived by one of the band's passionate devotees.
Read more: Facebook: 'The truth has been lost'