Austria marked the 80th anniversary of its annexation by Nazi Germany in Vienna on Monday at the square where Adolf Hitler was greeted by thousands of supporters in 1938.
Austrian President Alexander Van der Bellen said that Austrians "were not only victims, but also perpetrators, often in leading positions" during German occupation. He warned of how vulnerable democracies can be to populism, noting that "there is no excuse for self-inflicted ignorance."
Read more: Austrian Holocaust survivor trolled after warning about FPÖ
"The German Wehrmacht came overnight. But the contempt for human rights and democracy did not come overnight," he added, highlighting that support for Nazism and anti-Semitism in the country existed even before 1938.
Conservative Chancellor Sebastian Kurz said his government would create a new memorial commemorating more than 65,000 Austrian Jews murdered during the Holocaust. "We must never forget this dark chapter of our history," said Kurz.
On March 12, 1938, German army divisions entered Austria as part of the so-called "Anschluss" uniting German speaking peoples. Hitler, a native of Austria, was greeted by boisterous crowds three days later as he addressed supporters in Vienna's Heldenplatz Square.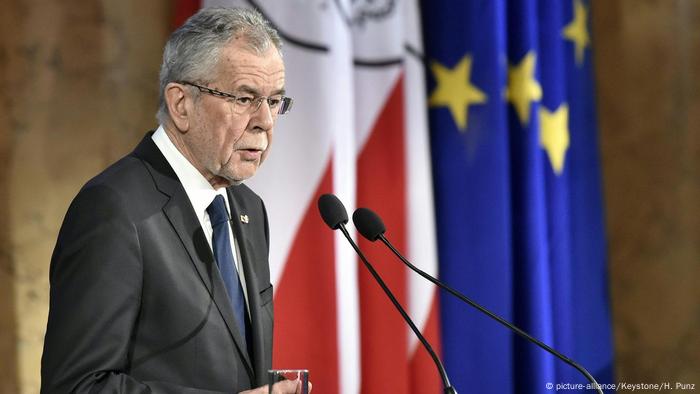 Austrian President Alexander Van der Bellen remarked on the weaknesses of democracies in the face of populism
Rising extremism
The commemoration comes after Kurz and the far-right Freedom Party (FPÖ) of Heinz-Christian Strache took control of a coalition government in December.
International attention has been focused on the FPÖ, which ran on an anti-immigrant platform and includes some former Nazis among its ranks.
Read more: Inside the secretive fraternities of Germany and Austria
The FPÖ denies any links to Nazis and since becoming a part of the ruling coalition has sought to distance itself from right-wing extremism, racism and anti-Semitism.
Strache told local television that everyone should remember "the National Socialist (Nazi) terror regime that murdered people on a large scale because of their religion, their origin and their political opinions."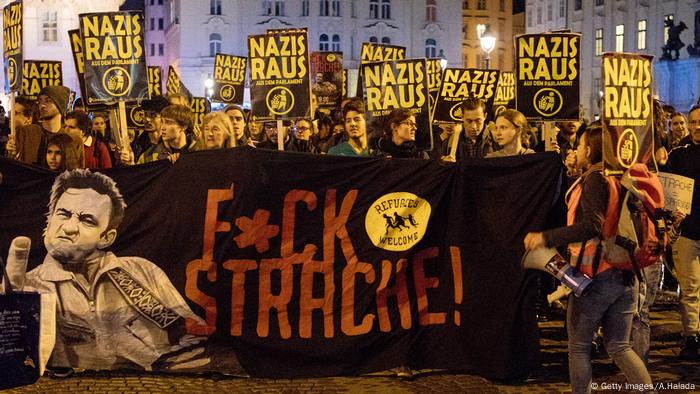 Demonstrators have held mass protests against the decision to include the far-right FPÖ in the Austrian government
Christians 'did not stand up'
Once the Nazi's took control of Austria, tens of thousand of political opponents, Jews and other minorities were rounded up.
Austria had long hidden behind the label of Nazi victim, despite widespread support and participation in Nazi atrocities.
Read more: Is it illegal to call someone a Nazi?
The Catholic Church said Monday that it hurts that Christians and even the bishop in 1938 "did not stand up stronger to hate, inhumanity and dictatorship." The Church had played a key role after 1938 in legitimizing Nazi rule.
The Anschluss between German and Austria is viewed as setting the stage for Nazi occupation of the Sudetenland later in 1938 and the invasion of Poland in 1939, which triggered World War II.
cw,ls/ng (dpa, ARD, AFP)