The Australian government brushed aside reports claiming more than 2,000 asylum-seekers have faced various forms of physical and mental abuse - saying some of them were fabricated - while being held in detention camps on the islands of Nauru and Papua New Guinea.
Immigration Minister Peter Dutton said some of the claims were "false allegations of sexual assault, because in the end people have paid money to people smugglers and they want to come to our country."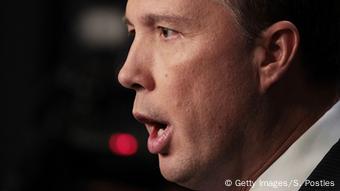 Interior Minister Peter Dutton
"Some people have even gone to the extent of self-harming and people have self-immolated in an effort to get to Australia, and certainly some have made false allegations," Dutton said.
He insisted that the government would not tolerate any actual abuse, but he gave no indication that any of the claims are being investigated.
Last week Amnesty International and Human Rights Watch released a report claiming that Australia's failure to address abuse allegations "appears to be a deliberate policy to deter further asylum-seekers from arriving in the country by boat."
Canberra's hardline immigration policy calls for intercepting would-be asylum seekers at sea and forcing them into detention camps on the nearby islands. The conservative government defends its policy, saying it serves to deter people, usually from Indonesia, from making the perilous cross-sea journeys that often result in drownings.
UNHCR slams Australia
Nonetheless, the UN High Commission for Refugees (UNHCR) seized on the report to call for "immediate solutions" to address the allegations emanating from Nauru, including moving refugees and asylum-seekers off the island.
"UNHCR has observed and reported a progressive deterioration of the situation of refugees and asylum-seekers on Nauru through its regular visits since 2012," the body said on Wednesday. "Solutions are now urgently needed. Delays in immediate action to rectify the current situation are exacerbating human suffering."
Even though the harsh conditions and reports of child abuse at the camps have drawn criticism at home and abroad, the Australian government says it will not change its policy, which has been maintained by successive governments.
Human rights advocates say that the latest report reaffirms the urgent need to end the country's offshore detention policy and that asylum seekers must be given medical and psychological support.
Hayley Ballinger, a child protection worker at the Nauru detention center from 2014 to 2015, called it an "absolute insult" to suggest that refugees had lied about abuse.
"All of the statements speak for themselves," she said. "Certainly the clients I saw there suffered and they really suffered. And this stuff really, really did happen. We witnessed it first-hand."
bik/msh (Reuters, AFP, dpa)