The Australian Press Council said on Monday that a cartoon depicting tennis star Serena Williams angrily reacting to her loss at the US Open was neither racist nor sexist, despite widespread condemnation at the time it was published.
Cartoonist Mark Knight made the drawing for Melbourne's Herald Sun newspaper last September, chastizing Williams for breaking her racket over the umpire's treatment of her shortly before her loss to Naomi Osaka, even though such displays are not unusual amongst male tennis players. Williams argued at the time that she was penalized for smashing her racket, when in the past other, male, players had not.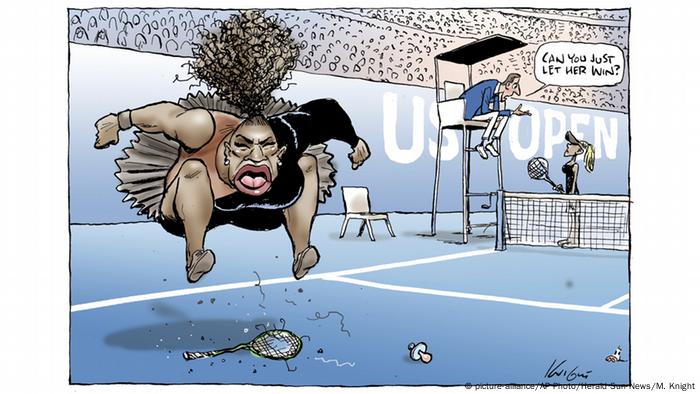 The Herald Sun cartoon was criticized for what many saw as racial stereotypes
The image showed Williams with a baby's pacifier, her mouth open wide and her fists in the air. Next to Osaka, the umpire is saying, "Can you just let her win?"
Critics argued that the drawing of Williams made her look like an ape, a common feature of racist caricatures.
'A non-racist caricature' familiar to Australians
However, Australia's media watchdog said in their decision that while it "acknowledged that some readers found the cartoon offensive," there had been sufficient public interest in commentary on such a high-profile event.
"The council considered that the cartoon uses exaggeration and absurdity to make its point but accepts the publisher's claim that it does not depict Ms Williams as an ape, rather showing her as 'spitting the dummy', a non-racist caricature familiar to most Australian readers," the council said, referring to an Australian term for throwing a tantrum.
The Herald Sun is a conservative tabloid own by Rupert Murdoch's News Corp. After the initial uproar, the paper reprinted the cartoon under the heading "Welcome to PC World," in a reference to political correctness.
es/ng (AP, dpa)
Every evening at 1830 UTC, DW's editors send out a selection of the day's hard news and quality feature journalism. You can sign up to receive it directly here.