The opposition Labor Party senator Sam Dastyari (above) said on Tuesday he was quitting as a senator before parliament next sits in February.
"I've been guided by my Labor values, which tell me that I should leave if my ongoing presence detracts from the pursuit of Labor's mission," Dastyari said. "It is evident to me we are at that point, so I will spare the party any further distraction," he added.
The 34-year-old resigned from leadership roles in the Labor Party in November when scandals involving wealthy Sydney-based Chinese businessman and political donor Huang Xiangmo first emerged publicly.
Australian authorities say Huang, a Sydney-based property tycoon, has close links to the Chinese Communist Party.
Dastyari has not denied the reports but said in November he had no knowledge of whether Huang was under Australian surveillance. It emerged on Tuesday that he had been warned last year that Huang's phone was probably being tapped by US and Australian spy agencies.
Dastyari's announcement came ahead of a key by-election on Saturday in an area of Sydney with one of the largest populations of Chinese immigrants in the country. A win in the Bennelong district is essential for Prime Minister Malcolm Turnbull's government to maintain its one-seat majority in the lower house of parliament.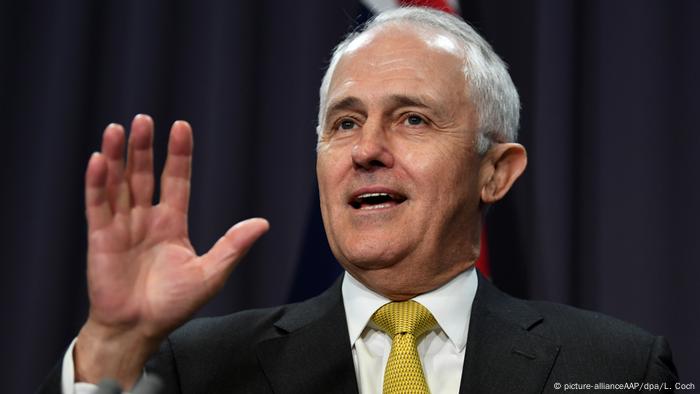 Australian Prime Minister Malcolm Turnbull
Xenophobia claims
Peter Dutton - who will head Australia's security and intelligence agencies as the government's first minister for home affairs in 2018 - accused Dastyari of being a "double agent" who should be dumped by Labor.
"Sam Dastyari can't be beholden to a foreign power and pretend to be acting in the Australian public's interest by being a senator in the Australian Parliament," Dutton told reporters.
Turnbull said Australia would ban foreign interference in its politics – either through espionage or financial donations. He said late on Monday it would be shocking if the Labor let Dastyari continue as a senator.
"Dastyari has quite plainly been acting in the interests of another government or another power," Turnbull told local broadcaster ABC.
Turnbull has been accused of ratcheting up "anti-China rhetoric" in recent weeks, alleging Chinese interference in Australia.
The government has said Dastyari did not break any laws, but that a reformed law would not allow a repeat of Dastyari asking Huang to pay a $1,250 (€1,050) travel bill.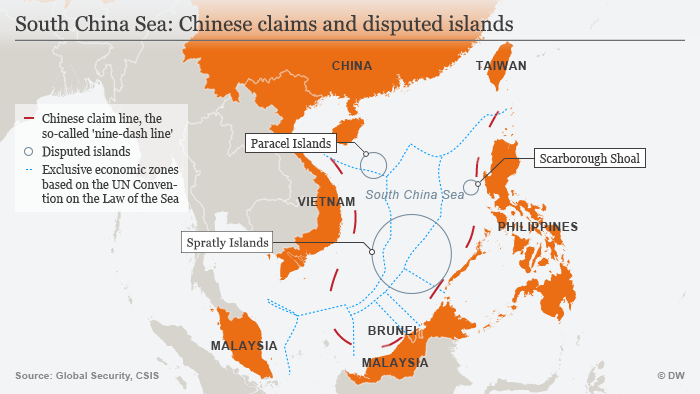 South China Sea: Chinese claims and disputed islands
South China Sea dispute
A key accusation was that the senator had misled Chinese journalists in 2016 on Labor's policy on the South China Sea territorial disputes.
Australia officially maintains that China must respect international law after an arbitration ruling found China's claims to the sea were legally baseless.
Dastyari told Chinese reporters at a news conference in Sydney attended by Huang that Australia should observe "several thousand years of history" by respecting Chinese claims over most of the South China Sea.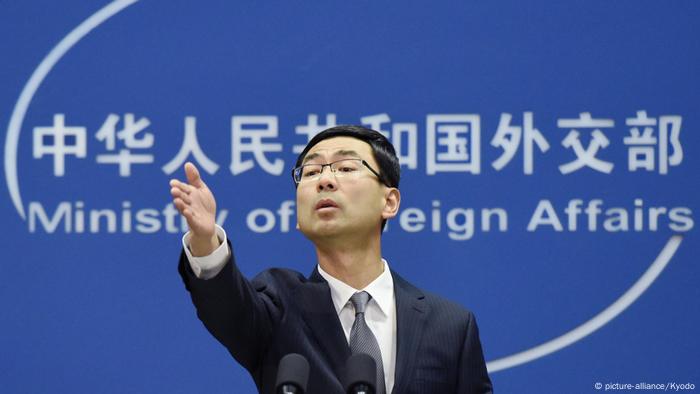 China's Foreign Ministry spokesman Geng Shuang
Beijing responds
"We suggest the Australian government and the media that they should uphold the principle of truth from facts and reject political prejudices and paranoia when handling relations with China," said the People's Daily, a Chinese Communist Party mouthpiece, on Monday.
"China has no intention of interfering in Australia's internal affairs and has no intention of influencing Australia's political process through political contributions," it said.
On Friday, Chinese Foreign Ministry spokesman Geng Shuang said Turnbull's remarks were prejudiced against China and had poisoned the atmosphere of China-Australia relations.
China is Australia's biggest sources of foreign political funds and to date Australian law has not distinguished between donors from Australia and overseas.
jbh/jm (dpa, AFP, AP)