China accused Australian media of racism and paranoia in its coverage of the East Asian country on Monday in the latest verbal exchange between Beijing and Canberra about alleged Chinese meddling in Australia.
"This type of hysterical paranoia had racist undertones, and is a stain on Australia's image as a multicultural society," the People's Daily newspaper wrote in an opinion piece. The paper is considered the official publication of the Chinese Communist Party.
"We suggest to the Australian government and the media that they should uphold the principle of truth from facts and reject political prejudices and paranoia when handling relations with China," it said, adding: "China has no intention of interfering in Australia's internal affairs and has no intention of influencing Australia's political process through political contributions."
The piece also said Australian media had made up reports about Chinese students in Australia attempting to rein in free speech.
Read more: Is China using social media to infiltrate Germany politics?
'There has been foreign inteference'
Australian Prime Minister Malcolm Turnbull said last week that his government took media reports of Chinese interference in national universities and politics "very seriously."
Foreign governments were making "unprecedented and increasingly sophisticated attempts to influence the political process" in Australia, he said, citing "disturbing reports about Chinese influence".
Turnbull said the government would try to undermine future meddling by passing new laws banning foreign political donations.
Beijing reportedly denounced the comment shortly thereafter. Malcolm on Saturday said, "there has been foreign interference in Australian politics" according to the Australian Associated Press news agency.
Read more: Concerns for Sydney-based academic detained in China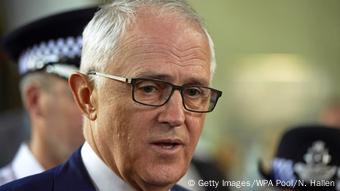 Turnbull said the government would pass new laws to curb Chinese influence
Australia's anxiety
Australia has been racked by a series of high-profile reports and incidents alleging Chinese influence in the country.
In November, it emerged that a politician of the opposition Labor Party, Sam Dastyari, had warned a Chinese businessman and member of the Chinese Communist Party that Australian intelligence agencies were tapping his phone. Dastyari was subsequently demoted.
That same month, a prominent Australian academic, Clive Hamilton, accused Beijing of suppressing free speech in the country after a publishing house refused to release his book, which details an alleged concerted campaign by China to exert influence in Australia.
Read more: Australian publisher pulls book amid China backlash fears
amp/ng (dpa, Reuters, AFP)