"We are not inhumane, we provide humane conditions. No matter what allegations they make, we are not going to bow to their demands and we are not going to become the victims of people smugglers," Alexander Downer told Tim Sebastian on DW's Conflict Zone.

"We don't take people who try to get to Australia by paying smugglers," the Australian High Commissioner to the UK insisted, referring to asylum seekers who have come from Indonesia by boat and often paid large sums of money for illegal passage. Hundreds have died making this journey, however the number of arrivals has decreased since the government introduced harsher measures.

Hardline border security

Australia has long had a tough border security policy. Refugees and migrants trying to reach the continent by boat are intercepted and interned in offshore detention centers on Papua New Guinea's Manus Island and Nauru in the South Pacific. But even if they gain refugee status, the government doesn't allow them to be settled in Australia. In 2013, the coalition government tightened Australia's asylum policy even further, when it launched Operation Sovereign Borders, putting the military in charge of protecting the country's frontiers.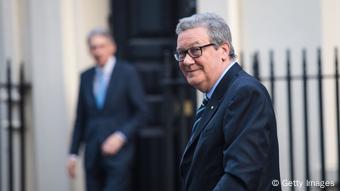 Alexander Downer served as Australia's Minister of Foreign Affairs (1996-2007) and has been the Australian High Commissioner to the UK since 2014.
In October 2017, Australia finally got a seat on the UN Human Rights Council after years of sustained pressure over its own human rights record. Former Prime Minister Tony Abbott said: "Australians were sick of being lectured by the UN." Speaking on this issue, Downer told Conflict Zone: "They can't expect us just compliantly to agree with every allegation that's made if we don't regard the allegations as allegations of substance," but he acknowledged that Australia "wouldn't go into the Human Rights Council if we didn't think that it had some value."

Is Canberra showing enough solidarity?

When adopting the New York Declaration on Refugees and Migrants, all 193 UN member states declared "profound solidarity with, and support for, the millions of people in different parts of the world who, for reasons beyond their control, are forced to uproot themselves and their families from their homes." But is Australia really showing enough solidarity?
"There is a huge campaign to break our policy, a huge campaign by people who don't approve of our policy, who say we should let all these people in," Downer said. Human Rights organizations like Amnesty International or the UNHCR have repeatedly criticized the harsh treatment asylum seekers face when arriving at the processing centers. "Australia's policy of exiling asylum seekers who arrive by boat is cruel in the extreme. Few other countries go to such lengths to deliberately inflict suffering on people seeking safety and freedom," Amnesty's senior director for research Anna Neistat said.

The European policy of chaos

Speaking on DW's Conflict Zone, Australia's High Commissioner to the UK said the alternative to the country's strict policy is "the policy of chaos that you've seen […] in Europe." With a population of 24 million, Australia accepts between 12,000 and 14,000 refugees per year and agreed to accept an additional 12,000 Syrian refugees. The government also made a pledge this year to increase its annual intake to 19,000. In comparison, nearly one million refugees arrived in Germany in 2015 at the height of the crisis and around 280,000 in 2016.

"We've seen what happens in Germany, we've seen what happens in Italy, we've seen what's happened in Europe. We are not going to have our politics thrown into turmoil," Downer explained.

Is Australia ignoring abuse?

But Australia hasn't just come under fire for its reluctance to take in more refugees. The UN has described the conditions in the camps in Papua New Guinea and Nauru as inhumane and "immensely harmful." Downer rejected this as "being untrue". He said opposition from human rights organizations to the Australian policy had been unrelenting: "At every turn they have tried to force us to change our policy. […] If they are found to be refugees, we don't send them back to the countries they have come from. We make sure they have a place of safety to reside and that's our obligation."


In 2016, The Guardian published a set of 2,000 leaked reports revealing the scale of abuse of children in the Nauru offshore detention center: "The reports range from a guard allegedly grabbing a boy and threatening to kill him (...) to guards allegedly slapping children in the face."

Serious allegations

Other allegations relate to sexual abuses by security guards. In one case from September 2014, a guard is accused of demanding "sexual favours" in return for permission for a young woman to shower for four minutes instead of two.

There are other cases where refugees have been beaten by the Papua New Guinea police with steel bars. Downer refuted the allegations: "I have been to Nauru personally by the way, and the allegations made about Nauru bore no relationship to what I saw when I went to Nauru."

In November 2017, Canberra closed the controversial Manus Island detention center in Papua New Guinea following a 2016 Supreme Court ruling that the detention of asylum seekers there was unconstitutional; the UNHCR had also urged Australia to "stop a humanitarian emergency unfolding". Following the closure, some 600 men residing at the facility have refused to leave for temporary residences nearby, saying the alternative shelters provided are less safe and may leave them open to attacks from locals.

Downer told Tim Sebastian it is not only refugees who have been affected by this crisis. "We have been quite traumatized as a country by seeing scenes on television of boats being wrecked on islands off Australia," he said.