Australian Prime Minister Malcolm Turnbull on Thursday banned sexual relations between government ministers and staff members, following the revelation that his deputy had an extramarital affair with an aide.
Speaking at a press conference, Turnbull said Deputy Prime Minister Barnaby Joyce, 50, had made a "shocking error of judgment" entering an affair with 33-year-old former media advisory Vikki Campion, who is now pregnant with their child.
Read more: Australia to apologize to victims of child sex abuse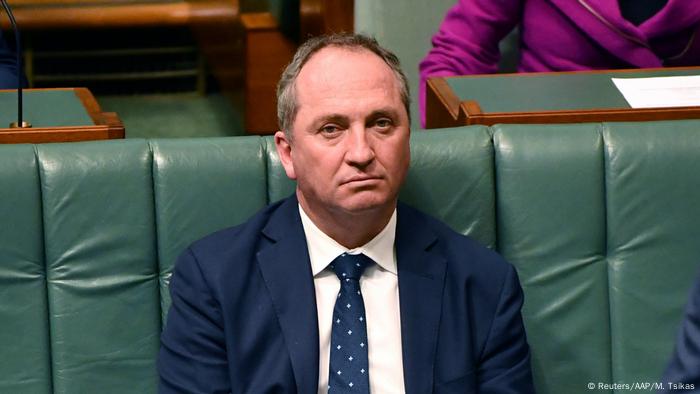 Barnaby Joyce will not serve as acting prime minister when Turnbull visits the US next week
Turnbull's comments
"I have today added to the standards to make a very clear and unequivocal provision that ministers, regardless of whether they are married or single, must not engage in sexual relations with a staff member. Doing so will constitute a breach of the standards."
"I am not here to moralize. But we must recognize that whatever may have been acceptable or to which a blind eye was turned in the past, today, in 2018, it is not acceptable for a minister to have a sexual relationship with somebody who works for them."
Read more: Australian gays say 'I do' as marriage reform kicks in
"Barnaby has acknowledged his fault, his error, his grief about his conduct. He has to consider his own position obviously. These are matters for Barnaby to reflect on."
"He made a shocking error of judgement in having an affair with a young woman working in his office. It is a very bad workplace practice. And everybody knows that no good comes of it."
Family values: Joyce, who is a Catholic, campaigned strongly on "family values" and conservative values including marriage. He has been married for 24 years and has four children. Turnbull said Joyce had caused "terrible hurt and humiliation" to his family.
Joyce denies breach of rules: Campion was hired for two highly-paid government positions after she stopped working for Joyce in 2017. He has defended the two jobs, one of which was for a minister. The code specifies that "partners" of ministers cannot be given jobs in ministerial offices without the approval of the prime minister. Joyce has also come under fire after it was revealed that he accepted a rent-free apartment from a millionaire friend after his marriage collapsed.
Why Turnbull has not sacked Joyce: Joyce is the leader of the National Party, which is in a coalition with the prime minister's Liberal Party. It is not possible for Turnbull to sack his deputy unless the National Party acts. The government has a narrow one-seat majority.
DW's editors send out a selection of the day's hard news and quality feature journalism. You can sign up to receive it directly here.
law/rt (AFP, dpa, Reuters)