Explosive specialists took four hours to defuse a massive World War II bomb on Sunday afternoon in the German city of Augsburg following the country's largest post-war evacuation.
About 54,000 people left the city before and on Christmas morning after construction workers unearthed the 1.8-tonne (2-ton) British Royal Air Force bomb last week.
Bomb specialists from the Bavarian city of Würzburg began defusing the bomb after Augsburg had been cleared by 3 p.m. local time (1400 UTC).
Specialists alone
The two specialists from the Tauber private company were the only people allowed within a 1.5-kilometer (0.9-mile) radius of the car park construction site where the dud-bomb was discovered.
Police, firefighters, city workers and volunteers helped on Sunday to compulsorily evacuate residents from the inner city, with the use of 100 buses and trams.
Many of the trams ran empty, with most residents heeding advice to move out and stay with relatives ahead of the Sunday deadline. Nevertheless, the evacuation took an hour longer than expected due to a late surge in the number of bedridden and disabled people requiring transport.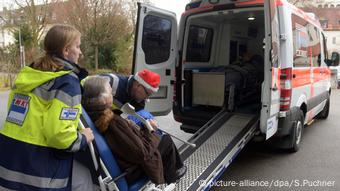 A number of disabled people needed help to move
About 900 police officers and hundreds of firefighters patrolled the streets on Sunday morning, blaring announcements from loudspeakers.
"The atmosphere in the city is spooky. No man on the streets, no face behind the windowpanes," a city spokesperson wrote on a dedicated website.
Augsburg's biggest bomb
The bomb is the biggest ever found in Augsburg, which was heavily bombed by allied pilots during World War II as it was home to the Messerschmitt aircraft works and was an important armory for the Nazis.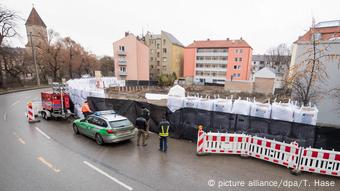 The site was surrounded by a large wall of sandbags in case the bomb accidentally detonated while it was being defused.
The experts did not expect a controlled explosion of the bomb, but a controlled blast of the detonators could have resulted in a small explosion, the city said on Twitter.
Residents who could not reach the homes of relatives and friends outside the city took refuge in emergency accommodation in the exhibition grounds as well as in gyms and schools.
The bomb was discovered on December 20, but authorities chose Christmas Day to defuse the bomb to cause the least disruption.
"On a working day, the evacuation would be much more difficult, since the whole work and business life would be disrupted. On a holiday there is also less traffic," explained city officials.
Unexploded bombs from the war are regularly found in German cities, often unearthed during construction work.
aw/jm (dpa, AFP, AP, KNA)