Award-winning translator Anthea Bell, who was appointed Officer of the Order of the British Empire (OBE) in 2010 and awarded Germany's Order of Merit in 2015 for her services to literature, has died on Wednesday at the age of 82, her son, Times columnist Oliver Kamm wrote on Twitter:
Bell is perhaps best known for her adaptations of the French Asterix comics, in collaboration with her late co-translator Derek Hockridge. Her work was acclaimed as it managed to transmit the spirit of the series renowned for its numerous puns.
For example, the druid in the French version of the series is called Panoramix; the name of the provider of the Gauls' magic potion was cleverly turned into Getafix.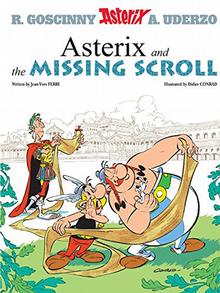 Her last translation in the series was Asterix and the Missing Scroll, from 2015
The English version of the series is marked by her creative signature to a point that the 37th album, Asterix and the Chariot Race (2017) — to which she could no longer contribute due to illness — paid tribute to "her wonderful translation work on Asterix over the years."
Still Bell always insisted that she was "an unrepentant, unreconstructed adherent of the school of invisible translation," aiming to give readers the impression they were reading "the real thing," as she wrote in an essay in The Translator as Writer (2006).
A passion for words
Born in Suffolk in 1936, Anthea inherited her passion for words from her father Adrian Bell, a local newspaper columnist who also became the first cryptic crossword setter for the Times.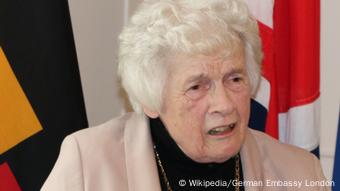 Bell receiving the Order of Merit of the Federal Republic of Germany in 2015
An avid reader, she learned French and German in boarding school and studied English at Somerville College in Oxford. She first worked as a secretary before she landed her first literary translation, "by complete accident," according to The Guardian.
Her husband at the time, publisher Antony Kamm, was asked if he knew someone who could translate a children's book by German writer Otfried Preussler. The Little Water-Sprite "was my first translation and I did it with my first baby in a carrycot at my side," she told The Guardian in 2013.
She ended up specializing in translating children's literature. Not only did she translate all of Preussler's works, she also re-translated Hans Christian Andersen's fairytales from Danish and several French comic book series beyond Asterix, such as Le Petit Nicolas and Iznogoud.
The English version of the best-selling Inkworld trilogy by German author Cornelia Funke was also her work.
The English voice of literary giants
Bell translated many works for adults as well, including text by Sebald, Stefan Zweig, Franz Kafka and Sigmund Freud.
Eight of her translations are among the 100 German Must-Reads, a DW project released this week: Along with Cornelia Funke's Inkheart and W.G. Sebald's Austerlitz, they are Siegfried Lenz's A Minute's Silence, Stefan Zweig's Beware of Pity', Eugen Ruge's In Times of Fading Light, Johanna Adorján's An Exclusive Love, Julia Franck's The Blind Side of the Heart, Saša Stanišić's How the Soldier Repairs the Gramophone.
The translation for the latter won the Oxford-Weidenfeld Translation Prize in 2009.
Stanišic also reacted to the news of her death with a tribute on Twitter:
He described her passing as "tremendously sad," before adding "Anthea translated two of my books in a way that I had not deem it possible. She was pure kindness, toughness, elegance and wisdom."