The tragedy makes itself known from the start. "Here sit we down in tears and grief," a school choir sings in the first line of A Minute's Silence. Students have gathered in a school auditorium to mourn their beloved English teacher, twenty-five-year-old Stella, who has died in a boating accident.
Christian, the novella's 18-year-old narrator, is both student and lover of Stella. It is through his perspective that we witness the mourning — and the series of events leading up to the teacher's untimely death. The tale is melancholy and nostalgic as it captures not only a love lost, but also details an era that had long since past before the book's publication in 2008: a simpler time, decades after the war, but still before the fall of the Berlin wall. A time when the slow days of summer could feel even slower without mobile phones or computers, yet a time when the old ways of life appear to be dying, along with those who could still remember the war, like Stella's father could do.
The coastal landscape as metaphor
Set in an idyllic fishing village on the Baltic Sea, A Minute's Silence captures life in the rural, coastal area near the Danish border in a unique way. Siegfried Lenz paints a poetic portrait of the unusual climate in Germany's northern regions — a place where the elements are unpredictable and life continues to go on even as storms roll in over the vast watery landscape. There's much metaphor in the tale, as when Stella pays a visit to Christian aboard his father's boat, where workers are engaged in the reconstruction of a breakwater.
"She was watching Frederik [Editor's note: a worker on the boat] with interest as he brought his grab-bucket down over a huge black colossus, raised it in the air and let it hover for a moment over the now almost empty cargo space. However, he couldn't keep the rock from slipping out of those metal teeth and slamming down on the steel-lined bottom of the barge so hard that the whole boat shook."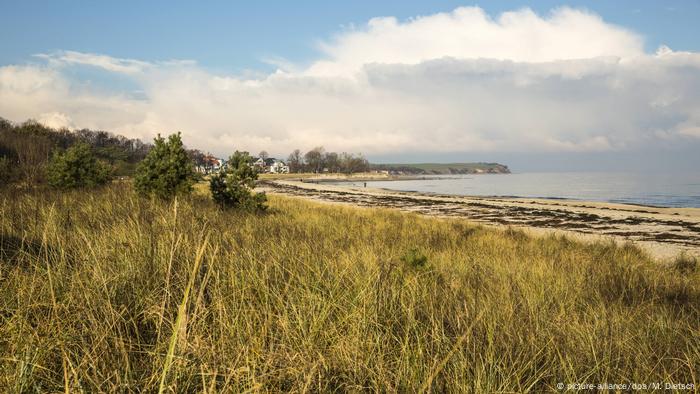 The Baltic landscape becomes a character of its own
Narrative shifts add intimacy
It's as though the big stone being held over the gaping hole and then slipping out of the machinery's grips signifies the way that Stella was meant to fill up a hole in the life of the narrator, but instead slips from his grasp.
Although such metaphors are interlaced throughout the text, as are references to many English-language writers, like William Faulkner and George Orwell, they deepen the story's greater meanings without interfering with the book's forward action. Readers are gripped as they are taken along on a journey of the forbidden love between a teacher and her student.
As he relates the way the two lovers navigate the line between forbidden fruit and adult experience, the narrator creates shifts in time, moving between the public wake and Christian's recollections of Stella in a way that stretches the hour-long service into something that feels much longer.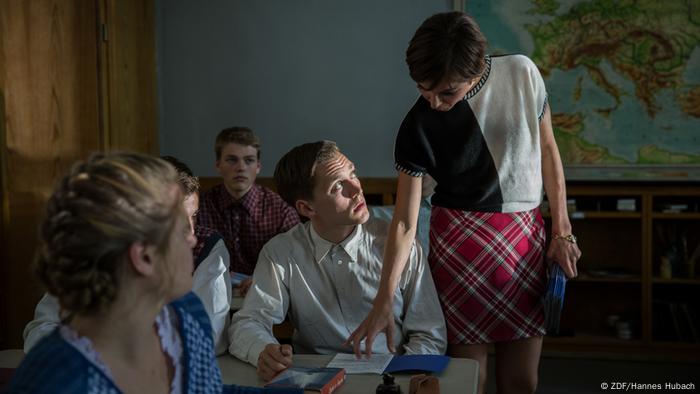 The book was turned into a film in 2016
Likewise, Christian's narration shifts from a first-person storytelling to one that seems to be addressing Stella directly — a stylistic move that adds both atmosphere and intimacy to the story. Sketching out the couple's first sexual encounter, he notes:
"Here, Stella could understand my touch as merely a wish to reassure and calm her, and she did not object when my hand moved gently over her back. But suddenly she threw her head back and looked at me in surprise, as if she had unexpectedly felt, or discovered, something that she had not been reckoning with."
It goes on, without interruption: "You leaned your head against my shoulder. I dared not move, I let you take my hand and lift it to your cheek, and you left it there for a moment. How different Stella's voice sounded when she suddenly stood up and went out to the beach."
These shifts add depth to an already intense story. The writing here comes across as if the tale is a personal re-telling of a private moment between beloveds. Although rather advanced in age at the time of the book's publication, author Siegfried Lenz is said to have written it following the death of his wife as a homage to her — and that melancholy grief is felt in every word.

Siegfried Lenz: A Minute's Silence, Haus Publishing, (German title: Schweigeminute, 2008). English translation: Anthea Bell.
Siegfried Lenz (1926-2014) was a prolific writer of stories, dramas and novels and is credited with revitalizing the novella form in Germany. A contemporary of Günter Grass and Martin Walser, the writer was a member of the "Kriegsmarine" after finishing school. He later defected to Denmark, where he was held as a prisoner-of-war. A Minute of Silence — said by literature critic Marcel Reich-Ranicki to be his finest — is among dozens of published works, which include The Heritage and The German Lesson. He was awarded the Peace Prize of the German Book Trade, The Goethe Prize and other international prizes.