A Saudi-led coalition backed by Western countries, including the United States and France, has been launching airstrikes to take back the city of Hodeida from Houthi rebels.
For civilians, the situation is dire, as the port of Hodeida brings in 70 percent of Yemen's food imports. Aid agencies have warned that a battle there could exacerbate Yemen's humanitarian crisis. One of those agencies, Save the Children, is still on the ground in Yemen providing relief and promoting children's rights in the country.
Read more: Saudis strike Hodeida: 'Very sad and alarming development'
Nadine Drummond, the spokesperson for Save the Children in Sanaa, shared her views with DW on Yemen's humanitarian crisis and how it's falsely portrayed in Western media, as well as how the fighting could affect Hodaidah's women and children.
DW: What is your view on the current situation in situation in Hodeida and on the Yemen crisis in general?
Nadine Drummond: I think the situation in Hodeida and Yemen is morally reprehensible. People are calling Yemen the forgotten war but it hasn't been forgotten, people just don't care enough. I think people are far to quick say the war in Yemen has been forgotten because then there is no moral culpability in what is going on there. People are simply ignoring the situation there. There is a moral culpability, particularly for governments that sit on the UN Security Council who have the ability to influence the conflict. These governments include the United Kingdom, the United States and perhaps even France. These governments have had the ability to help Yemenis and bring actors both in and outside of the country in finding a sustainable peace.
I also feel that I often receive the same questions over and over about the conflict: Who will win? What will happen if the Houthis hold Hodeida? What will happen if the Saudi-led coalition kick the Houthis out, will it draw the war to close? This is not an episode of Gladiators, Game of Thrones or Transformers; these are peoples' lives and there are no winners. This is what people need to understand. The fighting in Hodeida and in Yemen is what will devastate children's lives for months and years to come.
Read more: Why are EU countries reluctant to intervene in Yemen's war?
My feelings aren't intellectual on this topic — they're practical. I live here and I've watched children starve to death. I've tried to help malnourished children on the brink of death. I don't have the luxury of not being bombed. I don't have the luxury of watching my government and other staff here act as if the lives of Yemeni children are worth less than any child in the UK or the United States.
So in your view, governments and observers tend to view the war in Yemen as if it were a chess game. But for you, the conflict takes a more personal focus. Could you share some of the profound experiences you have had with working with people who persevere in spite of war?
I think when the media cover these stories, they tend to portray the Yemenis as helpless and somehow less than human. And I think that Yemenis are definitely a resilient people. I think the way in which mothers deal with the deaths of their children was a watershed moment for me. Families in Yemen tend to be quite large — there tends to be five to six children per family. When you are out in the field and giving treatment to mothers with malnourished babies; you find out that many of these mothers have already lost at least one child. These mothers don't have the capacity to mourn the deaths of their children in the same way that my mother would mourn my death.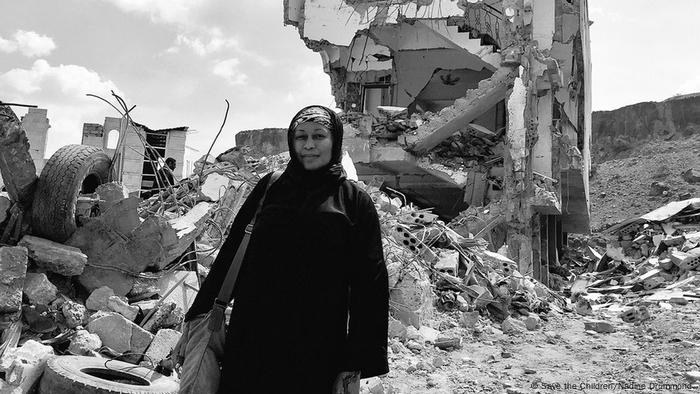 Drummond says the war in Yemen will devastate children's lives for months and years to come
These women have to go forward and try and keep the other children alive. These women are so distressed and are so focused on survival and trying to live from day to day. They don't have the emotional resources to mourn their children properly because their energy is so focused on the survival of everybody else. Two-thirds of Yemenis don't know where their next meal is coming from and many Yemenis only live on one meal a day.
Read more: War reporters — the great silence
Watching children starve also is something that tears at your soul. Seeing a child, for example, that is from seven to 18 months old that is so weak they can't turn over. These children are so weak that when they cry no tears come out. And this is not one child. This is all over the country, particularly in the north, and even before the assault on Hodeida. Hodeida has 100,000 children that are severely malnourished.
What will the battle in Hodeida do to civilians?
Hundreds and thousands will suffer from famine. The closure of the port of Hodeida or any delay of imports of food or medicine into the country will absolutely devastate the children of Hodeida. Last year, 50,000 children died of preventable diseases such as cholera or measles and that was even before the escalation on Hodeida. There is little hope for the children in Yemen unless there is an end to the conflict.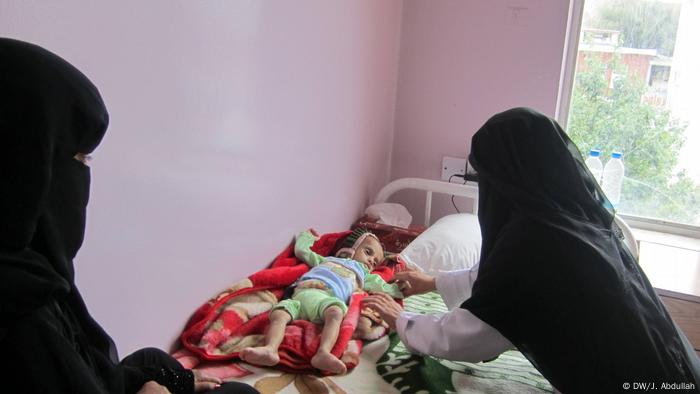 Mothers in Yemen often don't know where the next meal is coming from for their children
It also takes the peace process off the table. The UN envoy, Martin Griffiths, was supposed to present a security framework earlier this month, but I don't see that happening now. There have been some people who could afford to leave Hodeida, but what about the most vulnerable who couldn't?
Do you think there is any chance the civilian population will be spared during the assault?
There are apparently some reports of leaflets being dropped by the Saudi- and Emirati-led coalition telling people that they are coming. These leaflets say that civilians should stay away from Houthi installations because they will be bombing them. It's very clear that the Saudi-led coalition is hoping for an immediate win in Hodeida as a way to cut the supply to the Houthis, but the consequences for the Yemeni civilians will last far longer.