In a large kitchen with soup ladles hanging from hooks on the yellow-tiled walls, caterer Joanna Wegrzynowicz stuffs cuts of beef with pickle, mustard and bacon, rolls them up and ties them with string.
They're on today's menu at her canteen on the edge of the southern Polish town of Zabrze, in the heart of the country's coal-mining area, Silesia. She'll serve the beef roulade with Silesian dumplings and red cabbage.
But there won't be many customers to enjoy the regional specialty. Business has been slow since the Makoszowy coalmine across the road shuttered in December 2016.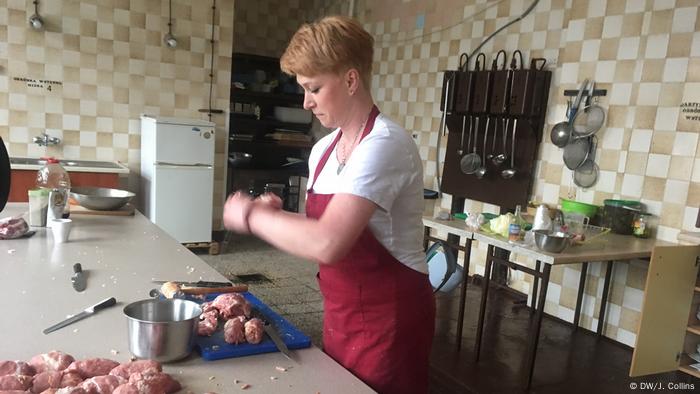 Business is slow for Joanna Wegrzynowicz since the Makoszowy coal mine across the road shuttered in December 2016
"There was lot of business from the mine, because the miners used to have their lunch here," said Wegrzynowicz. "Really [it was] the social life of the mining community. But when the mine closed, that disappeared."
It's just one of many local businesses hit by the closure of the state-owned mine that employed around 3,000 workers. A number of shops have closed too, and the local health center might soon have to call it a day as miners have taken jobs further afield.
Read more: Can Poland end its toxic relationship with coal?
Poland is still heavily dependent on coal for electricity — 80 percent comes from the CO2-emitting fuel — and it's by far the European Union's largest coal producer. Around 100,000 people work directly in the sector, according to figures from 2015.
But that coal has to stay in the ground if the country is to stick to the EU's greenhouse gas emissions targets and the planet is to keep within the 2 degrees Celsius (3.6 degrees Fahrenheit) warming limit agreed in Paris in 2015.
The question for Polish miners and other businesses dependent on mining, like Wegrzynowicz's, is how to balance the need to quickly transition to green energy with protecting people's livelihoods.
A 'just transition'
Andrzej Chwiluk, leader of the ZZGwP local miners' trade union, worked in the mines for most of his life. He has lung problems now to show for it. Coal has been the area's lifeblood for more than a century, he said.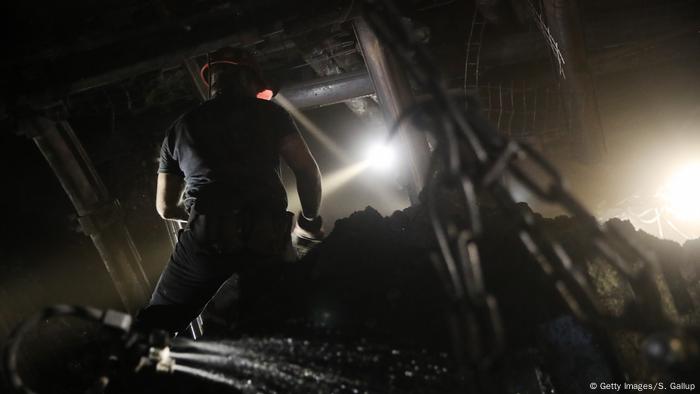 Poland is still heavily dependent coal for power, with the sector directly employing 100,000 people in 2015
His office walls are covered in old photos of the mine, football trophies and an intricately decorated banner depicting Saint Barbara, who the miners believe protects them in their dangerous labors underground.
Each year on her saint's day in December, Silesian miners wear traditional black uniforms with gold buttons, plumed hats and sabers, and parade in the streets with brass bands in her honor.
Read more: Germany's mining communities brace themselves for post-coal era
They want to keep such revered traditions alive, which is why they visit schools and kindergartens in the area to explain the region's history with the fossil fuel. Still, Chwiluk says most of the miners know coal has to go at some point — although, they'd like continue producing the fuel for longer than climate science says is safe.
But for the trade union representatives, it's the way coal is phased out that is important. They want a transition away from Poland's carbon-based economy that gives a fair deal to coal workers and the communities affected by a green energy transformation.
"This transformation is important and it will happen anyway," said Chwiluk. "But the transformation must be person-centered and not only about the economy."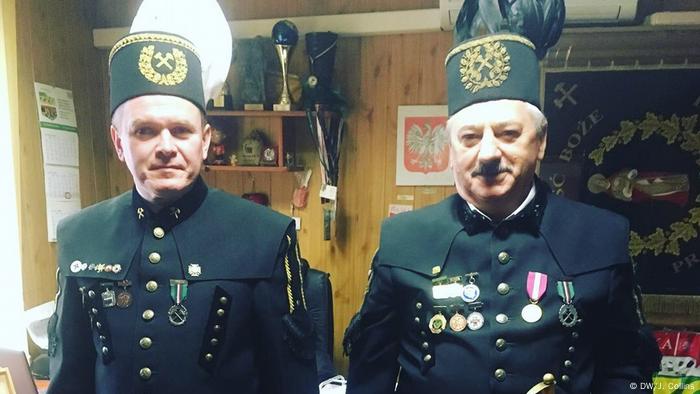 The annual UN climate summit (COP24) is hosted by Katowice — a city with a strong mining tradition
Read more: UN chief says world is 'way off course' on climate change
That's not what happened at the Makoszowy mine, according to the trade union. Polish lawmakers had promised workers it wouldn't be closed but then reneged — to huge protest.
"They treated us like objects," said Chwiluk. "The workers in the mine felt deceived and neglected. Nobody wanted to explain to us what happened."
Women, who generally worked in administrative roles, were the biggest losers. While most of the men got jobs at other mines, women with 40 or more years of experience haven't been able to find an alternative. The trade unionists believe it can be different.
Poland's coal addiction
At the United Nations climate summit hosted by Katowice — a city with a strong mining tradition — Poland invited heads of state to adopt a declaration that would ensure such a "just transition" to a fossil fuel-free economy based on principles of social justice.
But even as the country pledges much support for renewable energy, it plans to keep plenty of coal burning. The fossil fuel will still make up half of its energy mix in 2050. At the climate conference, Polish President Andrzej Duda told delegates the country had 200-years worth of coal supplies in the ground.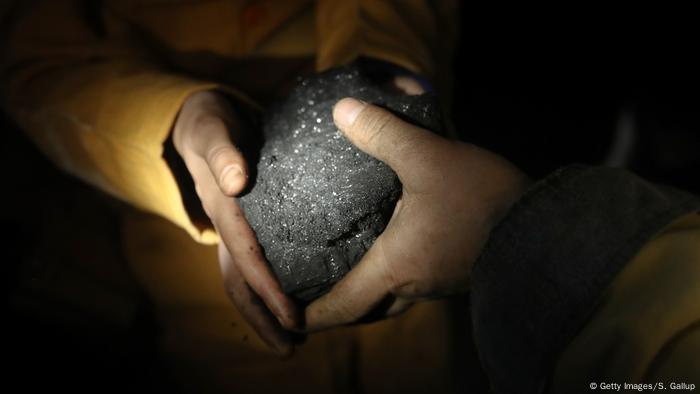 Many Polish are unprofitable and closing. The country is importing more and more coal from Russia
"There is no strategy of a total phase-out of coal in Poland today," said Duda. "This is our strategic resource, so it's hard for us to give up on it."
Bankwatch, an NGO network in Central and Eastern Europe, says the Polish government insists it keeps mining coal to protect workers but in reality — environmental arguments aside — "the economics of coal are crumbling," Izabela Zygmunt, Bankwatch's lead campaigner on just transition in Poland, told DW.
Read more: UNEP: Client Earth: Changing environmental law, the world over
Polish coal supplies still in the ground are not economically viable to extract, many mines are unprofitable and closing, and the country is increasingly importing coal from Russia to meet its energy demands.
Zygmunt says the government needs to "be honest with the miners," otherwise Poland could see a repeat of the 1990s when a wave of painful, unmanaged mine closures devastated communities. Instead, Poland now has an opportunity to prepare workers for employment in other sectors, including in renewable energy.
"This has to be a planned process," said Zygmunt. "And in order to plan it you have to understand what the workers want, you have to talk to them, you have to understand their needs and you have to be prepared to help them go through the process."
But such a "just transition" comes too late for some.
Joanna Wegrzynowicz, who has worked in the canteen for 21 years and used to visit it as a child when her mother worked there, has opened another business in the center of Zabrze as a fallback.
And union leader Andrzej Chwiluk and his family might soon follow the other miners who moved away. He's says he's not sure what's left for him in Zabrze.