Germany's press freedom is taking a beating. That became clear during a demonstration in Dresden last week by the far-right PEGIDA movement, when a camera crew working for public broadcaster ZDF was reportedly insulted by demonstrators. They were then held by police for 45 minutes, according to ZDF, to determine their identities. It was a "clear restriction of freedom to report," according to the broadcaster's director, Peter Frey.
Journalists protected by law
An investigation has now been launched into the affair. Police say a demonstrator went to the police to report an insult from a member of the television crew following an argument over whether the camera team had a right to film the demonstrators. The journalist then filed his own complaint for insult. On Tuesday, police said they separated the two sides in order to deescalate tensions, but this version of events is contested.
Read more: Germany's Angela Merkel confronts far-right critics in AfD country
The state premier of Saxony, Michael Kretschmer, has defended the police, saying it was first necessary to clarify who was who in order to proceed with investigating the claims. Dresden's police commissioner also rejects allegations that officers cooperated with the far-right demonstrators. Journalist associations have called for a full explanation of the matter, but that may take some time.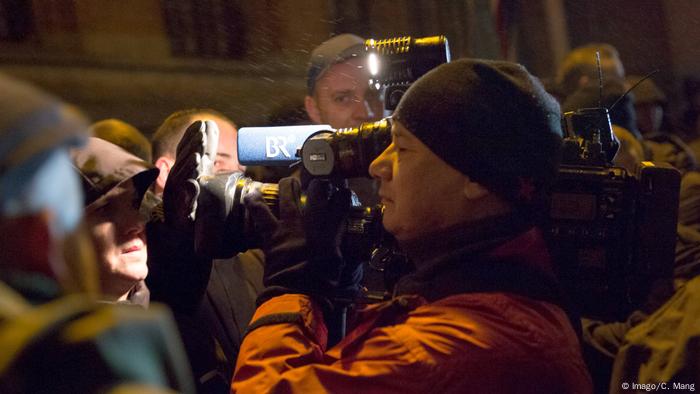 Journalists have the right to film and photograph at public demonstrations
In Germany, a person who doesn't wish to be filmed must object, otherwise, consent is assumed. Regardless, during public events such as demonstrations, journalists have both the right and the duty to take photos and video footage; anyone who participates in a demonstration has indirectly given permission to be filmed. In such cases, freedom of information enjoys higher protection than an individual's right to their own image. Insulting journalists who are doing their job doesn't help the situation.
Assaults on the rise
Nevertheless, that's increasingly what's happening, as examples of verbal and physical assaults against journalists become more commonplace. One such case made headlines around Germany at the beginning of the year, when both refugees and journalists were assaulted in the eastern German city of Cottbus. Members of the right-wing association, Future Homeland, were seen inciting aggression against reporters for the Berlin-Brandenburg public broadcaster, rbb. Elderly women began calling journalists "traitors." Others members of the media were roughed up and had their equipment damaged.
Such assaults also occur frequently at events connected to the far-right Alternative for Germany (AfD) party. In June, two journalists were attacked while covering a meeting of the party's more nationalist wing in the state of Saxony-Anhalt. The reporters said one of their cameras was broken.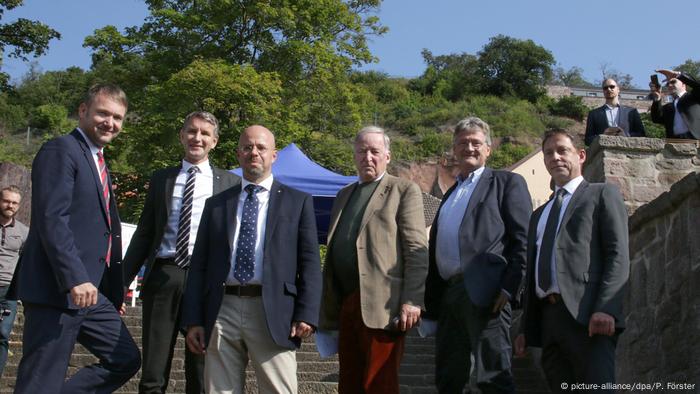 Two journalists were attacked while covering a meeting of the AfD's more nationalist wing in Saxony-Anhalt
Sending a dangerous message
Meanwhile, police and state prosecutors have been called out for not doing enough to protect journalists and press freedom. In April, two freelance reporters were covering comings and goings at the home of Thorsten Heise, the head of the NPD neo-Nazi party in the state of Thuringia. He is one of Germany's most notorious neo-Nazis, known to regularly organize meetings monitored by the country's domestic intelligence agency.
Read more: Germany's far-right AfD increasingly radicalized by its grassroots, experts warn
When neo-Nazis identified the reporters, they attempted to drive off, only to be stopped at the edge of town. Attackers came at them with wrenches and baseball bats. A brief chase ensued, ending with the reporters' car in a roadside ditch. The windshield was smashed in and the reporters were beaten, suffering serious injuries, including a head wound and a stab wound to the thigh.
Two reporters were beaten while covering prominent neo-Nazi Thorsten Heise
The investigation has stalled, even though the journalists were able to take photos of their attackers and clearly identify a known NPD member from the area. More than 100 days since the incident, all the neo-Nazis allegedly involved remain free.
"There is the possibility for a prison sentence of at least two years," the victim's lawyer, Sven Adam, told DW. But according to the state prosecutor's office, there is "no urgent sense of suspicion." Instead, investigators are still examining the reporters' photos for signs of manipulation. Adam sees that as a sign that the state "is not particularly willing to prosecute." That's a dangerous — even fatal — message to send, he says. "It's basically telling people, you can attack the press without much to fear."