At first there were just hints that Germans export too many cars to the US and thereby destroy jobs.
Manufactures countered that many German branded vehicles are actually assembled in American plants. Now even this answer has been swept off the table by Peter Navarro, an assistant to the American president for trade and manufacturing policy, in an opinion piece in The New York Times.
In the newspaper he writes: "Even when Germany's automakers build facilities in the United States, these so-called factories are more like assembly plants. SUVs in the BMW X series that are assembled in the United States actually contain only 25 percent to 35 percent American-built content — the high-value engines and transmissions are manufactured in Germany and Austria."
Read more: Donald Trump calls for barrier-free trade within the G7
Statistics tell a different story. By value, cars are the most traded product in the world. Germany is the world's largest exporter of vehicles and the US is the biggest buyer. It is more nuanced than it first appears, yet without a doubt a trade imbalance has grown between the EU and the US. Now the US government is taking aim at the German car industry, despite the fact that in 2016 American manufactures sold 2.1 million cars in Europe which was 14 percent of the total and nearly twice as high as German carmakers in the US, according to the Germany Economic Institute (IW).
Going domestic
Cars are a global business. Expertise and parts are sourced around the world. Indeed BMW, which Navarro scolded, imports engines and some other parts for its US-built X models. But BMW's plant in Spartanburg, South Carolina which the company opened in 1994 is now the company's biggest plant in the world and produces more cars than any of its factories in Germany, according to Automotive News.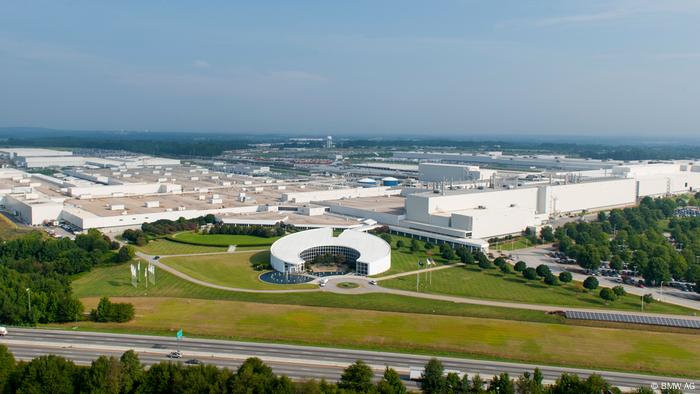 BMW has produced 4 million vehicles at its massive plant in Spartanburg, South Carolina since it opened in 1994
The IW institute recently estimated that BMW, Mercedes and VW directly employ around 36,000 people in the US and that another 80,000 jobs are dependent on their American-based manufacturing.
BMW's Spartanburg factory alone employs 10,000 people, supports over 200 suppliers and has produced 4 million vehicles since its inauguration. Its average daily output of around 1,400 vehicles is not only for the American market, but also for export. The company says that this factory is the "sole global producer" for six different X models which are then sold in more than 140 countries — even in Germany.
Read more: Trump against Rwanda in trade war over used clothes
IW researchers also analyzed the numbers and came to the conclusion that German manufacturing within the US has more than quadrupled since 2000. Last year overall American vehicle production was 17.17 million. Of that Germans were responsible for 804,000 vehicles — of which 481,000 were then exported.
Window stickers
All new cars sold in the US must have a window sticker that shows the price and gas mileage. But since 1994 these stickers must also display "parts content information." This is a listing of the percentage of US/Canadian parts content and names the "final assembly point" and "country of origin" for the engine and transmission individually.
A closer look at what the "Made in the USA" label means is eye opening, not least because the US and Canada are often simply lumped into one category. In 2017, only around 56 percent of the light vehicles sold in America were assembled domestically, whereas 22 percent were put together in Canada and Mexico under the umbrella of the North American Free Trade Agreement (NAFTA), according to The Economist.
Last year Time magazine reported that in 2016 Tesla was the only carmaker to wholly assemble its US-sold cars domestically. While "only three other companies — Jeep, Cadillac and Dodge — broke 80 percent." Other traditionally American manufactures scored well below that: Ford at 64 percent, Buick at 60 percent, Chrysler at 33 percent and Lincoln at a dismal 17 percent.
Trade in the air
The biggest irony of this dispute is not the fact that cars are easy to move and piece together, but the scatterbrained process of trying to reduce trade deficits. Global trade is not a zero-sum game. Yet on his first full day in office, Trump issued an executive order to withdraw from the 12-nation Trans-Pacific Partnership (TPP) trade talks. Shortly after that he stalled discussions with the EU over its Transatlantic Trade and Investment Partnership (TTIP) trade deal.
A major goal of these trade negotiations was getting rid of tariffs — the exact thing being railed against now. For his part Canadian Prime Minister Justin Trudeau has suggested that these latest threats are connected to the NAFTA negotiations. Yet had the TPP and TTIP talks gone ahead with the US, maybe the tariffs would already be gone and the US could start making headway on reducing its trade deficit.
Instead they are still in place and the subject is heating up. All the same the US president has a point on one level: while the US levies only 2.5 percent on imported cars, Europeans demand 10 percent. But there is an interesting exception to the rule: light trucks and SUVs imported into the US — and beloved by American drivers — are subject to a much greater 25 percent tariff.
Introduced in 1964, the "Chicken Tax" was originally put in place in retaliation to tariffs on American chickens. Though other parts of the tariff package have been lifted, the high tariff on light trucks is still in place more than half a century later. While manufactures have found many creative and time consuming ways to circumvent the process, the duty can nowadays only be seen as a way to protect American automakers. But in the end, without real competition it's always the consumers who pay a higher price.