Arab League Secretary-General Ahmed Aboul-Gheit said the decision by US President Donald Trump to recognize Jerusalem as Israel's capital was "against international law and raises questions over American efforts to support peace" between Palestinians and Israelis.
The emergency meeting of foreign ministers from 22 Arab states was held in Egypt's capital on Saturday night.
The US policy change undermined "Arab confidence" in the Trump administration and amounted "to the legalization" of the Israeli occupation of Palestine, Aboul-Gheit added.
Read more: Two reasons behind Donald Trump's decision to recognize Jerusalem as Israel's capital
Israel maintains that all of Jerusalem is its capital while Palestinians want East Jerusalem as the capital of a future independent state. Israel annexed East Jerusalem after capturing it in the 1967 war and most countries say the future of the occupied territory should be decided at future Israeli-Palestinian talks.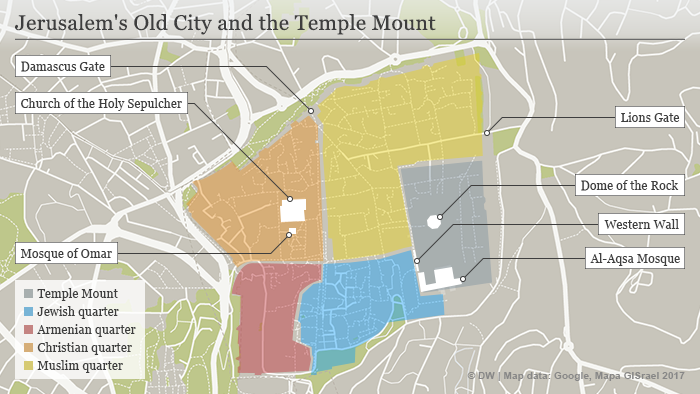 Nearly 20 chief delegates spoke during the two-and-a-half hour meeting in Cairo condemning the US move but also calling for concrete action. "If we do nothing about [Trump's decision], there will be many, many more tragedies," said Iraq's foreign minister, Ibrahim al-Jaafari. "No normalization [with Israel] and no compromises."
Also on Saturday, a presidential source cited by Reuters in Ankara said Turkey's President Tayyip Erdogan and French President Emmanuel Macron would work together to try to persuade the United States to reconsider the move.
A new peace-talks broker?
Palestinian Foreign Minister Riyad al-Maliki said Palestinians could no longer accept the United States as a broker in the peace process because it had "positioned itself as a party in a dispute and not as a mediator."
A UN Security Council resolution over Trump's decision would also be sought, he said. "America is being an aggressor against the Palestinian people and against international law," he added.
There were further demonstrations in Gaza on Saturday and Israeli airstrikes killed two Palestinian gunmen.
In other protests against the US move, Pope Tawadros II, the leader of Egypt's Coptic Church on Saturday canceled an upcoming visit with US Vice President Mike Pence. The grand imam of Cairo's Al Azhar mosque also said he would not meet Pence. The Palestinian leader said Pence was not welcome in the occupied territories.
jm/sms (AP, Reuters, AFP)