The German Justice Ministry has confirmed that investigators found a folder containing the names, addresses and photos of "representatives of the left-wing political spectrum" which had been kept "for criminal purposes" during last week's raids against suspected far-right terrorists in the northern state of Mecklenburg-Western Pomerania.
In an answer to an official information request filed by the socialist Left party, the Justice Ministry said an investigation for "preparation of a serious act of violence against the state" had been opened against two men on August 15. The investigation is understood to be a corollary of the case against Bundeswehr soldier Franco A., who had allegedly been planning to carry out a terrorist attack while posing as a Syrian refugee.
At 4 a.m. on August 28, police deployed dogs and stun grenades to raid the homes and offices of the two men, identified as a police officer in the small town of Ludwigslust and a Rostock-based lawyer and local politician - named as Jan Hendrik H. - who are believed to have hoarded weapons and food.
Other properties in several towns in the region were also searched, though their owners are not considered suspects, and Jan Hendrik H. has denied that he kept "anything like a death list."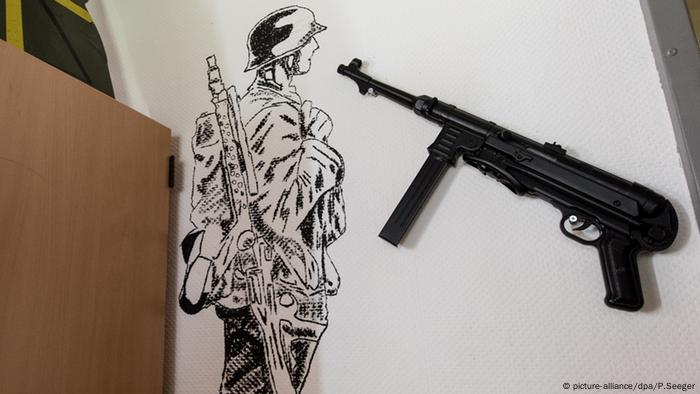 There have been investigations into far-right extremism in the German army
Preparing for social collapse
The lawyer is a former member of the free-market, liberal Free Democratic Party (FDP), and a current ally of a small local political group called "Independent Citizens for Rostock," whose leader, Malte Philipp, told Die Welt newspaper that he was shocked at the investigation. He said he had always thought Hendrik H. was "economically liberal and completely free of all extremist positions."
Federal prosecutors, who automatically take over any state investigation into possible terrorist activity, said in a statement that the two suspects were part of a network that exchanged messages with other people in various chat groups that mainly discussed the "from their point of view misguided refugee and immigration policy" and other political topics.
Prosecutors said the chat group members believed that the policy would drain private and public budgets, cause an increase in terror attacks and other crimes and, eventually, lead to "a collapse of state order."
To prepare for this, some of the members collected guns, ammunition and food and appear to have seen the ensuing social disorder as a chance to murder people they deemed leftists.
Middle-class Nazi murderers
Neither the prosecutors or the Justice Ministry revealed who was on the list, how many names it contained or whether those on the list had been warned – nor did the authorities say how many people belonged to the far-right chat groups in question.
But Left party Bundestag member Martina Renner – who conferred with local Left party groups in Mecklenburg-Western Pomerania – said she believes that the list included dozens of people, as well as people who worked for local refugee support groups. She also criticized authorities for not informing individuals on the list of the potential threat.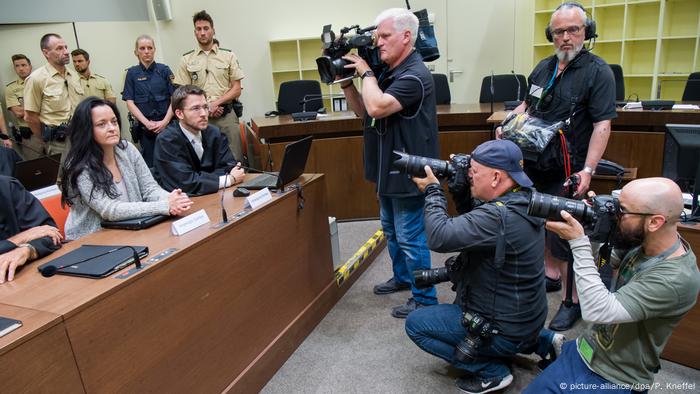 The NSU's Beate Zschäpe is currently on trial in Munich
Renner said she believes that the chat groups contained around 30-40 people – and they were not what she called "typical neo-Nazi cells."
"A network that contains police officers, soldiers, lawyers, and local politicians has a different quality to the classic neo-Nazi network," she said.
"These people have legal access to weapons, and if they decide to create a far-right terrorist group then they pose a very different danger because security forces don't automatically keep an eye on such people," she added. "The security forces urgently need to re-think their strategy - because this threat is coming from the center of society."
The Left party politician also said politicians and security forces have been complicit in consistently diminishing the threat posed by neo-Nazi terrorists. "These people are neither crazy nor harmless," she said. "They turn their words into actions – they don't just talk. We've had right-wing terror in German since the 1950s, and it's always been played down."
She added that this and other recent cases, like the botched investigations into the National Socialist Underground, have shown "there has always been a conscious and basic neglect of far-right terrorism in Germany."
For the Left party, this threat also comes in the context of ongoing vandalism that their offices are often subject to in some parts of Germany. "If I'm a Left politician and I call the police because my office got smashed in, then of course I have to trust them. But now we have to be more suspicious," Renner said. "Up to now, they've always said they were isolated cases, but you get a bad feeling."